November, the month for giving thanks, leaves falling, cooking soup, football, craft fairs and major changes in weather. Living in Wisconsin when I think of this eleventh month of the year those are the things I most associate with November. Another activity I often partake in during the month of November is planting my fall bulbs like tulips, daffodils, and allium. I plant in November partly because I am a procrastinator; however, my delaying ways aren't the only reason I like to plant my fall bulbs in November.  Although it may be a bit chilly in November, it is certainly the best time to plant for 75% of the United States. If you or your significant other needs to be convinced to plant bulbs this fall, here are my 7 reasons why November is the best time to plant your fall bulbs.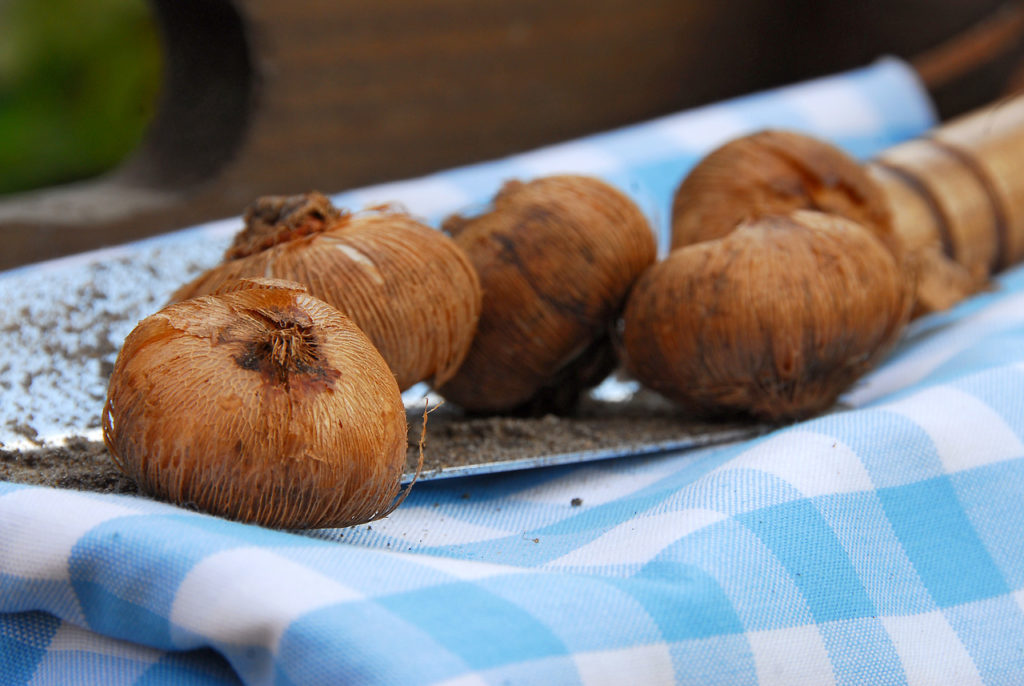 7.) Procrastination the Great Motivator
I know procrastination is the great motivator because I have always been a procrastinator. My procrastinating ways may drive my husband a bit crazy sometimes when I wait to accomplish certain tasks. However, those of us that like to take our time before getting down to brass tacks know that we will get it done in and on time. I am a timely individual who is on time for the most part, and I take pride in my great attendance record as a whole. So even though I may wait until it is the very last minute or day in the case of planting fall bulbs, once I know the window of planting opportunity is running out, I get my plan together, my shovel ready and starting digging. Not having all the time in the world to plant, helps me to get my plan in action, so if you are like me and tend to put things off, don't worry; you can still have blooms in spring even if you wait until November to plant.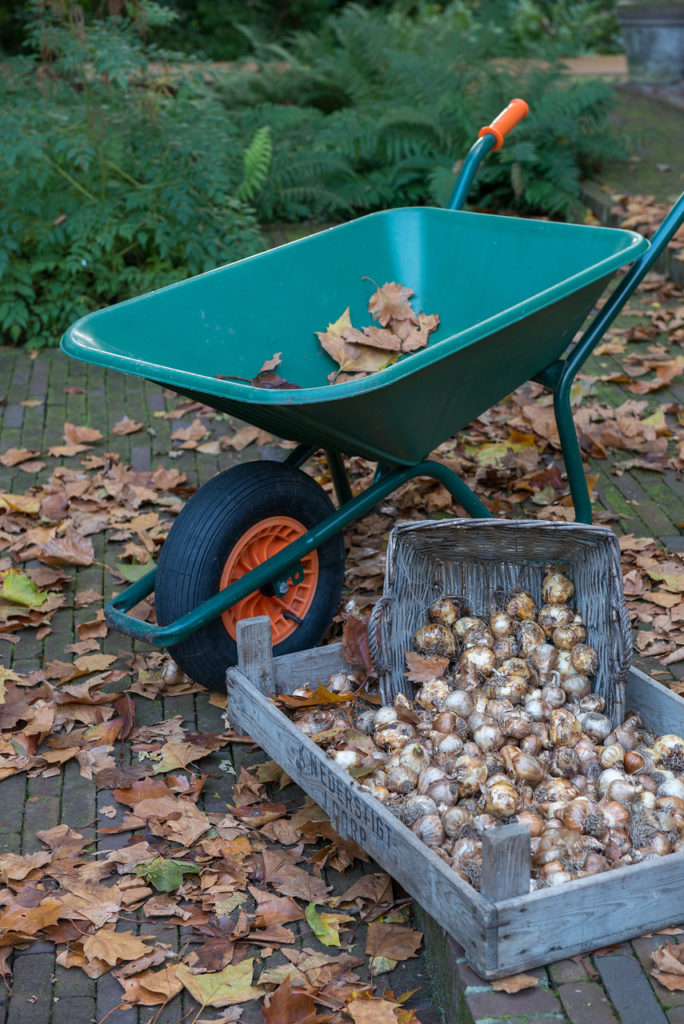 6.) Spend More Time in the Garden
I like cooler temperatures, for better or worse I am built for a colder climate. I always say that like the duo by Bob Dylan and Johnny Cash, I am a Girl from a North Country. Spending the whole day outside in temps that are in the 50's, 40's 30's or even 20's is nice, as long as I am prepared for it. When it comes to a warm 85+ degree day I get exhausted so much quicker. On those hot summer days, I would not want to plant bulbs or do anything else other than finding a cool pool to stick my feet in. The cooler 40 and 50-degree temperatures that happen in November in the upper midwest, make me want to spend the whole day outside, whether it is hiking with my dogs, playing disc golf or planting flower bulbs. If I am spending the whole day outside planting bulbs it means I can plant more bulbs, and find all sorts of pockets, and hidden locations under trees and shrubs to plant my bulbs. With the proper attire, warm socks, gloves, winter hat, jacket, hoodie and solid base layers you can set your self up to spend the whole day in the garden planting bulbs before the snow starts to fall in December!
5.) See the Big Picture
Late fall and winter is such a great time to evaluate your yard and garden. With all the leaves off the deciduous trees and your perennials cut back for winter you can see the big picture of what areas can use a burst of color.  Spring bulbs tend to be the earliest flowers in the garden to emerge and bloom. Filling in under trees and shrubs, tucking bulbs into your rock garden, and planting a garden border of tulips, hyacinths or daffodils is much easier to evaluate when the garden is quiet and not crowded from the summer blooming perennials and shrubs. When the garden is bare in late fall is very similar to how the garden will look in early and mid-spring when your fall planted bulbs are just starting to emerge. Seeing the big picture in your yard, by evaluating all the possible planting locations and locations where color is needed is a great way to expand on the amount of color you have in your yard.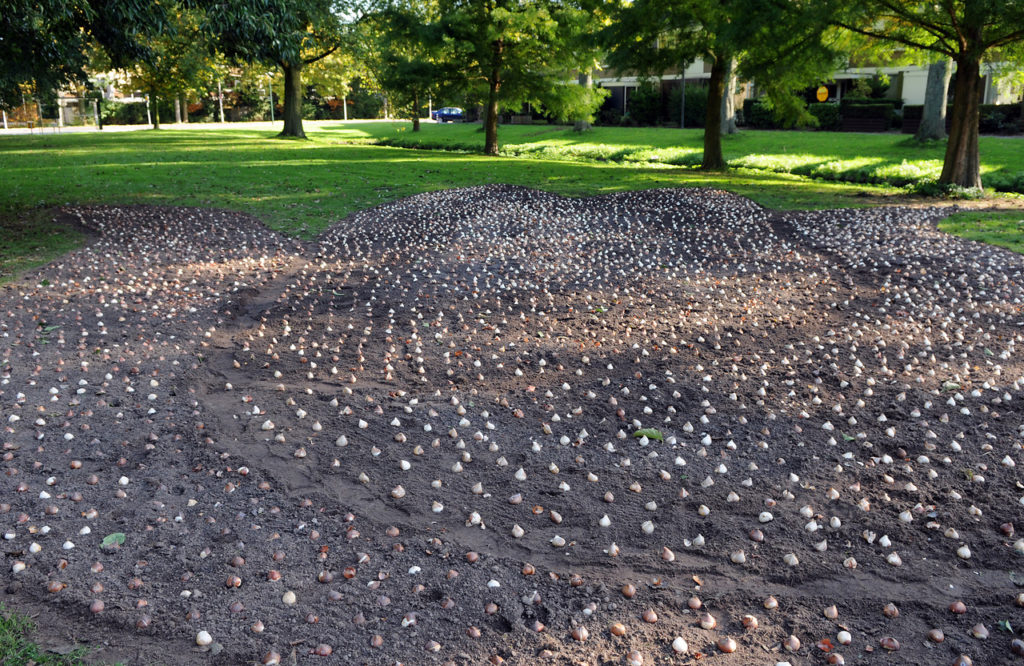 4.) The Theory of Increased Squirrel Protection
I have a theory about planting later in the fall season to protect your bulbs from thieving squirrels and chipmunks. My theory relates and relies heavily on point number 7 about procrastination.  Due to my great need to procrastinate, I always end up planting my fall bulbs in mid-November at the earliest and many times after Thanksgiving. This year is no different, my bulbs are still waiting for me to plant them. Most years I plant my tulips and daffodils within days of the ground freezing solid for the remainder of fall and upcoming winter season. This works in my favor, as squirrels are everywhere in my neighborhood. There are so many squirrels in my neighbourhood, that one time I saw a squirrel crossing the street carrying a donut, not sure where the squirrel donut shop is, but they found it! Once the ground is frozen solid chipmunks and squirrels are not able to dig into the ground, therefore not able to steal my flower bulbs. By leaving this short window of time from when my bulbs are planted to the ground freezes I have implored the theory of increased squirrel protection, and to this point, it hasn't failed me.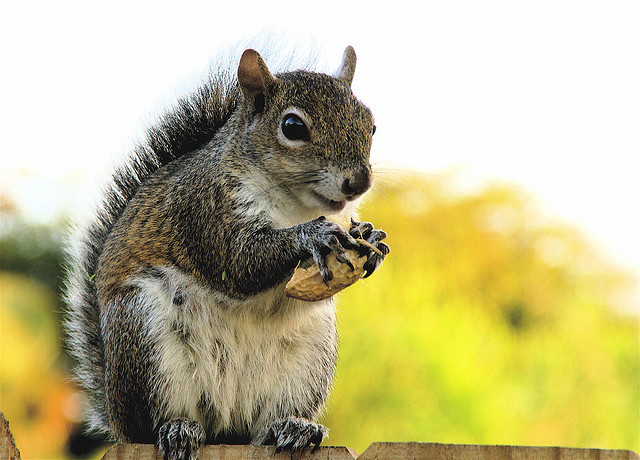 3.) Best Deals on Bulbs
Who doesn't rejoice when they get a good deal? Maybe it is my lifelong citizenship in the state of Wisconsin, perhaps coming from a long line of bargain hunters, clearance rack shoppers and coupon clippers have made me take pride in getting a good deal. Most garden centers and online retailers like  Holland Bulb Farms and Tulip World have incredible deals on flower bulbs this time of year. You can generally get large quantities of over 100 tulip or daffodil bulbs for less than .30 cents a bulb! That is absolutely amazing when you think about how much beauty those tulips and daffs will add to your yard next spring. If you want flowers all spring or for at least 4-6 weeks in spring, you can generally get an assortment of spring flowering bulbs that have hundreds of bulbs for less than $50! I love the fact that for less than $100 I could have hundreds of blooming flowers that will surprise me, wow me and give me something to look forward to all winter in spring from these fall planted bulbs.
2.) Multi-Tasking at Its Finest
Some say multi-tasking can make you less productive and less focused. I don't think that is always the case unless you haven't perfected the art of multi-tasking. Multi-tasking in this busy world we live in is necessary if you want to use your time wisely. Obviously, certain tasks like brain surgery require your full attention on only accomplishing that procedure. Fortunately planting bulbs is not brain surgery, neither is raking leaves. While you are out in your yard raking leaves, cutting back perennials, applying winter protection to your trees and shrubs, you may as well plant your fall bulbs! Multi-task with the best of them, put your yard to sleep for winter while prepping it wake up with tenacity in spring!
1.) Temperatures that Bulbs Like
In point 6 I mentioned the temperatures I prefer to spend my time in. This most important reason to plant bulbs in November is the temperatures are ideal for what fall planted bulbs like to be planted in! This project requires both you and the bulb to cooperate for optimal results. Bulbs are simple for the most part, they need sun, air, water, and the right temperatures. Fall bulbs need cold temperatures to make a flower bud, but they also need to be planted in the right temperatures to establish a healthy root system. The best time to plant fall bulbs is when your temperatures are in the 60's during the day or lower. I did a little research on some of my favorite weather sites like Accuweather and Weather Underground and determined that nearly 75% of the United States can start or finish their fall bulb planting in the month of November. The upper midwest even though it is a bit chilly is certainly hanging in the 60's or lower during the day. Middle parts of the country such as Tennesse, Kansas, and Colorado are also cooling off, or have cooled off enough to meet these ideal temperatures for fall planting. Temperate areas like Northern California, Oregon, and Washington are also cool this time of year, and all fall bulbs can be planted in November. Areas in hardiness zone 8 and above like the southern states of Alabama, Georgia, Florida, Texas, Louisiana, and Mississippi may want to wait until December to begin planting their fall bulbs.
You may or may not agree with all of my 7 reasons why November is the best time to plant. For example, point number 6 spending more time in the garden with cooler temperatures is highly debated by many. Most of my friends and family would much rather spend a day outside in 80-degree temps than 40-degree temps.  I say to each their own, and sometimes even though they may like it for the health of their spring blooms, they may have to enjoy a day in the 40-degree garden!  Whatever your reasons are for wanting to plant your fall bulbs until November or even December, please know it is not too late too late to plant. If given the proper water, light, air and temperatures you will have a thriving garden filled with beautiful garden gems blooming from April to May!