Gardening is like life in that it isn't always easy; we encounter situations and settings that pose challenges. A very common garden challenge is finding colorful plants for shaded garden areas. Before I had a shaded yard, I was always a fan of the shade plant section at the garden centers where I used to work. Part of the reason I enjoyed the shade plant section may have been because it was cooler under the shade cloth over the hoop houses, but my preference for staying cool in summer is not the only reason I liked being in that section. Shade-loving perennials and bulbs provide a surprising amount of texture, and color that can really help to brighten up shady garden areas.
My yard is mostly shade due to large mature trees that surround the front and back of the house. Over the past 8 years of living at my house, I have learned a few things about perennials and bulbs that love shade. If you are looking for shade loving perennials or bulbs that do well in full to partial shade check out the list below…
7 Unique Shade-Loving Plants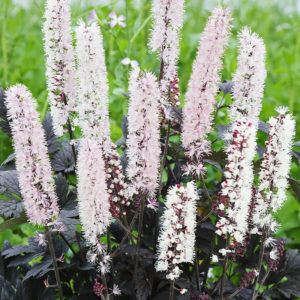 Planting and planning your shade garden isn't as difficult as it seems. It may appear that the majority of perennials and bulbs require a healthy amount of sun in order to bloom and grow correctly, but there are a large number of shade-loving perennials and bulbs that will add color and texture to your low light settings. Nearly all hosta, astilbe, caladium which have hundreds of cultivars to choose from tolerate full to partial shade, plants from these groups are a great place to start when planting your shade garden. If your shade garden is filled with hosta already and you want to add some additional texture and blooms try planting goatsbeard, ligularia or snakeroot, they certainly will add a new dimension to your shaded garden areas!