Just like humans need companions to thrive, plants also need companions to thrive. Planting all of the same types of bush, tree or flower is no fun! Planting a limited selection of plants can also lead to problems if a disease or pest comes and wipes out that entire type of plant. When planning your garden with bearded iris it is important to plant bearded iris of different colors and heights together. It is also effective for balance to plant flowers, trees, shrubs and bulbs that complement the bearded iris.
Bearded Iris may already be a part of your garden and you want companion plants to make the space more diverse. Perhaps you don't have bearded iris in your garden but want some late spring color from this colorful group of flowering perennials. If you enjoy bearded iris and want to make the most out of these late spring blooming perennials read more.
Plants that Bloom with Bearded Iris
Bearded Iris are late spring to early summer blooming perennials. These fall-planted bulbs put on their best display in May and June depending on where you are located. To get the most of your planting area you will want to plant perennials and bulbs that bloom around the same time to compliment the bearded iris in your garden.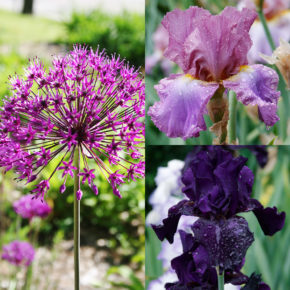 Bearded Iris + Allium: Allium are popular fall-planted perennial bulbs that grow and bloom in spring. The combination of bearded iris and allium are the grand finale of the spring bulb flower season as they are the last of the fall-planted bulbs to bloom. Allium are generally available in purple, pink or white blooms. Bearded Iris are available in nearly every color of the rainbow, which makes the color combinations of allium with bearded iris expansive. Try combining Purple Sensation Allium with a selection of iris such as Anvil of Darkness Bearded Iris, Imbroglio Bearded Iris and Immortality Bearded Iris for a stunning display. The combination of purple allium and iris with the white Immortality Bearded Iris is a classic combination of rich contrasting colors.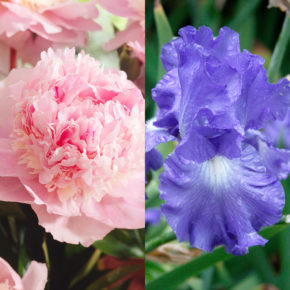 Bearded Iris + Peonies: Peonies and Bearded Iris are colorful, showy and put on a spectacular display in late spring. Peonies and Bearded Iris reach similar heights at maturity, generally in the 3-4' range. However, the overall shape of the iris and peonies is much different. Peonies have a shrub-like appearance with attractive foliage, while iris have an upright appearance with thick grassy leaves. Planting irises and peonies together creates a double impact with blooms appearing at the same time. Depending on the variety of iris and peony you may want to plant the iris behind the peony so that the peony masks the foliage of the iris. If the variety of Iris you are planting grows shorter than the type of peony you are planting, you will need to plant the iris in front of the peony. My favorite combination of peonies and bearded iris is one that represents the pastel colors often represented in the spring season. I like to plant light pink peonies like Eden's Perfume Peony or Plena Rosa Peony with pastel blue iris such as Victoria Falls Bearded Iris. The combination of light pink peonies with light blue iris screams spring to me!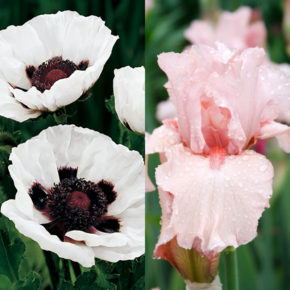 Bearded Iris + Oriental Poppies: This combination of late spring blooming perennials offers different textures as well as diversity in the mature height between the two plants. Oriental Poppies are a bit lower to the ground compared to bearded iris so they should be planted in front. Poppy varieties like Harlem Oriental Poppy pair well with the light pink color of Lotus Land Bearded Iris. Perry's White Oriental Poppy with its large white blooms complements any color of bearded iris and is a must-have perennial for your late spring garden. Both oriental poppies and bearded iris prefer soil that drains well and performs poorly in waterlogged soils. Similar growing conditions of well-drained soil and full sun make poppies and iris a match made in heaven!