Oh. Deer! Is one way to respond when you see deer munching on your flowers and plants in the garden. These four-legged furry animals are not typically seen as friends to most gardeners. Deer in the garden can cause plenty of damage to your trees, shrubs, perennials, and bulbs. Since I am not a deer it is hard for me to say what attracts them to certain plants more than others. Perhaps it is the sweet scent of lily blooms they are attracted to?  Or maybe the lush, green leaves of the hosta just really wet their whistle? While we may not know why they choose certain plants to feast on, we do know there are plants that they tend to stay away from. If deer are making your garden their buffet continue reading for my top 12 deer resistant perennials & flowers:
Top 12 Deer Resistant Perennials & Deer Resistant Bulbs
All the perennials and flowers in this list bloom in summer (June, July, August or September). Keep in mind if deer are really hungry, they will eat anything, even plants with thorns or toxic components. Therefore, if deer are prevalent in your yard you may want to protect your most valuable plants with a deer repellent such as Liquid Fence.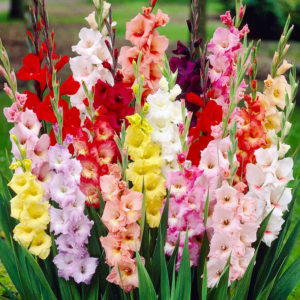 Keep the Deer Away With Repellants, Deer Resistant Plants and Home Remedies
For homeowners and gardeners with heavy deer populations using repellents and planting deer-resistant varieties may not be enough. Installing a fence may be necessary if the deer seem to be relentless.
 In addition to using repellants and planting deer-resistant perennials and bulbs, some home remedies may also seem to help. Home remedies I have learned from other gardeners include using a motion activated sprinkler to startle the deer or hanging cd's from your trees as the reflective light will scare the deer off. Many gardeners swear by cutting Irish Spring soap into smaller pieces and placing them in an old pair of pantyhose and placing them in the garden. Planting Marigolds can help deter both bunnies and deer in your perennial and vegetable garden.
No matter what you do try to keep the deer out, it is always good to switch your methods and keep trying new ways and new plants. If you have any home remedies to keep deer out, or favorite deer resistant plants leave a comment here, as we would love even more suggestions to deter and repel deer from the garden.