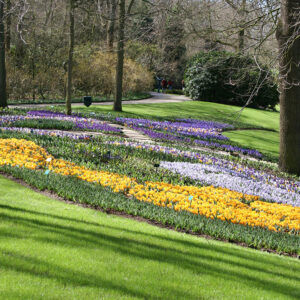 Creating a complete look in your landscape incorporates plants from top to bottom. Starting at the top planting trees takes the most consideration when planning your garden and landscape. Adding shrubs, and perennials are often the next step in the process. When you have a foundation of what you want your garden to look like by planting trees and shrubs you can add the finishing touches, creating an inviting space. Spring-blooming bulbs are an excellent finishing touch to use as ground cover in the garden.
Traditional ground cover perennials like vinca, sweet woodruff, and pachysandra are staples in creating a finished garden appearance. Perennials and bulbs used as ground cover tend to stay low to the ground, reaching heights of 10″ or less. Another characteristic of ground cover plants is they tend to multiply over time and cover the planting area over the course of months or years.
Spring-flowering bulbs can be used as a groundcover to create a complete look early in the bloom season. Combining traditional ground covers with seasonal ground covers such as spring blooming bulbs creates variety in the garden. Low growing flower bulbs that bloom in spring are available in a variety of flower colors and shapes. Add any of these 10 flower bulbs to your landscape this fall to put the finishing touches on your landscape next spring.
10 Spring Blooming Ground Cover Bulbs
Grape Hyacinths (Muscari armeniacum)
Their blue clusters of flowers are recognizable in the spring garden. Mass plantings of muscari at the Keukenhof in the Netherlands create a sea of blue. Planting Grape Hyacinths at the base of flowering trees and shrubs adds a cool and calming effect to the spring garden.
Muscari pairs well with daffodils, fritillaria, and tulips.  Classic pairings are Grape Hyacinths used as a ground cover with Dutch Master Daffodils towering above the sea of bell-shaped blooms. Use grape hyacinths as a border with red tulips such as Red Emperor Fosteriana Tulip in perennial beds for a classic combination.
Tolerates sun to shade
Spreads readily. Plant muscari in areas it is allowed to spread freely.
Grows 6-9″ tall
Blooms early to mid-spring
Hardy in Zones 4-8
Fragrant flowers
Flower colors: blue, white, and pink
Plant 14-18 bulbs per sq ft
Siberian Squill (Scilla siberica)
A cold-tolerant bulb that appears in early spring with delightful blue flowers. The grass-like leaves appear first followed by the star-shaped blooms that face downward. Plant Siberian squill in the lawn for early spring color when the grass is greening up. Planting these blue beauties in mass under trees and shrubs makes an effective ground cover.
For a carpet of color plant Siberian squill with crocus and striped squill. Siberian squill similar to muscari pair well with daffodils as well as early spring blooming tulips like Flaming Purissima Tulip.
Grows best in full to part sun
Spreads readily.
Grows 6″ tall
Blooms in early spring
Hardy in zones 2-8
Flower color: blue
Plant 15-17 bulbs per sq ft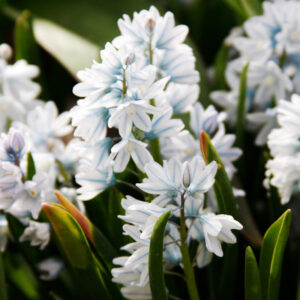 Striped Squill (Puschkinia libanotica)
Striped blue and white flowers appear in early spring on the striped squill. They are similar to Siberian squill in flower shape but tend to bloom slightly earlier with smaller blooms. Striped squill is best planted in mass plantings of 100 bulbs or more. Mix striped squill and Siberian squill together in a planting area under a tree such as a Star Magnolia for a burst of early spring blooms.
Plant in full sun to partial shade
Spreads readily
Grows 4-8″ tall
Blooms very early in spring
Hardy in zones 3-8
Flower color: light blue to white
Plant 15-17 bulbs per sq ft
Snowdrops (Galanthus)
Snowdrops are a delicacy in the garden. These delicate bulbs must be planted in early to mid-fall for blooms to appear in late winter to early spring. When the earth is waking up in spring snowdrops are one of the first flowers to appear. Often they bloom when snow is still present. Snowdrops are slow to spread. If you are looking for a flower to fill in under trees or shrubs quickly using snowdrops may not be your best choice. However, if you would like flowers that slowly fill in and bloom in early spring snowdrops are a wonderful choice.
Plant in full sun to partial shade
Spreads slowly
Grows 4-6″ tall
One of the earliest flowers to bloom in spring
Hardy in zones 3-7
Flower color: white
Flowers can be single or double
Plant 12-15 bulbs per sq ft
Crocus (Crocus species)
Crocus is an early spring blooming bulb that is beloved by many. There are many varieties of crocus that can be used as ground cover. Plant crocus bulbs in large groupings under trees and shrubs. Crocus bloom in shades of yellow, purple, and white. Planting a mixed package of crocus is an easy way to achieve a colorful ground cover appearance in early spring. Botanical crocuses are the first to bloom in spring, followed by the giant crocus, learn more about the different types of crocus in this post. 
Plant in full sun to partial shade
Spreads moderately
Grows 4-6″ tall
Flowers in early spring
Hardy in zones 3-8
Flower colors: white, yellow and purple
Plant 12-15 bulbs per sq ft
Summer Snowflake (Leucojum species)
Dainty bell-shaped blooms dance above green leaves in mid-spring. Snowflakes create a similar look to Lily of the Valley and Snowdrops, if you enjoy those blooms you may want to add some Summer Snowflake to your garden. Gravetye Giant Leucojum is a well-known cultivar of summer snowflake that boasts 1″ diameter blooms. This robust cultivar naturalizes well but is not considered an aggressive spreader. Plant Leucojum as a ground cover with mid-spring blooming tulips like Darwin Hybrid Tulips, Triumph Tulips, and Fosteriana Tulips under trees. Snowflakes can also be mixed with Muscari as a naturalizing blue and white groundcover combination.
Plant in full sun to part shade
Spreads moderately
Grows 12-36″ depending on the cultivar and species
Gravetye Giant Leucojum is a taller variety that works well as a ground cover
Flower colors: white and pink on occasion
Plant 3-5 bulbs per sq ft
Corydalis species
Tubular shaped blooms in purple or pink appear above textured foliage in mid-spring. Some varieties of corydalis, such as Corydalis lutea are grown like a traditional perennial and not from a bulb. Two popular corydalis varieties grow from a bulb and make a lovely shade tolerant ground cover – Purple Bird Corydalis and Beth Evans Corydalis. Purple Bird Corydalis has purple blooms on foliage similar to a fern-leaf bleeding heart. Beth Evans Corydalis has electric pink blooms that look nice when planted with blue, purple, or white flowers. Corydalis is a slow to moderate spreader that tolerates shade to sunny locations. Considered a low-maintenance bulb, it works as a ground cover under shrubs or trees where you want a burst of bright color in spring.
Plant in sun or shade
Spreads slowly to moderately
Grows 4-6″ tall
Mound shaped growth habit
Flowers: pink, purple, blue and yellow
Plant 1 bulb per sq ft
Botanical Tulips (Tulipa species)
Botanical Tulips are the original tulips.  Even though they don't look like traditional tulips they are a delightful addition to the spring garden. Unlike traditional varieties of tulips that have large flowers and tall stems, botanical tulips stay low to the ground. Their flowers are similar in size and shape to crocus, but they bloom later in spring compared to crocus. Botanical tulip flowers are star-shaped and bloom in shades of yellow, orange, pink, white, and red. Botanical tulips spread by seeds at a slow rate, but are considered a naturalizing tulip. An added bonus of botanical tulips is they tend to be deer resistant.
Plant in sun to part sun
Spreads slow
Grows 4-6″ tall
Flower colors: pink, yellow, orange, red, and white
 Plant 9-12 bulbs per sq ft
Glory of the Snow (Chionodoxa luciliae)
Often the earliest of spring flowers to appear is the dainty star-shaped blooms of Glory of the Snow. These low ground cover spring-flowering bulbs have a tendency to peek through the snow in late winter to early spring. Spreading at a moderate pace, they do best when not overcrowded by other plants. Glory of the Snow can be used as a ground cover in a wooded setting, but also looks nice planted under trees and shrubs.
Plant in sun to shade
Spreads moderately
Grows 4-6″ tall
Flower colors: pink, white, purple and blue
Plant 12-15 bulbs per sq ft
Grecian Windflower (Anemone blanda)
Daisy shaped blooms are the delight of this spring blooming ground cover bulb. Grecian Windflower form a dense carpet of blooms in mid-to-late spring. The flowers can range from blue to white to pink. These easy to grow spring-flowering bulbs are rarely bothered by pests but do require soil that drains well to thrive.  Soak the bulbs prior to planting, and lay the bulbs on their side if you don't know which end faces up.
Plant in full to partial sun
Spreads moderately
Grows 3-5″ tall
Flower colors: blue, pink and white
Plant 12-15 bulbs per sq ft
General Considerations for Planting Spring Ground Cover Bulbs
When planning for spring-blooming ground cover in the garden you will want to note that most will go dormant in summer. If you want the look of a ground cover year-round in a particular planting area plant a ground cover present in summer-like vinca, or sweet woodruff.
Ground covers are most effective in the garden when planted in mass quantities. Of course, you can plant a small cluster of any of the above-mentioned flowers if you like them and don't have space for hundreds. However, if you are trying to fill in an area with these ground cover bulbs it is best to plant in large groupings based on the number of bulbs per square feet recommendations above.
The ground cover bulbs mentioned above compliment taller spring-blooming bulbs like tulips, fritillaria, daffodils, hyacinths, and Dutch iris. Consider planting these low growing bulbs among taller spring-blooming perennials and bulbs.
Ground Covers: the Delightful Spring Garden Accessory
Just like a necklace, bracelet or fancy purse can put the finishing touches on an outfit, ground covers put the finishing touches on your landscape. Drifts of delightful flowers at the base of your trees and shrubs bring the garden together for a complete appearance. Using groundcover plants to define the edge of a wood line creates continuity in the landscape. Adding patches of ground cover throughout your yard is as important as your favorite accessories for a night out on the town.