Plants that return for several years are highly sought after since they require less work long term. Hardy perennials are increasing in popularity. Gardeners know they can plant perennial plants this year and enjoy flowers for years and even decades. When it comes to planting bulbs it's no different. Planting bulbs that are perennial means you may only have to plant every couple of years. If you enjoy fall bulb planting you can still add new varieties. You may not need to add as many each year if you have solid perennial daffodils and tulips in your garden.
When it comes to tulips it is true that biologically they are perennial. However, from a cultural standpoint tulips often require the exact right conditions for them to follow their perennial nature. If the soil and temperature aren't right they may only bloom for one season or not at all. Fortunately, with the proper growing conditions, many varieties of tulips are perennial and will return to your garden for many years. Some tulips are better than others in terms of being perennial even when grown in the proper conditions. This list has over twenty varieties of tulips that have a strong perennial habit. Of course, the proper growing conditions help to increase their lifespan. For more information on growing tulips read The Beginners Guide to Gardening with Tulips.
Best Perennial Tulips
Botanical Tulips
Often called species tulips or botanical tulips, these little tulips are some of the oldest tulip varieties. They don't look like a traditional tulip you would see in a bouquet with tall stems and large showy flowers. However, their short stature makes them delightful garden gems. Blooming with star-shaped flowers that often have multiple colors in them botanical tulips should be planted in large groupings. Known to be reliably perennial botanical tulips are also some of the only tulips that are deer resistant. Listed below are three of the most popular botanical tulips for fall planting. All other varieties of botanical tulips not mentioned below will also be reliable perennials.
Soft lilac pink-purple blooms with yellow centers bloom in mid-spring. Plant in groups of 9-12 bulbs per sq ft for the biggest impact.

Deep pink star-shaped blooms with lively yellow centers. Plant in groups of 9-12 bulbs per sq ft for the biggest impact.

Orange star-shaped blooms have yellow and steal colored centers for a vintage look. Plant in groups of 9-12 bulbs per sq ft for the biggest impact.
Darwin Hybrid Tulips
When you think of tulips a Darwin Hybrid variety is most likely the first image that comes to mind. Even if you aren't a tulip expert enough to know the difference between the different tulip types, Darwin hybrids are the epitome of a classic tulip. They have tall stems and large showy blooms in mid-spring. Darwin Hybrid Tulips tend to grow 18-24″ and bloom in mid-spring.
If a classic tulip look and reliable perennial habit are desired planting Darwin Hybrid Tulips will help attain this look. Darwin Hybrid Tulips bloom in warm colors. Listed below are eight of the most popular varieties of Darwin Hybrid Tulips.
Color changing variety features dreamy orange and yellow blooms in mid-spring. Plant 5 bulbs per square foot.

True yellow blooms appear mid-spring on this classic yellow tulip. Plant 5 bulbs per square foot.

Perfect red blooms are one of the reasons Red Impression Tulips are so popular. These reliable red tulips are a must-plant for a traditional garden. Plant 5 bulbs per square foot.

Pure pink blooms are large and showy on the Design Impression Darwin Hybrid Tulips. Plant 5 bulbs per square foot.

Exciting orange blooms have yellow in the base of them on this sturdy perennial tulip. Plant 5 bulbs per square foot.

Juliette combines two classic tulip colors. Yellow is the dominant color in the petals with red accents for a bold punch of mid-spring color. Plant 5 bulbs per square foot.

Vibrant pink blooms are bold and lively on these robust perennial tulips. Plant 5 bulbs per square foot.
Fosteriana Tulips
Large and showy blooms are the key features of Fosteriana Tulips. Although their stems aren't nearly as tall as Darwin Hybrid Tulips or Single Late Tulips these early to mid-spring blooming tulips create a splash of color. Not only are their colorful blooms desirable but their ability to return to your garden is appealing. Fosteriana Tulips are best suited for the front or middle of the garden as they tend to grow 12-18″ tall. Four popular varieties of Fosteriana Tulips are listed below, although all Fosteriana Tulips regardless of variety are known to be strong perennial tulips.
Orange tulips can be considered somewhat rare, as many tulips that are called orange are actually red/orange or yellow/orange. Fortunately, many true orange tulips are also reliable perennials. Orange Brilliant is the best orange tulip with genuine orange blooms in early to mid-spring. Plant 5 bulbs per square foot.

Strong bright red blooms with yellow at the base appear in early spring. Red Emperor Tulips are resilient perennials with a traditional appeal to them. Plant 5 bulbs per square foot.

Sturdy pink blooms appear in early spring on the Albert Hein Fosteriana Tulip. Grows 12-18″ tall making it perfect for rock gardens. Plant 5 bulbs per square foot.

Bright and cheery red-orange blooms with yellow bases shine brightly on a sunny spring day! Plant 5 bulbs per square foot.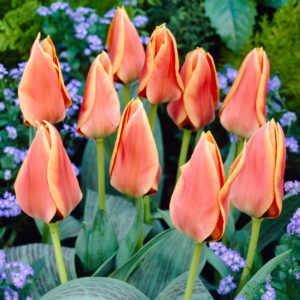 Greigii Tulips
Known to be reliably perennial with a vintage look and colorful foliage Greigii Tulips are a delight in the spring garden. Greigii Tulips have mottled foliage that is often purple striped and spotted. Although they may be lower in height the blooms are still substantial. Greigii Tulips grow 12″ on average. Plant them where they can be seen such as the front of the border or a rock garden. Greigii Tulips can be harder to find in cultivation, however, listed below are 3 popular varieties for fall planting.
Plant a party in your garden with these fun apricot and yellow tulips that bloom in early spring. Plant 5 bulbs per square foot.

Frosty red-pink blooms and mottled purple foliage appear early in spring when the daffodils are blooming on these trusty perennial tulips. Plant 5 bulbs per square foot.

Neat little yellow tulips have a clean appearance and short stature reaching 12″ as their maximum height. Plant 5 bulbs per square foot.
Kaufmanniana Tulips
Similar to Greigii Tulips in that they have mottled and striped foliage, and shorter stature. Kaufmanniana Tulips are sometimes called waterlily tulips because of how their petals form, they look similar to a water lily. Varieties of Kaufmanniana Tulips are suited best for the front of your planting areas, as well as rock gardens. Growing on average 10″ these tulips are a delight to have in your garden. The blooms last long in rainy windy weather and are bright and showy. Listed below are three excellent choices for reliable and compact Kaufmanniana Tulips to plant this fall.
Glowing creamy yellow blooms have red accents on the center of the petals in this revered tulip variety. Plant 5 bulbs per square foot.

Lovely red petals appear on the outside with light pink, white and yellow accents throughout. This heartwarming tulip will fill your garden with love in early spring. Plant 5 bulbs per square foot.

Opulent yellow blooms with red accents will be the high note in your early spring symphony of blooms. Plant 5 bulbs per square foot.
Single Late Tulips
Known to be stately and elegant Single Late Tulips are some of the last to bloom in spring. While not all varieties of Single Late Tulips are as reliable for being perennial as others certain varieties will be reliable perennials. These three Single Late Tulips are known to return to the garden for several seasons.
Indubitably one of the most popular tulips of the last 50 years is the regal Queen of Night Tulip. Deep purple almost black blooms appear at the end of the tulip bloom season. Queen of Night Tulip leaves a legacy in the garden for several seasons. Plant 5 bulbs per square foot.

Large salmon-pink blooms will illuminate your late spring garden when the Menton Single Late Tulips bloom. Plant 5 bulbs per square foot.

Radiant red and orange petals stand tall in the garden on the Temple of Beauty Single Late Tulips. Plant 5 bulbs per square foot.
Tulips that Keep On Keepin' On
Planting tulips that return to your garden increases the value of the initial planting. They create less work as you can rely on them coming back for several seasons. Like all things in the garden planting the right plants in the right place makes all the difference. This is especially true for tulips and their reliability to be perennial in your garden.
The varieties listed above are known to be perennial when given the desired growing conditions of proper soil drainage, cold winter temperatures, and dry summer. Fertilizing the bulbs when the leaves emerge in spring can help ensure your bulbs have enough energy for the following season. Also, keeping the leaves intact until they are yellow and withered will also help your tulips to return the following season. Combining these cultural practices with tulips that are known to be perennial will give you the best chance of having perennial tulips in your garden for many years.
If your tulips don't return as strongly as you like you can always plan to add a few new varieties each year to ensure you have a display of beautiful tulips to enjoy in spring.