Today marks the official end of our 2015 Homegrown Recipe Contest…and what a contest it was! We had recipes of all types, sizes, and styles submitted from Grape Salsa, to Smokey Squash Soup, to Potato Cheesecake, and Roasted Eggplant Poasta! It is always so difficult to decide on the top 3 recipes in each category, but unfortunately, it has to be done.
The following recipes were selected by our cooking/tasting/judging panel based on the following criteria: creativity, use of fruit or vegetable (what percentage of the recipe used the given item), ease of execution (how easy is this recipe to make by the average home cook), taste test (the top recipes will be cooked and tasted by judges to determine taste), and entry content (additional information provided as well as any photographs).
So without further ado, here are our 2015 winners!
Vegetable Category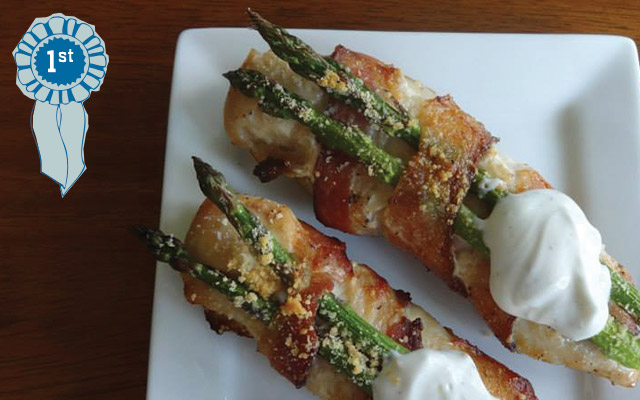 1ST Place – Bacon Asparagus Chicken Tenders by Cindi Hoag of Yates Center, KS
2nd Place – Grilled Irish Cheddar Waffles Sandwiches with Onion and Apple Relish by Nicole Filizetti of Stevens Point, WI
3rd Place – Roasted Vegetables & Quinoa Salad with Homemade Honey Mustard Dressing by Wai Leng Loke of Chicago, IL
Fruit Category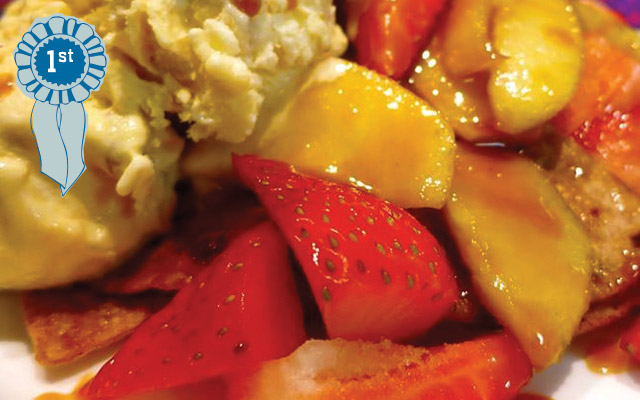 1ST Place – Caramel Apple Strawberry Nachos Supreme by Sandra Dombek of Camillus, NY
2nd Place – Two-Ingredient Milk Chocolate Covered Blueberries by Tara Odegaard of Omaha, NE
3rd Place – Cool Mint Berry Melon Granita by Lisa Keyes of Kennett Square, PA
Getting hungry yet?
And as promised, today I will share with you the first place recipes from each category! Then keep checking back over the week and early next week when I will share the second and third place winners as well!
1st Place Vegetable Winner
Bacon Asparagus Chicken Tenders
from Cindi Hoag from Yates Center, KSIngredients:6 Chicken Tenders
3 pieces of Bacon, cut in half lengthwise
12 pieces of Asparagus
Seasoned Salt
Pepper
Parmesan Cheese
Sour Cream (I used French onion flavored)Directions
1) Wrap tenders with a strip of bacon, lightly season with seasoned salt and pepper.
2) Bake in a 350 degree oven for 30 minutes.
3) Remove from oven. Carefully tuck two pieces of asparagus under a piece of bacon (I flipped the chicken over before doing this so the bacon would cook on both sides), sprinkle with parmesan cheese.
4) Place under broiler 6-8 minutes until asparagus is done and cheese has browned.
5) Garnish with sour cream.
1st Place Fruit Winner
Caramel Apple Strawberry Nachos Supreme
from Sandra Dombek of Camillus, NYIngredients1/4 cup sugar, plus 1 teaspoon for chips
1 teaspoon ground cinnamon
6 flour tortillas
3 tablespoons butter, melted
2 cups strawberries, hulled and halved
35 caramels
1 tbs half and half
4 apples, sliced
whipped cream, for topping
cinnamon, for topping, if desiredDirections
1) Preheat oven to 375.
2) In a small bowl combine the cinnamon and sugar. Brush tortillas evenly with melted butter and sprinkle with the cinnamon sugar mixture. Cut each tortilla into 8 triangles. Spread the tortillas sugar side up on a large baking sheet. Bake in the oven at 375 for 8 to 10 minutes or until crisp.
3) In a saucepan combine strawberries and 1/4 cup of sugar. Heat over medium heat, stirring frequently until sauce is bubbly and begins to thicken.
4) In microwave safe dish, melt caramels with milk, cooking in 30 second intervals and stirring.
5) Place tortilla chips on a plate. Top chips with ½ of the sliced apples and pour ½ of the caramel sauce over apple slices, then top with the strawberry mixture. Top strawberry mixture with remaining apple slices and caramel. Top with ice cream and sprinkle with cinnamon.
So there you have it, our first place winners! Congratulations again to Shannah and Joanne — you both will soon be receiving your $100 product voucher to Holland Bulb Farms shortly! The rest of you winners should also be checking your email for information regarding your $50 voucher (2nd place winners) and your $25 voucher (third place winners).
Once again, a HUGE THANK YOU to everyone who participated in making this our best recipe contest yet! And thank you also to Holland Bulb Farms for once again agreeing to host such a contest with me! Didn't win this year or forgot to enter? Don't fret! We're already starting to plan for the 6th Annual Homegrown Recipe Contest in early 2016!