Today I'm sharing with you the 2nd place winners in both the Fruit and Veggie categories of our 2012 Homegrown Recipe Contest. Make either of these this weekend for a true treat!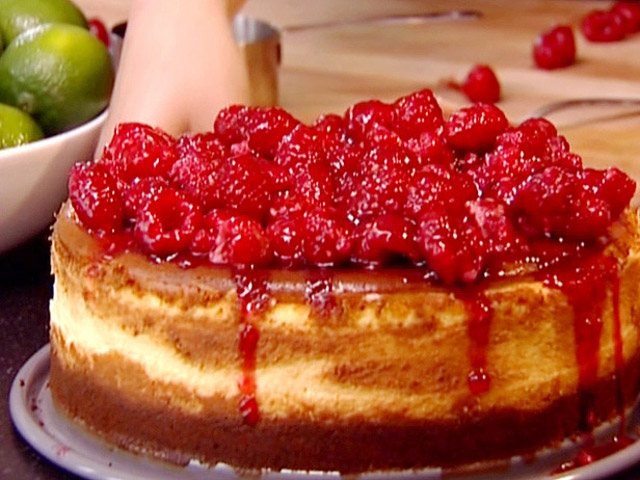 Raspberry Cheesecake
by Kyle L. of Boulder, ColoradoIngredients:
For the crust (can use a pre-made crust if in a time crunch):
1-1/2 c. graham cracker crumbs (approx. 10 crackers)
1 T. sugar
6 T. unsalted butter, melted
For the filling:
2-1/2 lbs. cream cheese, at room temperature
1-1/2 c. sugar
5 whole extra-large eggs, at room temperature
2 extra-large egg yolks, at room temperature
1/4 c. sour cream
1 T. grated lemon zest (2 lemons)
1-1/2 t. pure vanilla extract
For the topping:
1 c. raspberry jelly
3 half-pints fresh raspberries
Directions:
1. Preheat oven to 350 degrees F. combine sugar, graham crackers, and melted butter until moistened. Pour into a 9-inch spring-form pan. With hands, press crumbs into the bottom of the pan and approx. 1″ up on the sides. Bake for 8 minutes and then cool to room temperature.
2. Raise the over temperature to 450 degrees F. Cream the cream cheese and sugar with an electric mixer on medium-high speed until light and fluffy, approx. 5 minutes. Reduce the speed of the mixer to medium and add the eggs and egg yolks, 2 at a time, mixing well after each addition. Scrape down the bowl and beater as necessary. With mixer on low, add sour cream, lemon zest, and vanilla. Mix thoroughly and pour into the cooled crust. Bake for 15 minutes. Turn the over temperature down to 225 degrees F and bake for another 1 hr and 15 minutes. Turn the over off and open the door wide. The cake will not be completely set in the center. Allow the cake to sit in the over with the door open for 30 minutes as it cools. Take the cake out of the over and allow it to sit at room temperature for another 2-3 hours or until completely cooled.
3. Wrap and refrigerate overnight. Remove the cake from the spring-form pan by carefully running a hot knife around the outside of the cake. Leave the cake on the bottom of the spring-form pan for serving.
4. To make the topping, melt the jelly in a small pan over low heat. Toss the raspberries and warm jelly gentle in a bowl until well-mixed. Arrange berries on top of cake and refrigerate until ready to serve.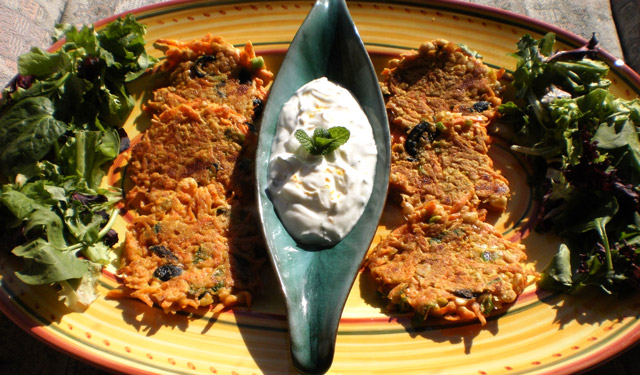 Casablanca Carrot Fritters
by Roxanne C. of Albany, CaliforniaIngredients:
For Fritters:
1-1/2 c. grated
carrots
1/2 c. coarsely mashed garbanzo beans
1/4 c. feta cheese
1/4 c. sliced black olives
1
green onion
, minced
1 clove
garlic
, crushed or pressed
1/4 t. ground cinnamon
1/4 t. curry powder
1 t. grated ginger root
2 eggs
1/2 t. baking powder
1/4 c. all-purpose flour
For Topping:
1/2 c. plain yogurt
2 T. snipped mint
1/2 t. orange zest
Mixed greens for garnish, if desired
Directions:
1. In a mixing bowl, combine all of the fritter ingredients. Mix well.
2. Heat a large non-stick skillet and spray with vegetable spray. Using a 1/3 cup measure, drop batter onto skillet. Press lightly to flatten. Cook until golden brown, turning once, approximately 3 minutes total.
3. Combine topping ingredients and serve with the fritters on a platter. Garnish with greens. Makes 6 total fritters.
Congrats again to Kyle and Roxanne! Be watching tomorrow for the third place-winning recipes…