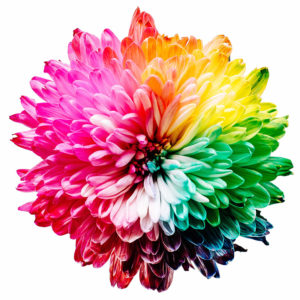 ROY-G-BIV that is how you learn the colors of the rainbow when you are a kid. R for red, O for Orange, Y for Yellow, G for Green, B for Blue, I for Indigo, and V for Violet. Plan for cut flowers in your vases in every color of the rainbow this summer.
Flower gardens provide us an opportunity to paint the outside world with all of the colors of the rainbow. Flowers are available in nearly every shade of every color in the rainbow; however, some flower colors are rarer than others. Indigo and blue flowers are rarer than red and yellow flowers. Bringing the flowers you painted in your landscape into your home is a joy that these natural beauties provide us.
Garden Color Principles
A basic principle of garden design is to decorate your garden in warm colors or cool colors. Warm colors like red, orange, and yellow make spaces appear smaller. Cool colors like indigo and violet make spaces appear larger. Green and white in the garden are used as neutral colors and bring warm or cool colors in your garden together to accentuate them. Blending colors in the garden will translate to prettier vases in your home.
Whatever your favorite colors or color scheme for your garden is, there is a flower for your vases in every color of the rainbow!
ROYGBIV
Red Cut Flowers
Red is associated with feelings of power. In the garden red is a warm color that should be used as an exclamation point. Like in writing exclamation points have their purpose but should not be overused. This bold color will make a statement in the garden, and certainly in your vases.
Gladioli are one of the most recognizable cut flowers. They are sold at farmer's markets and seen at formal events such as funerals and weddings. Red Gladiolus alone in a vase are enough to make a dramatic statement – they don't require any other flowers to have an impact. Red Gladiolus can be combined with other mid-to-late blooming flowers such as Black Eyed Susan, Yellow Dahlias, and Liatris for a vibrant bouquet of blooms.
Plant gladiolus in a sunny location in soil that drains well. Gladiolus bloom 60-90 days after the bulbs are planted. To increase the bloom time of your gladiolus you can stagger the planting over the course of several weeks. Gladiolus are not too difficult to grow; they do, however, require staking to prevent the flowers from tipping over. It is best to set up a staking system, typically done with string at the time of planting. Adjust your stakes and string as the leaves, buds, and flowers begin to grow.
Orange Cut Flowers
Orange in the garden brings a sense of vibrant good energy. When the sun shines on orange flowers they glow. If you want to brighten up a friend's day, giving them a vase of vibrant orange flowers will certainly bring a smile to their face.
Calla Lilies are known as a cut flower used in arrangements, and for boutonnieres and corsages, but they can easily be grown in your garden. Flame Calla Lily is a unique color-changing variety of calla. Starting out yellow as the blooms age they mature to a mango-orange color.
Calla Lilies are tropical bulbs that thrive in moist and humid conditions. They grow well in full to part sun, and like all other bulbs require soil with adequate drainage. Plant calla lily bulbs in the ground or in a container.
Yellow Cut Flowers
Yellow, is it me your looking for? Oh, I guess that isn't quite how the song goes. But you may be looking to add some yellow to your garden and cut flower bouquets. Yellow flowers can range from shades of gold seen in Black Eyed Susans to the pale yellow flowers of Puck Canna Lily. Yellow flowers, like orange flowers, can bring bright energy to a room.
Kelvin Floodlight Dinnerplate Dahlia is a well-known dahlia with beaming yellow blooms. The giant flowers can be as large as 10-12" in diameter.  Placing 3-5 Kelvin Floodlight Dahlias in a cylindrical vase makes for a spirited display of yellow blooms. Use bright yellow dahlias in a mixed floral arrangement for a vibrant combination.  Flowers like tall purple Liatris and hot pink flowers like Robinetta Hardy Mini Gladiolus combined with Kelvin Floodlight Dahlias make a delightful arrangement.
Dahlias need full sun, at least 8 hours to perform their best. Plant dahlias in early summer when the danger of frost has passed in your area. When growing dinner plate dahlias, to attain the largest bloom you will want to trim off the side buds to encourage one main flower bud to form. By removing the side buds this will allow the dahlia to put forth all of its energy into producing one huge and showy flower.
 Green Cut Flowers
Some of my favorite colors in the garden are greens. Green in the garden is quite common. However, most of the time green in the garden is attained through the foliage of perennials, trees, shrubs, and grasses. Green flowers, while they are considered uncommon are present in most seasons during the year.
A flower that is quite common that is being changed and developed by breeders is the coneflower. Native coneflower varieties are available in shades of purple. With increased breeding coneflowers are available in shades of yellow, red, pink, orange, and even green! Green Twister Coneflower is a new variety that bears green petals. Coneflower is a daisy-shaped bloom that is often found in informal cut flower arrangements.
Green Twister Coneflower is best used in a cut flower arrangement as an accent flower and should have companions planted with it. White Gladiolus and Yellow Dahlias combined with the Green Twister Coneflower is a lovely combination that has varying textures, shapes, and flower heights.
Coneflower performs best when grown in full sun, and soil that is dry to well-draining. Coneflower seeds attract birds, so even if you don't bring them in for your vases, they have an added bonus outside.
Blue Cut Flowers
True blue flowers in the garden are just as rare as green flowers in the garden. True blue flowers are indeed rare which is why people love adding them to their gardens. The cool tones of blue flowers have a calming effect on the landscape. Spring blooming flowers like squill and muscari bloom in with true blue flowers. In summer blue flowers are also part of the landscape.
Iris, whether it is Dutch Iris, Bearded Iris, or Siberian Iris, generate true blue blooms. Caesar's Brother Siberian Iris bloom in early summer with true blue flowers among green grass-like foliage. For your vases combine Caesar's Brother Iris with other late spring and early summer blooming flowers like peonies and allium.
Siberian Irises are winter hardy perennials that grow well in a sunny location and tolerate moist soil. These low-maintenance perennials are easy to care for.
 Indigo Cut Flowers
Little did I know that indigo is technically the shade between blue and violet but leans more on the blue side of the spectrum. Indigo is was a bit more difficult to find a suggestion for. However, I managed to find the perfect indigo flower for your vase. Enchanted Indigo Veronica has the color in the name – it was pretty easy actually.
Enchanted Indigo Veronica is a mound-forming perennial that blooms in early summer. The vivid indigo blue spikey blooms really stand out. This spikey perennial has a strong vertical habit in a cut flower arrangement. Veronica can be balanced out with blooms that are more open such as yellow, orange, or red Asiatic Lilies.
Veronica makes a great cut flower. It blooms in shades of pink, white, purple, blue, and of course indigo. These winter hardy perennials do best in full sun with soil that drains well. Plant Enchanted Indigo Veronica in the front border of your garden for a neat a tidy appearance in the garden and a vivid flower indoors in vases.
Violet Cut Flowers
I knew this decision would be the most difficult for me. Violet, purple, orchid, lavender no matter what you call it, it is my favorite color. Therefore, determining which violet-colored bloom I suggest for you to add to your cut flower garden is no easy task. I really feel you should add all of the purple flowers possible to your garden. But that is just me and my bias for purple flowers speaking.
Millennium Allium is a well-rounded perennial flower, and therefore my choice for a violet flower for your vases. This late summer blooming perennial has a lot to offer in the landscape and a vase. It is easy to grow, has a long bloom time, and adds color and texture with its globe-shaped blooms. Millennium Allium in a vase alone makes a strong statement. However, it can also be combined with other flowers that bloom mid-to-late summer like purple gladiolus, white gladiolus, and pink dahlias.
Grow Millennium Allium in full sun and soil that drains well. This perennial holds a nice clump form, making it ideal for border plantings. It is deer resistant and relatively care-free.
What about Pink Cut Flowers?
Pink is a prevalent flower choice in the garden and certainly in a cut flower setting such as a wedding bouquet, boutonniere or corsage. However, pink does not have a place in the ROYGBIV mnemonic device. Why is that? When you combine red and violet you make pink, and it is not found naturally in a rainbow.
Don't leave pink out of your cut flower garden. Pink flowers are found in dahlias, gladiolus, Oriental Lilies, calla lilies, peonies, and I could go on and on!
Grow a Rainbow of Color
Whether you plan to plant every color in the rainbow and beyond, or a monochromatic garden. Attaining every color in the rainbow in your bouquets, and vases with a little planning is easy to accomplish.
For additional resources to ensure blooms from April to September in your garden this guide should lend some inspiration to your cut flower garden plans.