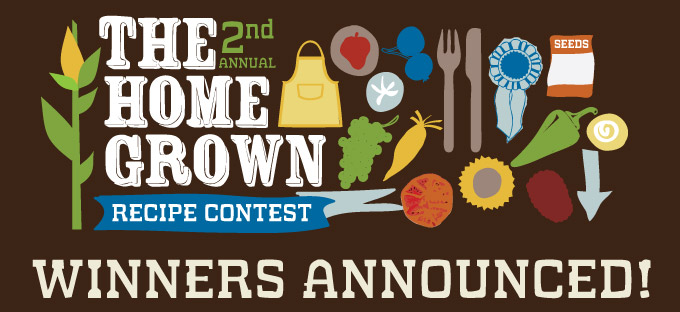 Wow! What a wonderful year we had in our Homegrown Recipe Contest! We received so many good recipes and I think all of us here at the Bulb Blog and Holland Bulb Farms have gained ten pounds over the last two weeks while creating and tasting so many of them…
Today is the day we promised the big announcement of our winners! We are pleased to present the following winners in each of the two categories:
FRUIT CATEGORY
First Place: Fresh Strawberry Meringue Roulade by Barbara E. of Bloomfield Hills, MichiganSecond Place: Raspberry Cheesecake by Kyle L. of Boulder, ColoradoThird Place: Middle Eastern Watermelon Salad by Maria R. of Crawfordsville, Indiana
VEGGIE CATEGORY
First Place: Balsamic Tomatoes & Basil Cream Cheese Dip by Cara F. of Austin, Texas Second Place: Casablanca Carrot Fritters by Roxanne C. of Albany, California
Third Place: Pasta with Spinach & Breadcrumbs by Ambika V. of Lubbock, Texas
Congratulations to all of the winners! Both first place winners will be receiving a $100 shopping spree to Holland Bulb Farms, the second place winners a $50 shopping spree and the third place winners a $25 shopping spree. So winners, be sure to be watching your email for more information on how to claim your prize. Now that's a good way to jump start your spring planting!
Today I'll be featuring both of our grand prize winners' recipes. Tomorrow, watch for the second place recipes and then the third place winners' will have theirs featured in a blog post on Saturday. Lots of delicious creations to make this weekend!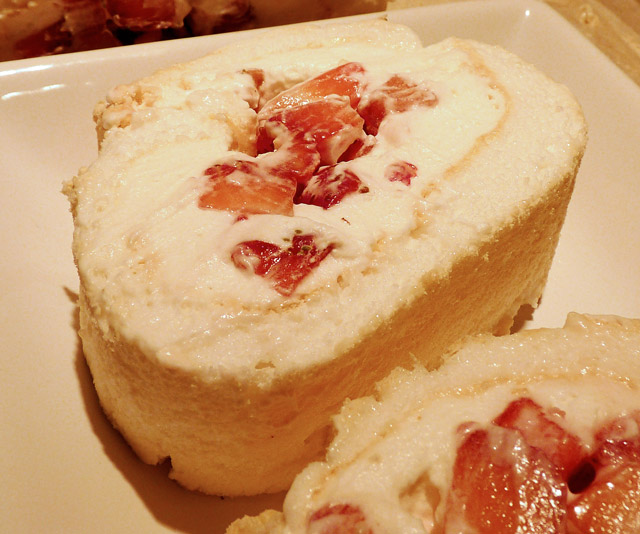 Fresh Strawberry Meringue Roulade
by Barbara E. of Bloomfield Hills, MichiganIngredients:
(6) large egg whites, at room temperature
a pinch of Kosher salt
2 t. cornstarch
1-1/2 c. granulated sugar plus 2 T. for whipping cream
1 t. apple cider vinegar
2 c. heavy whipping cream
3 T. cream sherry
2 c. petite diced ripe fresh
strawberries
Directions
1. Heat over to 350 degrees. Line bottom of a 17×12 rimmed sheet pan with parchment paper.
2. Place the egg whites, salt and cornstarch in a large mixing bowl. While beating at a high speed, gradually add the 1-1/2 c. sugar. Beat for several minutes until firm peaks form. Beat in the vinegar. Spread mixture onto the parchment paper in the pan, leaving a free space of approx. 1/2″ on all sides. Bake for 17 minutes.
3. Remove from oven and cool thoroughly. Place a larger sheet of parchment paper on the counter top (believe us, it saves your counter from a potential very sticky mess!) and slide the cooled meringue on its paper to the larger sheet. Don't worry if the edges get messy or if the cake is "collapsed".
4. In a mixing bowl, beat the heavy cream, sherry and 2 T. of sugar. Spread over cake leaving an inch free on the long borders.
5. Scatter the strawberries on top.
6. Starting at a long border and using a knife to help separate the cake from the paper, roll up jelly roll style. Use the paper to help you roll up. Slide onto a cutting surface.
7. Using a sharp serrated knife, trim away the irregular edges. Cut the remainder into 6 to 8 slices as desired. Use a spatula to carefully move each slice to a plate or platter. Cover and chill for 2 hours or until the cake plumps. Can be made up a day in advance.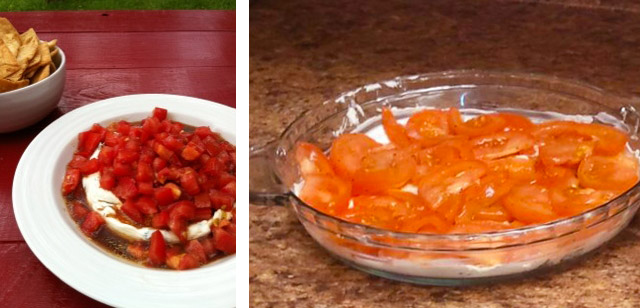 Balsamic Tomatoes & Basil Cream Cheese Dip
by Cara F. of Austin, TexasIngredients:
8 oz. cream cheese
6 large
basil
leaves, cut into thin strips
(2) medium Florida
tomatoes
, chopped
1 T. olive oil
1 t. balsamic vinegar
salt & pepper to taste
Pita chips
Directions
1. Combine cream cheese and basil leaves. Press into a shallow serving bowl or platter so that cream cheese is approx. 1/2″ thick.
2. Combine tomatoes, oil, vinegar and salt & pepper. Pour over the top of cream cheese mixture.
3. Serve with pita chips. Serves approx. 8 as an appetizer.
So there you have it! The grand prize winners of the 2012 Homegrown Recipe Contest. Again, don't forget to check back tomorrow and Saturday for the other winning recipes…you won't want to miss them! I am already excited about next year's contest!