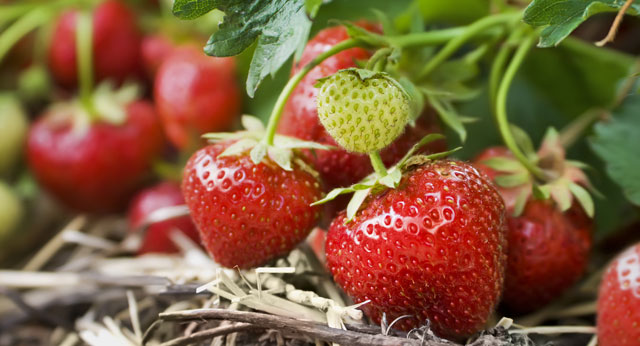 Week after week, we continue receiving more and more entries for our 2013 Homegrown Recipe Contest! I begin to like this time of year almost much as the start of the planting season!
The recipe I've chose to share with you today comes to us from Darryl in Warren, Michigan. The main ingredient featured in this recipe are the strawberries, which are actually "surprisingly" easy-to-grow!

Banana Pudding Surprise
*
Makes approx. 4 servings, 25 minute total preparation time
Ingredients:
2 c. water
1 – 14 oz. can of sweetened condensed milk
1 – 3.5 oz. pkg instant vanilla pudding mix
3 c. whipped topping/cream
1 – 8 oz. package cream cheese, softened
1 – 12 oz. package vanilla wafer cookies
4 bananas, sliced
1 1/2 c. fresh
strawberries
, sliced
1/4. c. fresh
blueberries
1/4 c. fresh
raspberries
Directions:
1. Whisk together water, sweetened condensed milk, and pudding mix together in a bowl until smooth, approx. 2-5 minutes. It should be slightly thick. Refrigerate just until about firm, approx. 5 minutes.
2. Stir whipped topping and cream cheese together in a bowl until smooth; fold into pudding mixture.
3. Arrange a layer of vanilla wafer cookies into the bottom of either individual glass bowls or one larger dessert bowl. Top with a layer of banana slices, strawberry slices, and then the pudding mixture, in that order. Repeat layers with remaining ingredients. Garnish with blueberries and raspberries. Serve!
*This recipe was actually adapted from AllRecipes.com and was originally created by Melodies from Heaven. You can see the original version
here
.
Someone over at Holland Bulb Farms tried this recipe and couldn't stop raving about it! I think I may just have to give it a go myself before this contest is over and maybe even double or triple it  — I think it would work perfect (and look amazing!) in my trifle bowl.
Also, congratulations to Darryl for having his recipe featured on the Bulb Blog! Darryl – keep an eye out for an email to arrive within the next few days with a coupon for $10.00 towards any product on the Holland Bulb Farms website!
Think you have a recipe we'd "rave" about? Hop on over the 2013 Homegrown Recipe Contest submittal page — we'd love to see (and taste) it! Remember, deadline date for entries is coming up fast on Thursday, February 28th so don't delay!