Celebrate pollinators all week and better yet, all year! Planting new bulbs and perennials to attract more hummingbirds, bees, and butterflies to your garden is a good time. Adding pollinators to your garden is also a great way to spend time with your family. National Pollinator Week occurs during the 3rd week of June every year. According to the U.S. Fish and Wildlife Service these animals "help pollinate over 75% of our flowering plants and nearly 75% of our crops." Therefore, pollinators in the garden are not only beautiful, fun, and exciting to see. They are also doing their part in making the world go round'!
Animals that are considered pollinators are birds, bees, bats, butterflies, moths, hummingbirds, beetles, and flies. While some of the animals listed feed on flowers and transfer the pollen from one plant to the other that way. Other animals on the list such as birds and bats transfer pollen on their wings from one location to the next.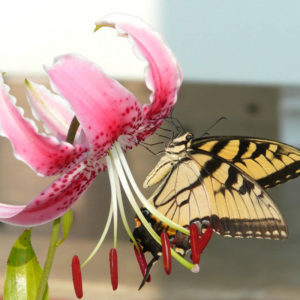 Using as few chemicals in your yard as possible is one way to help ensure pollinators have a safe habitat.
Keeping your birdbaths full of fresh water for birds, butterflies, dragonflies, and other pollinators.
Planning your pollinator garden by having plants that bloom at different times throughout the season.
Planting your pollinator-friendly plants in groups of 3-5 to ensure they have plenty of nectar and pollen.
Avoiding plants, bulbs, and perennials that were treated with neonicotinoids. Neonicotinoids can have negative effects on bee populations.*
*Holland Bulb Farms and Tulip World bulbs and perennials are safe for bees and other pollinators as they are not treated with neonicotinoids.
Not sure what to plant? Check out these bulbs, and perennials for your pollinator garden: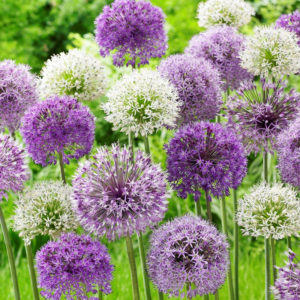 Crocus
Tulips
Muscari
Hyacinths
Daffodils
Snowdrops
Fritillaria
Allium
Anemone blanda
Oriental Poppies
Many of these fall-planted bulbs attract bees and butterflies! Not all tulips will attract bees. Purple tulips like Purple Prince, Violet Beauty, and Purple Flag are the best tulips for bees.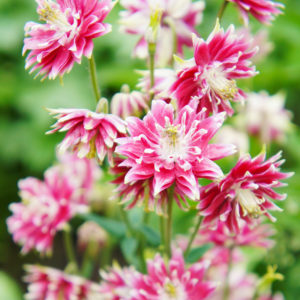 Peonies
Columbine
Clematis
Oriental Poppies
Early in the spring season the bees, birds, butterflies, and hummingbirds are just waking up or returning from warmer climates. They appreciate having some spring blooming perennials to gather pollen and nectar from.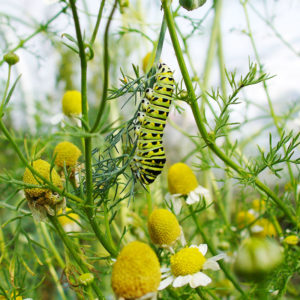 Veronica
Siberian Iris
Salvia
Astilbe
Clematis
Butterfly Weed
Butterfly weed is one of the easiest ways you can make your summer garden pollinator friendly! It is a host plant for monarch butterflies and looks great when planted with the blue flowers of veronica and salvia. Both salvia and veronica also attract pollinators. Astilbe is a shade-loving perennial that attracts pollinators to your garden.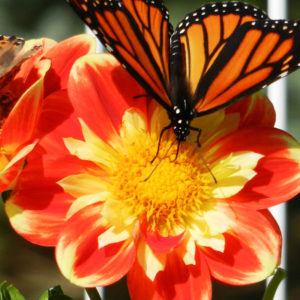 Daylilies
Culver's Root
Phlox
Allium
Swamp Milkweed
Honeysuckle Vines
Canna Lilies
Single Petaled Dahlias
Canna lilies are one of the best summer-blooming bulbs for attracting hummingbirds. Red flowering varieties like The President and Red King Humbert Cannas are especially good at attracting hummingbirds. Honeysuckle vines such as the varieties Dropmore Scarlet and Gold Flame have bright colored flowers that are funnel-shaped which butterflies and hummingbirds love. Not all dahlias will attract bees and butterflies. Cactus dahlias, ball, and pompon shaped dahlias aren't suggested for attracting pollinators, due to the shape of their petals and blooms. Dahlias with flat faces and single petals like Pooh Impression Dahlia, Yellow Sneezy Dahlia, and Top Mix Purple Dahlias are the best for attracting pollinators like bees to your garden.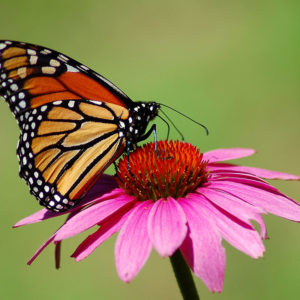 Snakeroot
Coneflower
Black Eyed Susan
Bee Balm
Sedum
Clematis
Trumpet Vine
Globe Thistle
Sea Holly
Late summer blooming perennials really put on a show for pollinators. Black Eyed Susan and Coneflower are popular, carefree native perennials that butterflies and bees flock to. Their seeds are gathered by birds in fall and early winter, which help to provide a food source for birds. Bee Balm, Globe Thistle, and Sea Holly all have unique blooms late in the summer and are native to prairie areas in the United States.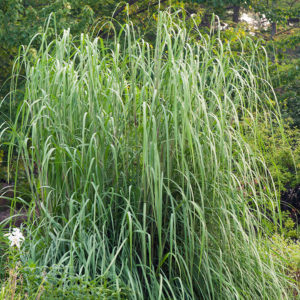 Ornamental Grasses are important to pollinators such as butterflies as it provides a safe place for their chrysalis. Ornamental Grasses also provide resources like food and nesting materials for birds.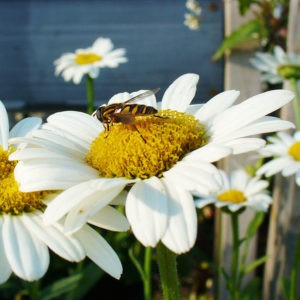 Cranesbill
Coneflower
Re-blooming Daylilies
Bee Balm
Black Eyed Susan
Butterfly Weed
Shasta Daisy
Catmint
Single Petaled Dahlias
Canna Lilies
I suggest planting bulbs and perennials from all bloom times in various seasons. Planting bulbs and perennials with long bloom times is also a great way to help pollinators.
Annuals and Herbs That attract Pollinators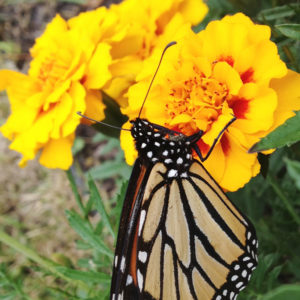 Dill
Fennel
Marigolds
Cosmos
Zinnia
Sunflowers
Foxglove
Zinnias
Wildflower Mix
Sweet Pea
Morning Glory
An affordable and fun way to plant a pollinator garden is to plant annuals and herbs that grow well from seeds. You can even make it into a fun family project by planting the seeds together in the garden. Dill and Fennel are host plants for the Black Swallow Tail Caterpillar and are a must-have addition to any pollinator garden. Sunflowers are helpful for keeping birds fed. Flowers like marigolds, foxglove, and zinnias are adored by butterflies and hummingbirds.
Help Pollinators Do Their Part By Doing Your Part
With so many options of bulbs, perennials, annuals, and herbs it is very possible to have a pollinator-friendly yard and garden. If every gardener did one thing to help the pollinators, we would have a lot more pollinators to help our food and flower production. We should celebrate pollinators every day. National Pollinator Week is a special time to celebrate pollinators. Gather your family and friends, and plant a garden.  Take a walk in nature.  Visit your local botanical garden to enjoy the pollinators and plants that work together to balance the ecosystem!