Planning a garden involves making decisions. What to plant? Where to plant? How many flowers to plant? In order to answer these questions and make decisions, it is important to think about other factors that influence these decisions. Knowing how tall and wide a perennial or bulb grows is necessary when planning. Determining other attributes such as is it fragrant? Does it attract pollinators? Is it easy to grow and maintain? What color will the leaves and flowers be? This last question is quite helpful if you have selected a color theme for the garden or are trying to choose a color theme. Picking a color theme for the garden can be helpful to narrow down the flowers and bulbs added to the garden.
First Steps to Deciding a Color Theme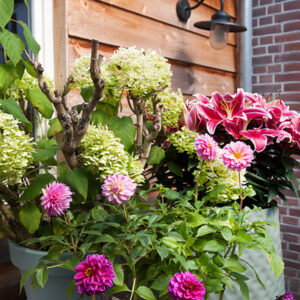 Evaluating your personal preferences as well as your existing landscape is helpful when starting to make a decision on the color theme for your garden. Here are four questions to ask when deciding on your summer garden color theme:
What is the color of my house?
What trees, shrubs, perennials, and bulbs are existing in my landscape?
Do I have a favorite color or colors?
Are attributes like fragrant flowers, flowers that attract pollinators, or flowers that are good for cutting important to me?
Why are these four questions an important starting point? All of these questions will help guide the best colors for your garden.
What is the color of my house?
Selecting flowers that complement the house and won't clash will enhance the overall curb appeal.
What trees, shrubs, perennials, and bulbs are existing in my landscape?
In existing properties and garden re-designs it is likely that there are trees, shrubs, and perennials already planted. Perhaps there is already a color theme started, and expanding on what exists is the best route to pursue. When established plants are present but the colors don't match or clash it may be time for a garden re-design. In that case certain plants may need to be removed or re-located. Evaluating what is already in place can be helpful to determine a color theme.
Do I have a favorite color or colors?
If you have a favorite color or colors that can make selecting the flower colors in your garden quite easy. Gravitating to the colors that bring you joy will bring joy and peace to the garden. If you have one favorite color adding colors that complement it to the garden will create a complete look.
Are attributes like fragrant flowers, flowers that attract pollinators, or flowers that are good for cutting important to me?
Garden color is not the only thing to consider when deciding what to plant. Plants that have traits like attracting pollinators, cutting gardens, deer resistance may impact what colors are selected.
Do you want to attract hummingbirds and butterflies to the garden? If that is the most important aspect certain flower colors do a better job of attracting pollinators. In general warm shades like red, orange, yellow, and red-purple will be the best choices for attracting pollinators.
Flowers that are good for cut flowers bloom in a wide variety of colors. Therefore, this attribute may not alone help to narrow down what to plant. But, if there are certain bulbs and perennials that make good cut flowers that you like that is a good starting point.
It's important to factor more than color into deciding what will go in your yard. Once your priorities are set a color theme can be selected.
Planning the Garden Color Theme
Hopefully, the questions above helped narrow down the color or colors you would like in the garden. From here a decision on what other colors will or won't be added can be made. If one color has been chosen additional colors don't necessarily have to be included in the garden. If you would like to stick to one main color as the theme of your garden you will be creating a monochromatic garden. These gardens focus on one main color and will incorporate varying shades of that color throughout. This is a simple way that can create a big color impact.
For gardens with multiple colors knowing which colors look best together will help guide the theme you choose. Select bulbs and perennials with complementary colors based on the color wheel. Complementary colors are positioned across from each other on the color wheel.  Varying shades of the colors chosen in a complementary themed garden can be chosen.
Classic complementary color choices examples:
Orange with Blue
Yellow with Purple
Red with Green
Yellow with Pink
An analogous color theme is one that includes colors that are positioned next to each other on the color wheel. An example of this would be planting purple, red, and pink flowers together. Another combination that creates a warm feel would be to plant orange, yellow and red flowers together.
Warm Color Theme or Cool Color Theme
If no specific colors are inspiring you, deciding whether you want a warm or cool garden is another good start. Warm gardens will have shades of red, orange, and yellow. They make spaces appear smaller. For large open spaces that you wish to make more intimate going with a warm color theme will help attain that feel.
Cool color themes incorporate blue, violet, and indigo. Cool colors make spaces appear larger. For small space garden areas using predominately cool colors could help make the area appear bigger than it is.
Colors like white, black, and green act can act as neutral's in the garden. These colors are important as they help define the main colors in your color theme.
The color theme doesn't have to stay the same throughout your property. Different sections of your yard can have different color themes based on the look and feel you would like to create. Also, sun and shade requirements may also dictate what colors will grow best in certain areas.
Play With Color in the Garden
Gardening is supposed to be fun! It's hard work, but the end results are what make it the most fun. Therefore, when choosing the colors in your garden make it fun, play around with different combinations. Remember plants, especially bulbs and perennials can be moved around if they don't work in their current setting. Imagine you are a painter and your yard is the canvas; play with color and see what inspires your soul!
Jenny's Favorite Summer Color Gardens
For my hanging baskets and pots I like to plant a combination of orange begonias:
https://www.hollandbulbfarms.com/spring-planting-bulbs/summer-blooming-collections/dreamy-creamy-orange-begonias
For my sunny garden beds, these purple flowers are my favorite and complement the orange begonias.
https://www.hollandbulbfarms.com/spring-planting-bulbs/summer-blooming-collections/radiant-orchid-collection-w/-garden-plan
For the shady spots I like this combination of blue hosta:
https://www.hollandbulbfarms.com/blue-hosta-collection