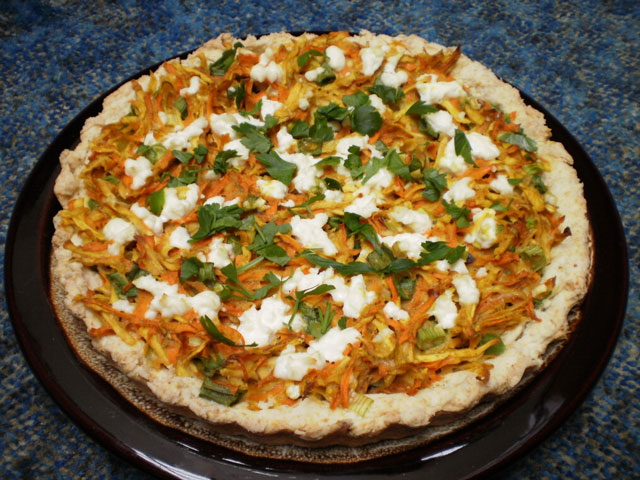 The 4th Annual Homegrown Recipe Contest keeps rolling along and my kitchen is a mess! A lovely mess, that is.
The recipe I'd like to share with you today was submitted by one of our winners from last year, Roxanne of New York! This recipe contains possibly one of my fave ingredients of all time: fresh goat cheese. For those of you who have tried it, you know exactly what I'm talking about. For those of you who haven't, you must. This recipe is so wonderful, so comforting, it's hard to determine if it would be best served as a main course at the dinner table or saved for a delicious desert after the meal!
Tunisian Carrot Parsnip Tart
Ingredients:
1 c. all-purpose flour
1 t. baking powder
4 T. butter, cut into pieces
1/3 c. milk
1 1/2 c. shredded carrot
1 1/2 c. shredded parsnip
1/2 c. minced green onion
2 eggs
1/4 t. each cinnamon, coriander, cardamom, and ginger
1/4 t. curry powder
1/4 t. crushed red pepper
1/2 t. lemon zest
1 oz. fresh goat cheese, crumbled
snipped parsley for garnish
Directions:
1. Combine flour and baking powder in a bowl; work in the butter with your fingers till the size of small peas.
2. Add milk, stirring until the dough comes together.
3. Press into a 9 inch pie plate and refrigerate while preparing the filling.
4. Combine carrots, parsnips, onion, eggs and spices together in a bowl until well mixed.
5. Turn into the crust; sprinkle cheese over the top.
6. Bake at 400 degrees for 20-25 minutes or until the crust is golden brown. Serve slightly warm or at room temperature, garnishing each serving with parsley. Serves 8 as a side dish or 4-6 as a main dish.
THANK YOU, Roxanne, for once again sharing your amazing kitchen talents with us — keep watching your email for your $10.00 Holland Bulb Farms shopping voucher! I have to think that this dish is an excellent way to work some veggies into my family's diet without them really knowing it 🙂
As for the rest of you, c'mon! I know you've got some recipes to share, so what are you waiting for? Do it right here! No recipe is too simple to share — we love them all (and I personally would appreciate a little more simplicity in my life)! You have only until the end of the month so get going and up your chances to win the grand prize!