With hundreds of flower bulbs to choose from for fall planting it can be hard to pick which you will plant this year. If space is limited you may have to carefully select which tulips, daffodils, and other fall favorites to add to the lineup this year. It is easy to go back to the old reliable yellow daffodils and red tulips. Because, hey, they work! They provide a classic look that provides beauty in early to mid-spring. But, life is all about variety! This fall consider adding some new additions to your fall planting plans. We browsed through Holland Bulb Farms selection of New Fall Bulbs for 2023 and picked 8 of our favorite selections for planting this fall.
Favorite 8 New Fall Bulbs for the 2023 Planting Season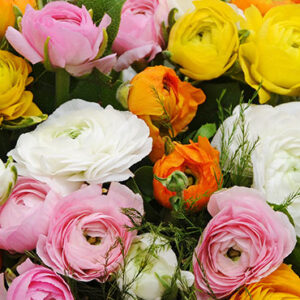 1.) Pastel Peonies Ranunculus Blend
Earlier this spring I planted ranunculus bulbs for the first time and even wrote a blog about it. It went well and I learned some things and also enjoyed some blooms. Gardeners in warmer climates, hardiness zones 7-10 will have the best success with ranunculus planting if they are planted in the fall months. The perfect pack of ranunculus to start with is the Pastel Peonies Ranunculus Blend. These fully double ranunculus flowers bloom in pink, yellow, and white pastel colors. They are the perfect way to welcome spring in zones 7-10.
2.) Ping Pong Allium
Allium are one of the most unique spring-blooming bulbs. Ping Pong Allium is a newer variety to the plant world. They bloom later in spring than most other allium varieties. White round 2″ clusters of flowers appear on top of 2′ tall stems. Plant with other late spring blooming bulbs like purple allium and bearded iris.
3.) Saffron Crocus
While this bulb is certainly not new to the garden or culinary world. It is new to Holland Bulb Farms for this planting season. I am thrilled to see Saffron Crocus offered in their selection of fall bulbs this year. You may know of the spice saffron, for cooking, especially if you consider yourself to be a foodie. It is used in Indian, Moroccan, and Central Asian food as well as middle eastern cuisine. Saffron is harvested from the stamens of saffron crocus flowers.
For the home gardener to get enough saffron for cooking they would need to plant hundreds to thousands of bulbs. It may be worth planting if you enjoy cooking with saffron a whole lot. However, there are other reasons to plant saffron crocus. The main reason is they don't bloom at the traditional time other crocus bloom, which is early spring. Saffron Crocus is a fall-blooming crocus. If you want to experience purple crocus flowers in more than spring plant Saffron Crocus for fall blooms.
4.) Tribal Tattoo Lily Blend
If your garden consists of contrasting colors or has a dark theme to it, this is the lily blend for you. This blend of Asiatic Lilies grows 30-36″ tall and will bloom in early to mid-summer. Stunning deep maroon blooms from the Maripa Asiatic Lilies compliment the white and red Tribal Kiss Lilies. Tribal Tatoo Lily Blend is only available for fall planting, so if you like this combo of colors don't wait til spring to plant.
5.) Red Madonna Parrot Tulip
Unique, exquisite, and bold are words that describe parrot tulips. The Red Madonna Parrot Tulip is a new variety that offers deep bold red blooms. The large ruffled blooms have flecks of black throughout, adding to the mystery and lure of this sultry late spring blooming tulip. Be aware that parrot tulip blooms can be up to 6-8″ across when fully open during the daytime–they are real stunners!
6.) Raspberry Sundae Blend
Are you hungry yet? Unfortunately, you can't eat these flowers, but you can drool over their beauty.  The perfectly paired Ice Cream Double Tulips bloom at the same time as the low-growing Chameleon Allium. Featuring shades of white, pink, and raspberry goodness, the Raspberry Sundae Blend is the perfect addition to the spring flower bulb border.
7.) Tom Pounce Daffodil
Blooming with warm and soft colors of spring, we love the Tom Pounce Daffodil. The medium size blooms appear on 16-18″ tall stems in mid-spring. This hardy daffodil is easy to grow and won't be bothered by deer or rabbits. It grows in hardiness zones 3-8 and does best in filtered sun locations.
8.) Sunny Glitter Bearded Iris
Who doesn't love a little sunshine and glitter in their day? This stunning tall bearded iris has yellowish-green petals combined with shades of blue. It almost looks like a painting! Plant Sunny Glitter Bearded Iris with Blueberry Bliss Bearded Iris and Mimosa Bearded Iris for a sparkling blue and yellow combo.
What Will You Plant This Fall?
Whether it's some new bold and daring choices, or the standard classics the time to start planning is now. Get the best of both worlds and plant some new to you varieties of flower bulbs this fall. It makes the anticipation of spring even greater with new varieties to explore. As always be sure to plant some of the classic favorites, as they are reliable and resilient.