As promised, this week I will be sharing with you the six winning recipes of the 2013 Homegrown Recipe Contest! Today, I'm starting with the first place winners in each category. We literally could not get enough of these two dishes and I think most of us intend to make them on our own at home in the near future!
First Place in the Fruits Category: "Strawberry Panna Cotta with Rhubarb Compote" by Joseph J. Shusta III
Joseph's entry comes from Americus, Georgia, where he works as a banquet chef whipping up all sorts of delectable dishes. We came across his food and living blog where he features all sorts of amazing-sounding recipes, including the winner of this year's fruit category! We encourage you to head on over and check out his site. For your convenience, however, we are also including his winning recipe here: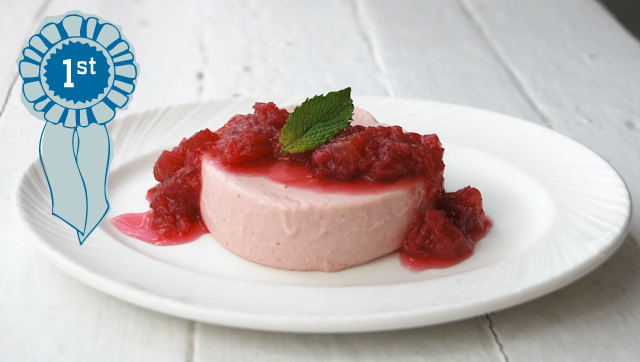 Strawberry Panna Cotta with Rhubarb Compote
Makes 12 servings, Recipe prep time approx. 30 minutes
Ingredients:
1 T. Gelatin, dry
3 T. Water
1 qt. Heavy cream
3/4 c. Sugar
1 oz. Vanilla bean paste
8 oz. Strawberry puree
4 c. Rhubarb, cut into 1/2″ diced pieces
1 1/2 c. Sugar
2 t. Lemon juice
12 springs of basil or mint
Directions:
1. For the Gelatin: In a small bowl, place 3 T. of water and slowly sprinkle gelatin on top of water. Do not stir. Allow to sit 10 minutes to fully bloom. Water will be absorbed by the gelatin.
2. For the Strawberry Puree: Wash and pat dry strawberries. Remove tops and place into blender. Puree on high speed and add a little water as needed. Puree for 3 minutes or until smooth. Strain through fine mesh sieve.
3. For the Panna Cotta: In a sauce pot, pour heavy cream, strawberry puree, sugar & vanilla bean paste. Bring to a boil. When the mixture comes to a boil, remove from heat and add bloomed gelatin. Stir until completely dissolved. Pour into small ramekins and chill in refrigerator for 4 hours or overnight.
4. For the Rhubarb Compote: In a medium sauce pot, place the rhubarb, sugar and lemon juice. Bring to a simmer, cover and cook until tender, approximately 7 minutes.
5. Assembly: To remove panna cotta from the ramekin, run a knife around the sides of the dish. Turn the ramekin upside down and gently shake. The custard should fall out. If it does not, Joseph recommends placing the bottom of the ramekin into warm water for just a few seconds to help soften the gelatin and allow it to release. Place in the center of the plate, spoon on rhubarb compote and top with basil or mint leaf. Serve immediately.
First Place in the Vegetables Category: "Eastern Shore Tomato Pie" by Laura Davis

Laura's entry comes to us from the "Eastern Shore" of Maryland in Pocomoke City. We also found a food blog by Laura, which we have been absolutely delighted and obsessed with ever since! Laura began her blog (Tide & Thyme) back in 2007 as a way to share her love of cooking. She shares a new food creation nearly every day, including this winner, and always includes marvelous photos! One of her other recipe entries (Raspberry Truffle Brownies) was featured in a weekly post earlier which earned her a $10 coupon to Holland Bulb Farms! This recipe was so delicious, I don't think it lasted more than 15 minutes in the HBF kitchen: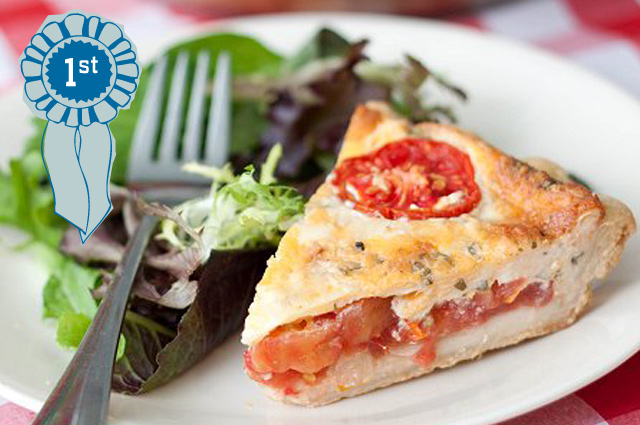 Eastern Shore Tomato Pie

Makes 6 servings, Recipe prep time approx. 15 minutes (total time 1 1/2 to 2 hours)


Ingredients:
(1) 9-inch pie shell
1/2
onion
, diced
1 T. olive oil
2 cloves
garlic
, minced
4
tomatoes
, sliced in 1/4-inch slices
1/4 c. fresh
basil
, chopped
2 c. grated cheese (Cheddar, Mozzarella, Monterey Jack)
1/3 c. mayonnaise
1/3 c. plain Greek yogurt
2 t. balsamic vinegar salt
freshly ground black pepper
Directions:
1. Preheat oven to 350°F. Place pie shell in oven and cook for 8-10 minutes or longer until lightly golden. You'll need to cook for longer if you are starting with a frozen pie crust. If you are using a homemade crust, freeze the crust first, then line the crust with aluminum foil and pre-bake it for 20 minutes, then remove foil and bake an additional 10 minutes.
2. Place sliced tomatoes in a single layer on a cooling rack placed inside of a baking pan. Sprinkle both sides with kosher salt. Let sit for 15 minutes to allow liquids to drain.
3. Add olive oil to a medium skillet over medium high heat and saute the onions until starting to brown on the edges. Add garlic and cook for an additional minute. Remove from heat.
4. Sprinkle the bottom of the pre-cooked pie shell with the onion and garlic. Place the sliced tomatoes in even layers on top of the onions. Drizzle with balsamic vinegar. Sprinkle the sliced basil over the tomatoes.
5. In a medium bowl, mix together grated cheese, mayonnaise, Greek yogurt, a sprinkling of salt and freshly ground black pepper. Spread cheese mixture over the tomatoes.
6. Bake at 350°F, uncovered, until brown and bubbly – about 35 minutes. Allow to cool for at least 30 minutes before slicing.
Doesn't just reading these recipes make your mouth start to water? Based on the final products of each, I would encourage you to run out to the grocery store and pick up these ingredients right away and get going — you won't regret it! Did you venture out and try your hand at one (or maybe both?) of these recipes? Let us know what you thought in the comments below!
Again, both Joseph and Laura are the proud recipients of a $100 gift card to the Holland Bulb Farms website, not to mention amazing cooks!
Stay tuned, as Wednesday I'll be featuring our second place winners!