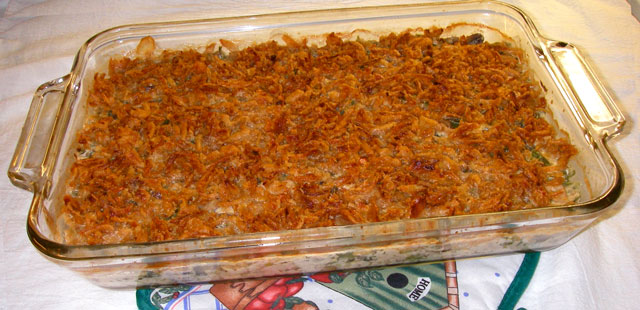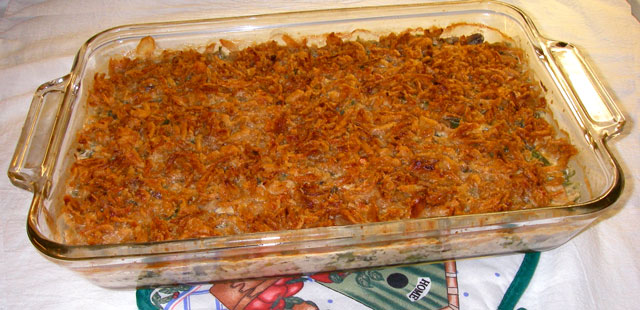 As many of you know, we have already kicked off our 4th Annual Homegrown Recipe Contest — and we've been receiving some scrumptious entries again! As much as I would love to keep them to myself and claim them for my own at our next family get-together, I figured it was high time I start sharing some of these creations with all of you. So without further ado, I present to you our first featured recipe and also our first winner of a $10.00 gift card to Holland Bulb Farms! This recipe comes to us from Sheri at an Air Force Base in Florida and is a great rendition of a one our family's Thanksgiving favorites — the ever-famous Green Bean Casserole! The difference with this one is that it also includes savory shredded chicken, making it a main course for dinner any night of the year! Sheri says: "This is a really delicious one-dish casserole that the whole family will enjoy! The fresh green beans from your garden are 'the stars' of this satisfying recipe."
Garden Fresh Green Bean and Chicken Casserole
Serves 8, total preparation time 30 minutes
Ingredients:
1 1/2 lbs. garden fresh green
beans
, stringed, trimmed and cut into 1″ pieces
2 T. butter
1 T. vegetable oil
1 – 8 oz. package of little portobello or button mushrooms, cleaned, quartered and roughly chopped
2 cloves
garlic
, finely chopped
1/4 t. cayenne pepper
1/4 t. ground nutmeg
1/2 t. salt
1/8 t. black pepper
2 T. all-purpose flour
1 1/2 c. low sodium chicken broth
1 – 8 oz. container of sour cream
1/2 c. heavy cream
2 1/2 c. cooked, shredded chicken (a roasted grocery store rotisserie chicken works well for this)
6 oz. can of french fried onions, roughly chopped
Directions:
1. Preheat oven to 400 degrees.
2. Bring a large pot of salted water to a rolling boil. Add the green beans and cook until they are tender-crisp, about 8 min depending on the size of your green beans (they will continue to cook in the oven as well).
3. Strain the green beans and set them on a paper towel to dry-off excess water.
4. Heat the butter and oil in a skillet until the butter is melted and pan is hot. Add the mushrooms and cook for 1 min. Add garlic and spices and cook 2-3 minutes longer.
5. When the mushrooms release their moisture, dust them with the 2 T. of flour. Stir or whisk (making a roux) and gradually add in the chicken stock.
6. Bring to a simmer to thicken, then reduce the heat and add the sour cream and heavy cream.
7. Stir gentle and cook over low heat until it thicken a bit more, about 4 minutes.
8. Add green beans and shredded chicken to the pan and fold it together so everything is mixed well.
9. Spread evenly in a 9.5″ x 11″ tempered glass casserole pan. Bake until it is bubbly all-over and golden, approx. 25 minutes. Remove casserole from the over and top it with the roughly chopped french fried onions.
10. Return it to the oven and continue to cook the casserole for an additional 5 minutes. Let stand to cool for about 10 minutes and then serve.
This recipe is one that is definitely going into the rotation at my house! Not only will my family love it, but think of how excited they'll be when I tell my daughters that those beans were the ones we picked from our garden?! (Maybe it will even get them to eat it? Ok, perhaps I'm leaving in a dreamworld…) Whether you grow your beans from seed or from started plants this year, complete the entire process by using them in an amazing recipe like Sheri's! Thanks again, Sheri, for sharing your creation with us. Watch your email over the next few days for instructions on how to redeem your $10.00 credit to Holland Bulb Farms!
And everyone else? Keep in mind that we are still accepting recipes until the end of this month. So get them in now and perhaps yours will be featured next!