Congratulations!
The big day it's coming up soon, and we haven't even congratulated you yet! If you have come to this post about using tulip bulbs as wedding favors you may be either recently engaged, the mother of a future bride or groom, a matron of honor or a wedding planner. Therefore a congratulations on planning your wedding is in order!
Marriage is an important milestone in our lives.  Weddings are important events to celebrate this milestone and the joining of two families. To ensure your guests have an unforgettable time at your big day, be sure to provide wedding favors that will leave a lasting impression. Candy and candles are common wedding favors, but they either just go to your waistline or burn out over time. Tulip bulbs and other fall-planted bulbs such as; daffodils, crocus, and allium as favors can be planted in the fall and enjoyed for several spring seasons later!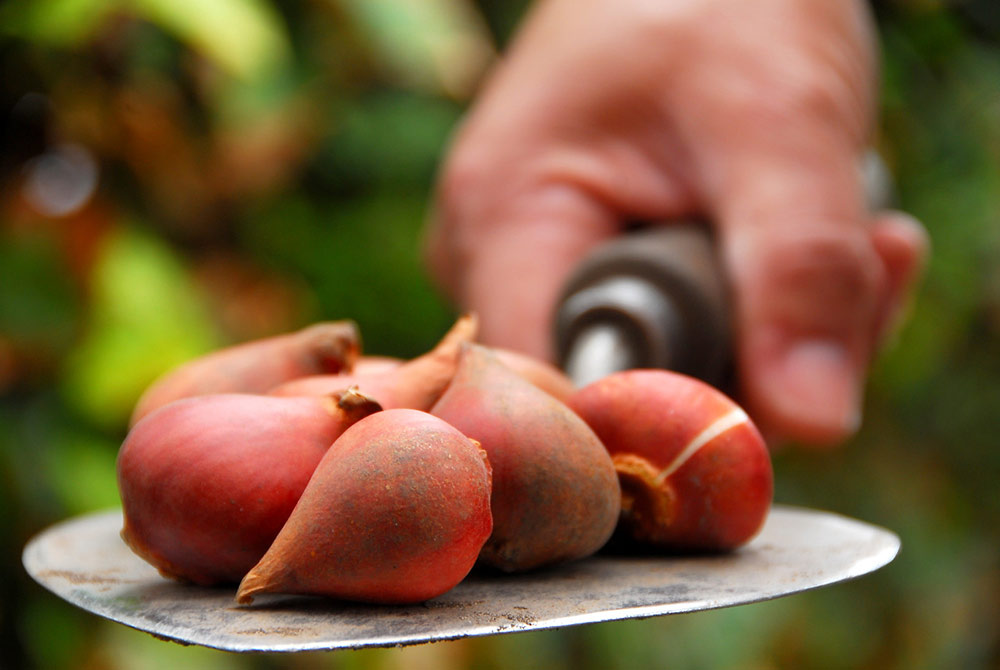 Read Our Guide On Using Tulip Bulbs As Wedding Favors
Tulip Bulb Selection
Weddings come with so many decisions, with no detail overlooked. Many of the decisions you make when planning a wedding have been thought about for a long time.  Selecting what to use for your wedding favors should be a fun decision because it involves giving! Giving always lifts spirits, and brings a warm feeling to both the giver and receiver.  When selecting tulip bulbs for favors you will want to consider your wedding colors, the location of your event and the number of guests you have invited.
The colors of your wedding
Tulip flowers offer many color choices and variations. Even though the bulbs will not be showing the pretty flowers when your guests get them as favors, they will see the beautiful blooms the following spring. Be sure that the colors of tulips you choose match or compliment your color scheme.
Popular wedding color choices for 2018 are Lavender & Lilac, Dusty Rose & Green, Vintage Red & Peach, Off White & Greenery (source: Elegant Wedding Invites). If any of these color combinations fit into your wedding plans, you're in luck when it comes to choosing your tulip bulb wedding favors. Tulips are available in red, purple, white, peach and even green!
For the ladies and gents that love purple like myself, there are many purple tulip bulbs to choose from companies like Tulip World and Holland Bulb Farms. My favorite purple tulip bulbs for wedding favors: Purple Dream Tulips, Curly Sue Fringed Tulips, and Lilac Perfection Double Tulips. If you can't decide which purple tulip to use I suggest the lovely Purple Blend Tulip Mixture from Tulip World. This blend of tulip bulbs will ensure all shades of purple are represented in your guests' wedding favors.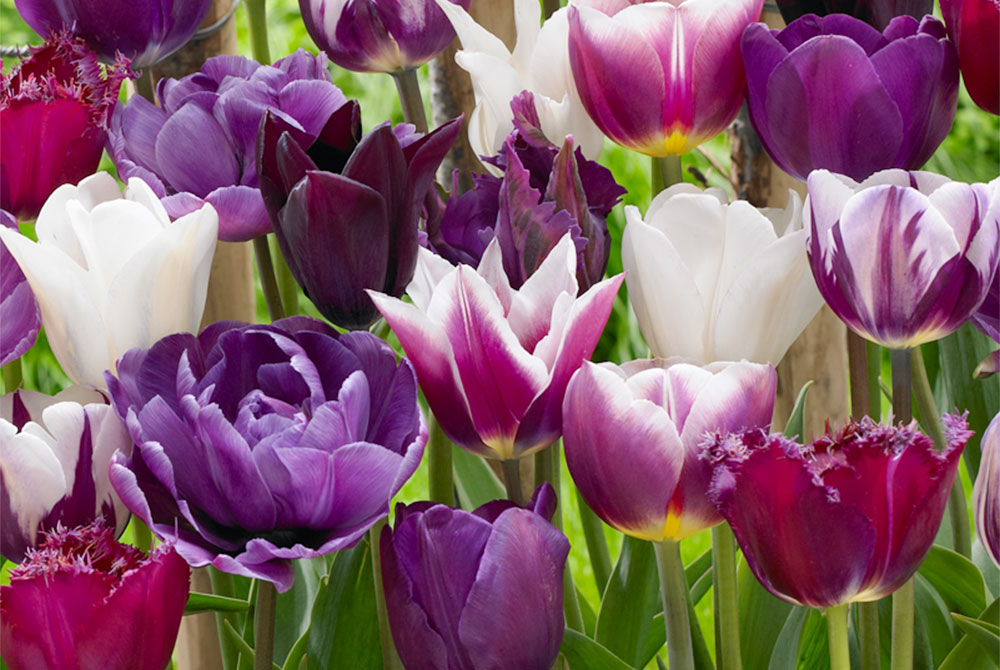 I have always thought that red tulip bulbs were the most appropriate choice for wedding favors. The color red represents love, desire and passion–all essential components to a wedding. Red themed weddings will enjoy the wide variety of red tulip bulbs available on the market. To represent deep shades of red like maroon, or vintage red, consider tulip varieties such as Black Parrot Tulip or Ronaldo Triumph Tulips. To represent true red (think of Valentine's Day red) my favorite true red tulip is Red Impression Darwin Hybrid Tulip. Red Impression is a perennial tulip that will last for several years after your guests plant them.
Pro tip: Get the most bloom for your buck with this 100 bulb pack of Red Impression Tulips from Tulip World, top sized bulbs priced at wholesale prices for everyone!
What is a wedding without the color white involved? Whether it is pure white, off-white, eggshell white, ivory, opal, or white with an accent color, it will most likely make an appearance in your color theme or wedding attire.  Using tulip bulbs that will have white blooms for your favors will represent the new beginning you are about to enter into as well as the purity of your vows. Purissima Tulips bloom in early spring, with a little touch of yellow at the base, they are an excellent choice for your wedding favor bulbs.
Bridesmaids and groomsmen will have a special color for their dresses and ties that will match the color scheme of the wedding. White tulips often have other colors bursting forth in the blooms. For weddings with green as a color scheme, Spring Green Viridiflora Tulip bulbs will make a wonderful wedding favor. If your wedding color is purple, red or yellow you will love these bulbs for wedding favors: (Purple and White) Flaming Flag Triumph Tulip, (Red and White) Carnaval De Nice Double Tulip and (Yellow and White) Sweetheart Fosteriana Tulip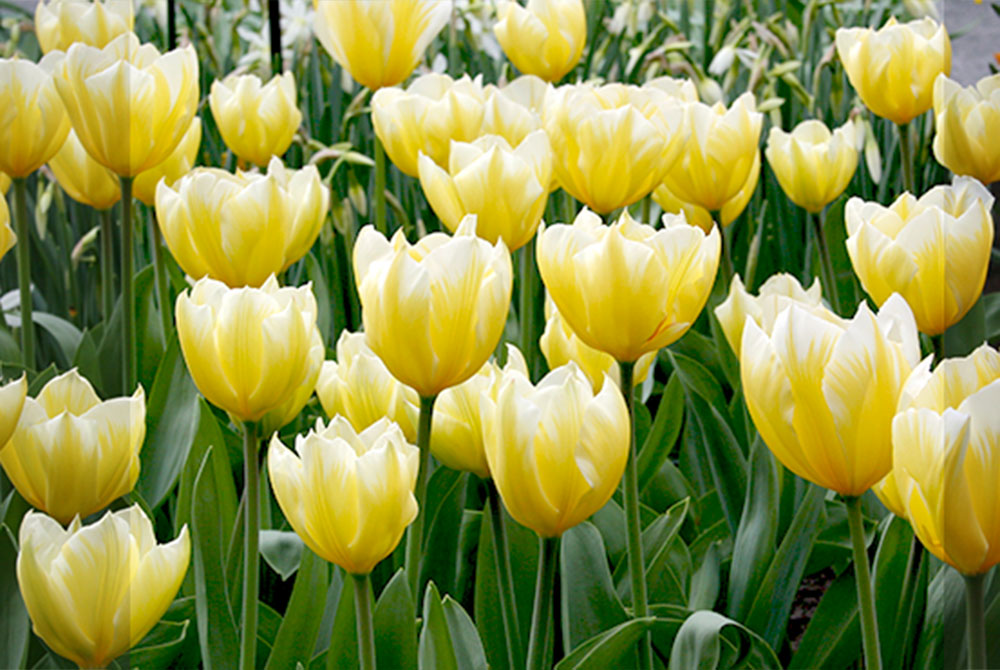 Location, Location, Location!
Quite possibly one of the top decisions when planning your wedding is deciding on the location. Will you get married in your hometown, your partner's hometown, a tropical destination? Will it be indoors, outdoors or a combination of both? More than likely you have already made the decision on where to get married before you have thought about your wedding favors.
If you are planning to use tulips or other fall-planted bulbs as wedding favors, you should really consider the location of your wedding. In warm parts of the United States, such as Florida, Southern California, and Southern Texas tulips may not be the best choice to be used for wedding favors. Tulip bulbs require 12-16 weeks of temperatures below 50 degrees during the day in order to produce a flower bud. If you are located in a climate that does not have these cold temperatures and the majority of your guests also live in this climate, it may not be the best idea to use tulips as your wedding favors.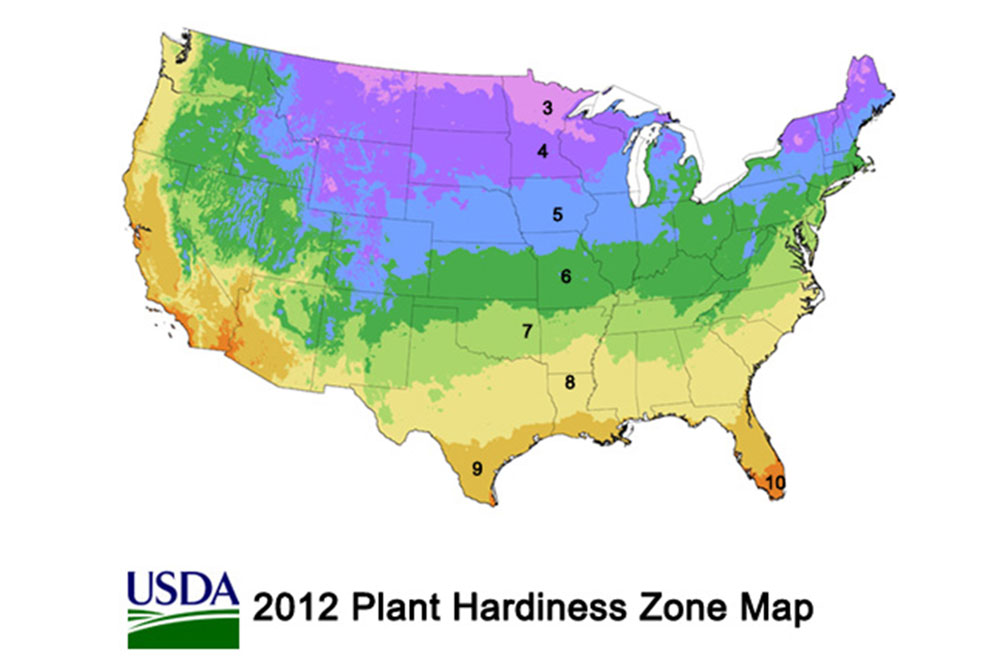 For those of us in the central, northern and temperate parts of the United States where temperatures are cold enough in winter, tulip bulbs are a lovely choice for your fall wedding favors. Therefore your planning shall continue! If your wedding is in late September, October, or November tulips and other fall-planted bulbs will wow your guests, with long-lasting effects. Tulip bulbs do best in hardiness zones 3-7.
Number of Guests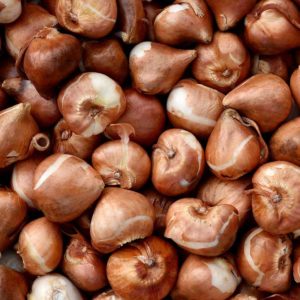 Another difficult decision when it comes to planning your wedding is how many guests to invite. Once you have determined what size wedding you are going to have you can determine how many flower bulbs you will need for your favors. If you are having a large wedding you will need a larger quantity of bulbs. To help save cost consider using smaller tulip bulbs that are packed in large quantities. Holland Bulb Farms, has the most economical choice for large quantities of tulip bulbs, sold in packages with as many as 1,000 tulip bulbs per package.
The best value for favors at large weddings is Tulip World's 500 count packages. The tulip bulbs offered in the 500 count bulk packages are a slightly larger 11/12 cm bulbs than the 1,000 bulb package tulips from Holland Bulb Farms. They are still priced right; the average cost is .29 per bulb (and sometimes even less) which is a pretty affordable price for a wedding favor.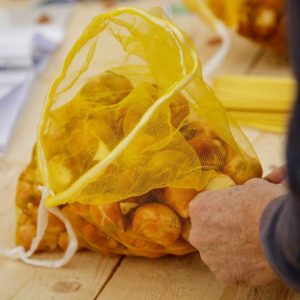 Small weddings, may have a bit more flexibility and choice when it comes to selecting which tulip bulbs to use as wedding favors. A diverse selection of tulip bulbs for fall planting are often sold in packages of 10. If you are looking for a unique bloom like a parrot tulip, fringed, or double tulip these smaller quantity packages are where you will want to start. Holland Bulb Farms offers over 140 different packages of tulips that can be used for fall wedding favors. If your wedding is intimate, quaint and only for the closest of friends, their selection of tulips will be sure to offer something to please your guests.
If your wedding is somewhere in between large and small, Tulip World's tulips are large top sized 12+/ cm bulbs, they are packed with 25 bulbs per pack. Tulip World offers a great selection, incredible pricing and low $5.95 shipping on all orders! Shop Tulip World's selection of 100+ varieties of tulip bulbs!
Creative Ways To Use Bulbs As Favors
Once most of the big, major, difficult wedding decisions have been made, what comes next naturally in your wedding planning is…fun!  Add some additional to fun to your big day, by getting creative with how you package and hand out your wedding favors.
Individual Packages
If you are going to place the tulip bulb favors at each guests seat, consider what you are going to package them in. Large 12+/cm bulbs are generally about the size of a golf ball. When shopping for the packaging you are going to use, bring a golf ball with you, or keep this size in mind if you are shopping online. I suggest giving each guest at least 3 bulbs if it is in your budget to do so. Giving only 1 bulb per package may look a little off when they begin to grow in spring. If you are able to give at least 3 bulbs they will grow in a group in spring, and make a bigger impact in your guests' gardens.
For rustic weddings that take place in; a restored barn, at a farm, a park pavilion, a garden, in the woods, or any other natural setting, match the packaging to the setting. Use materials like canvas, Kraft paper or burlap to package your favors.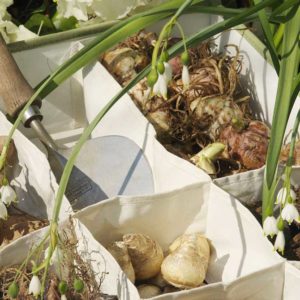 For formal and traditional weddings, use traditional packagings such as organza pouches, gift boxes, or small gift bags. Find colors and materials in these pouches, boxes, and bags to match your tulip bulbs, and wedding colors.
Let Your Guests Choose
A really fun way to use bulbs as favors is to let your guests pick and choose which bulbs they would like to take home! You can create a flower bulb buffet where they can choose from a selection of tulip and other flower bulbs.  Just like the common candy buffets, let your guests have some fun by choosing which colors they would like to plant in their garden. You can include popular spring-blooming bulbs like tulips, daffodils, and crocus in the selection. Large bulbs like allium can be added to the buffet, and even small bulbs like glory of the snow will be a nice addition to the bulb buffet. How you set up your buffet is up to you and the theme of your wedding.
For natural and rustic wedding settings, I love this look: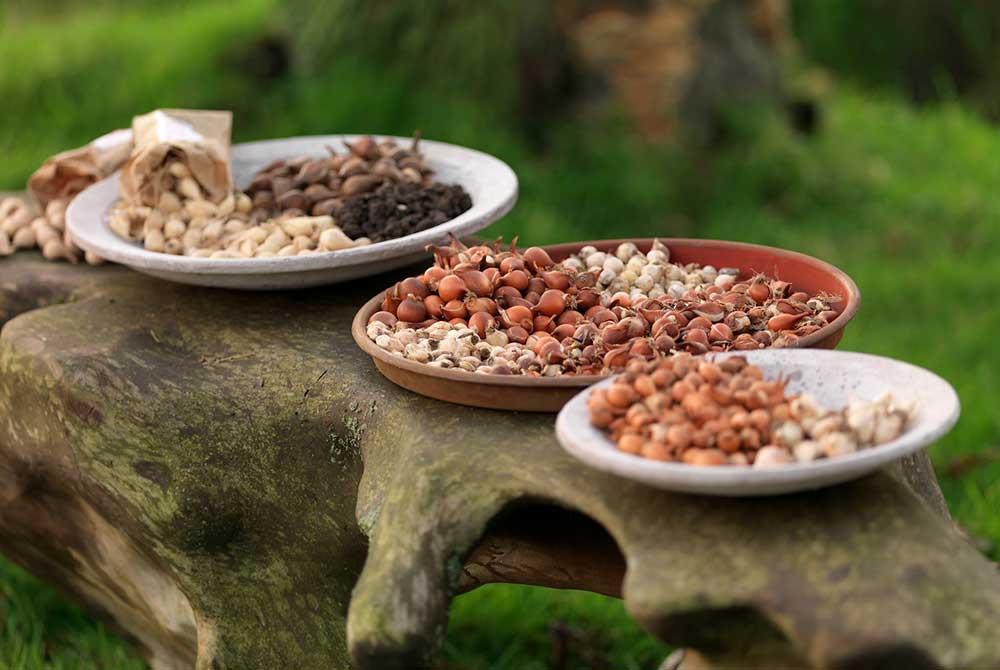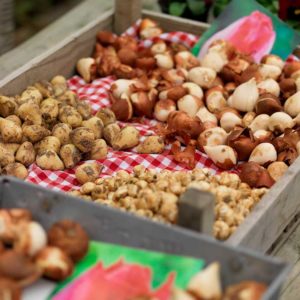 For your wedding at the local park bulbs displayed on these trays at the guest table are a perfect way of giving back to your guests:
A simple plate with an assortment of bulbs for your guests to choose from keeps it easy for you, and fun for them: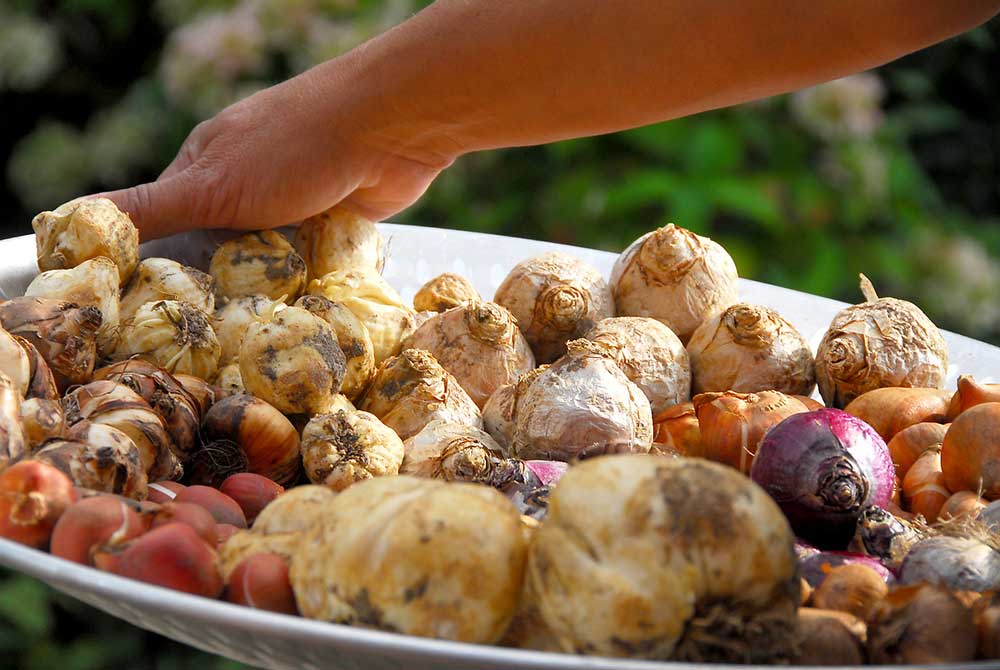 Celebrate Your Big Day With Tulips!
No matter the size of your wedding guest list or budget tulips are a creative, fun and affordable way to say thank you to the guests at your wedding. Now that all your big decisions have been made, and your tulip bulbs are ordered, it is time to enjoy this most special time in your life! Congratulations again on your big day, and your marriage!