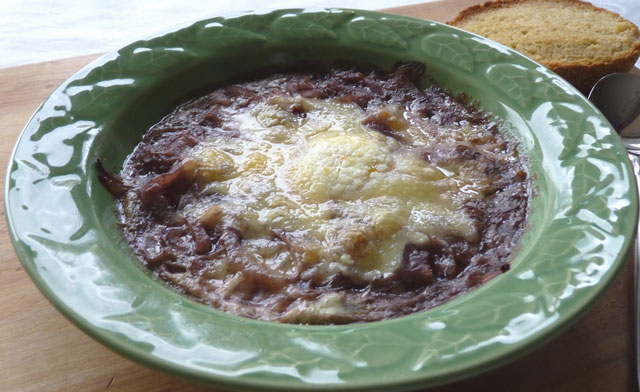 With only one week left in the 2013 Homegrown Recipe Contest, the entries are really starting to roll in! Today we're featuring a recipe that would be absolutely wonderful on a cold day like today here in the Upper Midwest. This mouth-watering french onion soup recipe comes to us from Bee in Bloomfield Hills, Michigan. Bee was actually the grand prize winner in the Fruit Category of the 2012 Homegrown Recipe Contest and we're so glad she has graced with another of her fantastic recipes! (Curious what won her the $100 shopping spree to Holland Bulb Farms? Check out her recipe here!)
One-Eyed Jack French Onion Soup
Serves 6, Preparation time 45 minutes
Ingredients:
2 T. butter (plus additional to grease bowls)
2 lbs. of assorted
red, yellow and white onion
, peeled and quartered and then thinly sliced
1 t. sugar
1/2 t. ground black pepper
1 c. dry red wine
1 T. flour
4 c. beef broth
2 bay leaves
1 T. minced
Jalapeno peppers
6 eggs
6 slices of Swiss cheese
6 t. grated Parmesan cheese
6 slices of toasted bread, buttered if desired
Optional: additional salt to taste

Directions:
1. Melt the butter in a stock pot over medium to medium high heat.
2. Add the onion, sugar, and black pepper. Saute until the onions are lightly caramelized, adding a splash of water as needed to keep the onions moist.
3. Add wine and cook until reduced by half.
4. In the meantime, heat over to 450 degrees.
5. Stir flour into stock pot and cook for 1-2 minutes.
6. Add beef stock, bay leaves, and Jalapeno. Bring to a simmer.
7. Rub the interior of (6) oven-proof bowls/individual soup crocks with butter.
8.Ladle portions of soup mixture for stock pot into each bowl.
9.Place a cracked egg into the center of each.
10.Arrange postage stamp-sized pieces of Swiss cheese around the yolks and scatter the Parmesan on top.
11. Place bowls on a large rimmed sheet pan and bake for 12-15 minutes, depending on how firm you like your eggs.
12. Serve will slices of buttered toast to dip into the yolks and soup.
Makes me hungry just writing about it! Thanks again, Bee for your wonderful entry — Keep on eye on your email inbox for your $10.00 coupon to Holland Bulb Farms! As for the rest of you, thanks so much for the entries so far…looking forward to those that will be coming in within the next week!