Even though our 2014 Homegrown Recipe Contest has technically ended (the last day to submit recipes was Friday, February 28th), we're far from done taste-testing! I figured if we were getting to reap the benefits of these wonderful submissions, than it would only be fair to continue to let you in on the fun, too.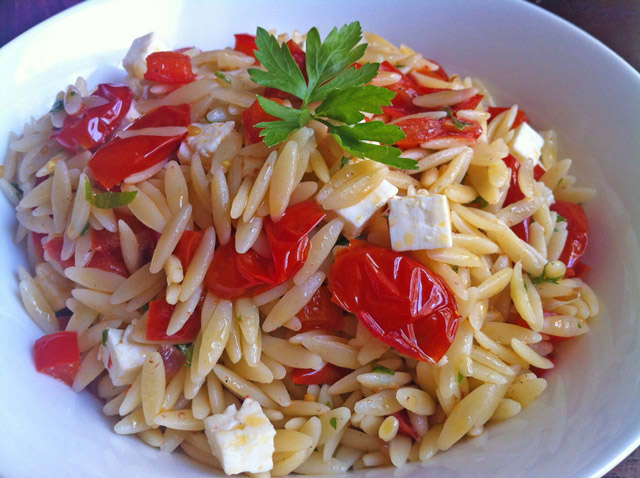 The recipe for today is as delicious as it is beautiful when finished! It was submitted by Dorota in Georgia and makes use of an ingredient with ever-increasing popularity: orzo, a rice-shaped pasta! I can see this dish becoming a standby side in our house this summer…light enough for a side dish but sticks with you long enough to make a nice lunch!
Shira's OrzoIngredients:
1 large onion
1 red pepper
1 yellow pepper
1 orange pepper
1/2 package of Barilla Orzo
dried kosher chicken soup by Lipton
2 tablespoon of olive oil
kosher salt
pepper
Directions:
1) In a medium saucepan bring water and kosher salt to a boil over high heat. Add the orzo and cook until tender but still firm to the bite, stirring occasionally, about 8 to 10 minutes.
2) In a large skillet, heat the olive oil over medium-high heat. Add the chopped onion and cooked it for about 4 min or until golden brown.
3) Cut red, yellow and orange pepper on an 1×1 inch squares. Add all peppers to onion and mix it well.
4) After 4 minutes add a package of dried chicken soup (with noodles and seasoning) to the mixture. Cook for the additional 10 minutes and then add orzo. Add some salt and pepper to taste.
Thanks, Dorota! Keep an eye on your inbox for instructions on how to redeem your $10.00 voucher to Holland Bulb Farms. Remember that next Friday, March 14th, I will announce the top three winners in each category (Fruits and Veggies) and also feature the winning recipe from each category! Dorota, you never know, you may just win one of these prizes, too!