If you're like 25 million + internet users, you've already discovered it. And it's horribly addicting. It's Pinterest.
Identifying itself as a "tool for collecting and organizing things you love", Pinterest has become just that and more. Through allowing and encouraging users to create "pinboards" of different topics (ranging from home decor to inspirational sayings to favorite places to travel — Pinterest has created a community of sharing and exploring new ideas. Along with this new social boom, has come an explosion of contests which give even more incentive to organize your "loves" through such a channel.
This combination has become quite the wonderment for gardeners — what could be better than having a "pinboard" of all of your favorite plants in one place? What a great way to organize your thoughts and dreams for an upcoming planting season! Therefore, Holland Bulb Farms, has just announced their own 2013 Dream Spring Garden Pin it to Win It Contest which starts today! I personally, think this is perhaps one of the most fun contests to enter — who wouldn't like browsing countless gorgeous images of spring flowering bulbs while dreaming about what your yard could possibly look like? Not only does this contest encourage you to do just that, but it also promises a reward to one lucky randomly selected entrant with all of the bulbs on his or her pinboard (up to a $100 value).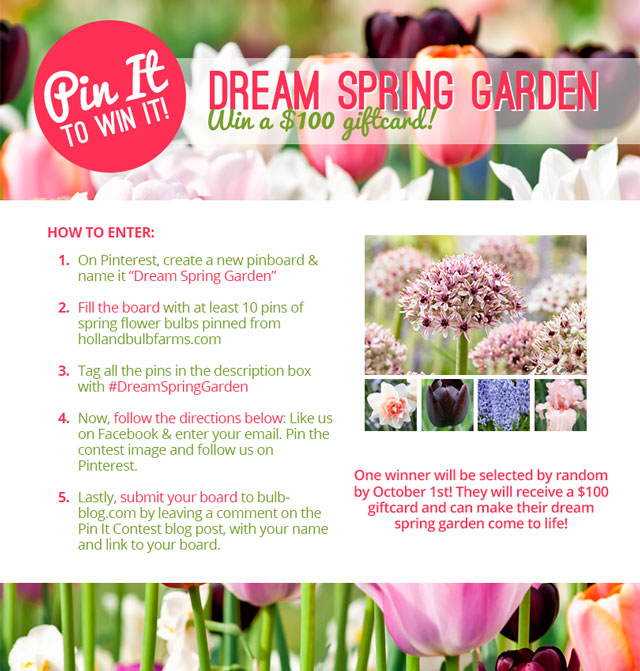 The contest truly couldn't be simpler to enter. Simply complete the following steps and you'll be well on your way:
If you haven't already done so, visit the Holland Bulb Farms Facebook page and "like" them.
Enter your email address in the appropriate box.
Visit Pinterest and log-in to your account (or create one if you haven't already done so). Visit the Bulb Blog Pinterest boards and "Follow All".
Create a new pinboard of your own and entitle it "Dream Spring Garden – Pin It Contest".
Pin the contest image along with at least 10 other photos of spring blooming bulbs from the Holland Bulb Farms website which YOU would like to grow in your garden, using #DreamSpringGarden in the description of each pin.
Lastly, submit your board to the Bulb Blog by leaving a comment on THIS POST with your name and the link to your pinboard.
Entries must be complete and submitted by 11:59pm CST on Tuesday, September 27th, 2013.
The lucky winner will be selected at random and announced by October 1st. You can find a copy of the Official Contest Rules here.
Good luck to you and happy pinning! I can't wait to see what you come up with 🙂