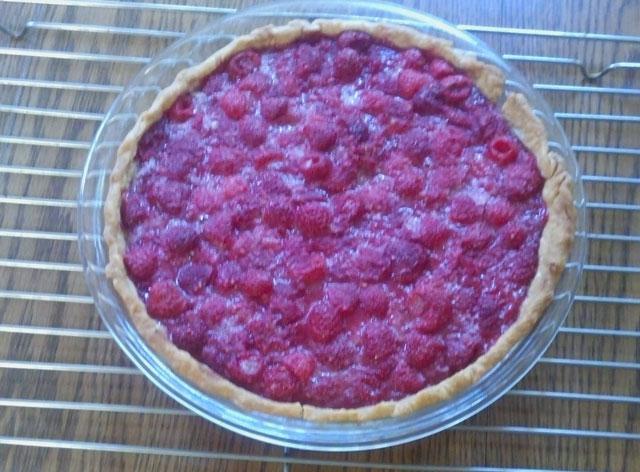 I just HAD to share this recipe from the 4th Annual Homegrown Recipe Contest.
If I were stranded on a desert island and could only choose one food to have with me, raspberries would probably be it. Tart and sweet in perfect harmony. It's almost as though this recipe was created just for me. Mary from Florida submitted this recipe and Mary, I have to personally thank you. What a treat!
Grandma's Raspberry Pie
Ingredients:
Refrigerated pie crust (or your own homemade one, if you're ambitious)
5 pints of fresh raspberries, rinsed and drained well
2 eggs
1 c. granulated sugar
3 T. of flour + sprinkling for crust
Pinch of salt
1 T. softened butter
Directions:
1. Preheat oven to 400 degrees.
2. Press pie crust onto pie plate and sprinkle with a little flour.
3. Mix together eggs, sugar, flour, salt, and butter.
4. Pour in berries and mix gently until thoroughly combined.
5. Pour mixture into pie crust and bake for 10 minutes at 400 degrees. Reduce heat to 350 degrees for 30-40 minutes more.
6. Cool completely, cover and refrigerate until ready to serve.
*It's delicious on its own or topped with individual servings of whipped cream and/or ice cream.
Relatively simple, but oh-so good! Thanks again, Mary, and be sure to be watching your email for your $10.00 Holland Bulb Farms voucher! I have a feeling I might be making this each and every time I catch raspberries on sale at the store during the winter and will definitely be putting the large yields of fruit from my raspberry plants to good use this summer! I wonder if this would even work with Black Raspberries??? Something I love almost more than the standard red ones 🙂
Have a recipe to share! Don't delay — hop on over to the submission page now!