This is it — The final day to submit your entries for the 2013 Homegrown Recipe Contest! And let me tell you: the competition is fierce this time around! We've gotten recipes for some wonderful foods…from cantaloupe salad to pumpkin casseroles to eggplant burgers. They've all been amazing!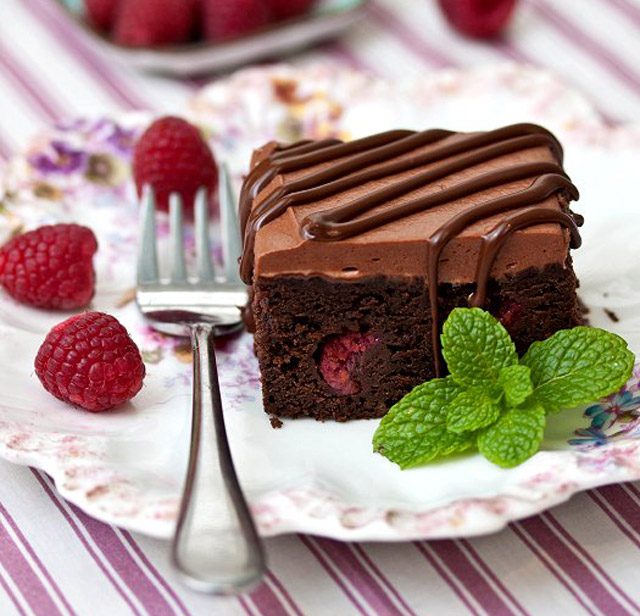 Today, as the final day for the contest, I wanted to feature a recipe which pairs one of my fave combinations EVER: raspberries and chocolate! This recipe comes to use from Laura of Pocomoke City, Maryland. We were happy to also discover Laura's incredible recipe/cooking blog, Tide & Thyme! You can view her own post featuring this recipe here!
Raspberry Truffle Brownies
Ingredients:
For the brownies:
1/2 c. unsalted butter (1 stick)
1 – 1/4 c. semisweet chocolate chips
2 eggs
3/4 c. light brown sugar
1 t. instant coffee crystals
2 T. water
1 t. vanilla extract
1/2 t. baking powder
3/4 c. all-purpose flour
1 c. fresh raspberries

For the filling (or frosting):
1 c. semisweet chocolate chips
1 package (8 oz.) softened cream cheese
3/4 c. powdered sugar
1/2 c. fresh raspberries

For the chocolate drizzle:
1/4 c. semisweet chocolate chips
1 t. shortening
Directions:
1. Preheat over to 350 degrees. Grease an 8×8 inch baking pan and set aside.
2. In a heavy saucepan, melt the butter and chocolate chips (for the brownies) over low heat. Cool slightly.
3. In a small bowl, combine flour and baking powder, whisk to combine. Set aside.
4. In a stand mixer fitted with a paddle attachment, beat the eggs and brown sugar until combined. Add vanilla extract.
5. Dissolve coffee crystals in hot water and add to chocolate mixture in the saucepan.
6. With mixer on low, slowly add the chocolate to the eggs and sugar.
7. With mixer still on low, add the flour mixture until just combine.
8.Using a spatula, gently fold in the raspberries.
9. Pour into prepared baking dish and place in over to bake for 30-35 minutes, or until a toothpick inserted into the center comes out clean. Cool completely before frosting.
10. For the filling, melt the chocolate chips and let cool slightly.
11. Puree raspberries using a food processor until smooth, then push through a fine mesh strainer to remove the seeds. Set pureed berries aside.
12. In a mixing bowl, beat cream cheese until fluffy. With mixer on low, add the powdered sugar, melted chocolate and pureed raspberries. Mix until well combined.
13. Spread the filling evenly over the cooled brownies. Refrigerate for a couple of hours before slicing and serving.
14. For drizzle, melt the chocolate chips and shortening, stirring well to combine. Drizzle glaze evenly over cooled brownie and garnish with fresh raspberries.
Thanks for sharing your wonderful entry with us, Laura, and be watching your email for your $10.00 coupon towards any of the products on the Holland Bulb Farms website! As for the rest of you, be sure and get your recipe(s) submitted no later than midnight tonight for your chance at the grand prize in any of the two categories (fruits or veggies) of a $100 Holland Bulb Farms gift card!
The folks at Holland Bulb Farms and I have lots of cooking and baking ahead of us in the next two weeks — the three winners in each category will be announced on Friday, March 15th! Good luck to all of you!