Isn't this great? I absolutely love talking about food. In fact, I think it's probably one of my favorite topics of conversation (after plants, of course). Today, I am pleased to present to you the third place winners in each category!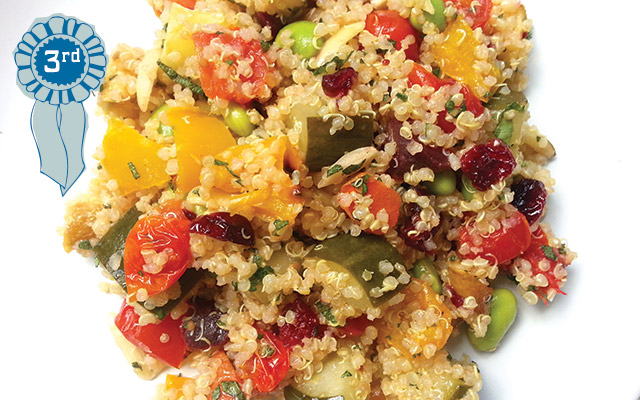 3rd Place in Vegetable Category:
Roasted Vegetables and Quinoa Salad with Homemade Honey Mustard Dressing 
from Wai Leng Loke from Chicago, ILIngredients
(Salad):
1.5 cups uncooked quinoa
4 cups cucumber, skin on, 1-inch dice
3 cups cherry tomatoes, halved
2 cups carrots, 1-inch dice
1 cup yellow bell pepper, 1-inch dice
1 cup edamame beans, cooked till tender
0.5 cups dried cranberries, rough chopped
0.5 cups slivered almonds
0.25 cups oregano, fine chopped Ingredients(Dressing):
0.25 cups fresh lime juice
3 tablespoons honey
1 teaspoon mustard
1 cup olive oil
1 teaspoon garlic powder
Salt and pepper to taste
Directions
1) Preheat oven to 400F
2) Bring to boil 3 cups of water and quinoa. Then reduce heat to low and simmer covered for about 15 to 20 minutes until all water has been absorbed. Then remove from heat and let sit covered for another 10 minutes before fluffing with a fork.
3) While quinoa is cooking, prepare other vegetables – cucumber, tomatoes, carrots and bell pepper.
4) Lay vegetables (ingredients 2 to 5) on a baking sheet lined with parchment paper. Season with a little salt and pepper and olive oil and roast in oven for 30 minutes.
5) Now make dressing. Whisk all ingredients in a mixing bowl until well combined and a temporary emulsion forms. Set dressing aside.
6) Transfer cooked quinoa to a large mixing bowl. Then add cooked edamame beans, slivered almonds and cranberries.
7) Remove roasted vegetables from oven and add to quinoa and mix well to combine. 8) Then add dressing and chopped oregano to quinoa salad and toss well to combine.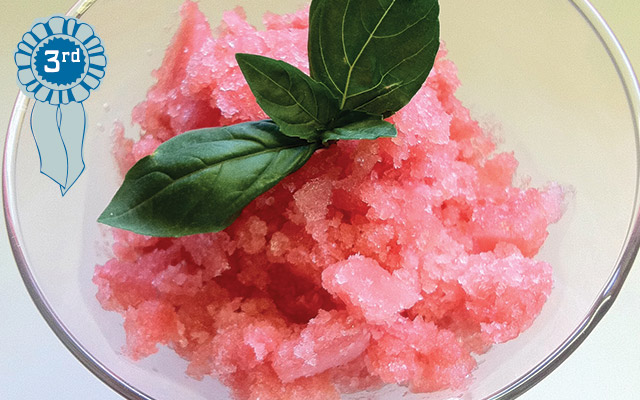 3rd Place in Fruit Category:
Cool Mint Berry Melon Granita
from Lisa Keys from Kennett Square, PA
Ingredients
1 small seedless watermelon, cut into chunks (you will need 8 cups of chunks with rind removed)
1/4 cup sugar
4 fresh mint leaves plus additional for garnish
1 cup fresh strawberries, stemmed
1/4 cup fresh lime juice
Directions
1) Place half the watermelon in a blender or food processor and process until liquid.
2) Place watermelon juice in a saucepan with sugar.
3) Bruise the mint leaves between your fingers and add to saucepan.
4) Bring mixture to just boiling, stirring until sugar is dissolved. Remove from heat, cover and let steep for 5 minutes. Remove mint leaves.
5) Process remaining watermelon chunks and strawberries and add to saucepan. Stir in lime juice.
6) Pour watermelon mixture into ice cube trays; freeze.
7) Just before serving, place a single layer of frozen cubes in food processor fitted with steel blade. Pulse 10 to 12 times or until no large chunks remain.
8) Spoon into stemmed glasses. Garnish with mint. Serve immediately.
Congratulations! I'm certain you'll find something perfect to spend your $25.00 Holland Bulb Farms voucher on…
And with that, this year's Homegrown Recipe Contest is officially complete! So, have you made anything yet? If so, please share your thoughts in the comments below! If not, get cookin'! I don't know about you, but between reading these recipes and feeling some slight touches of warmer weather, I'm re-inspired to grow some of my own fruits and veggies again this year. Now we just need that warmth and sun to stick around for a while…