Isn't this great? I absolutely love talking about food. In fact, I think it's probably one of my favorite topics of conversation (after plants, of course). Today, I am pleased to present to you the third place winners in each category!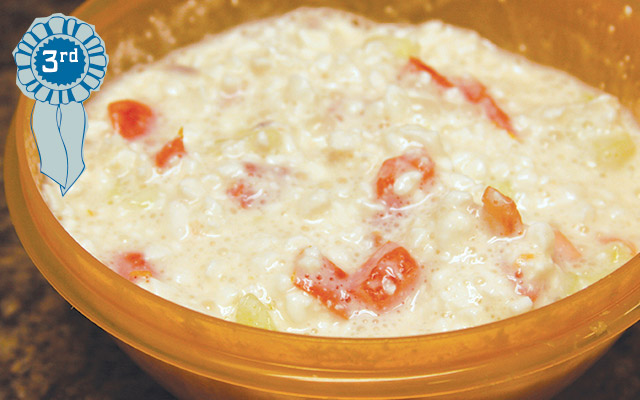 3rd Place in Vegetable Category:
Simple Summer Salad
from Cindi Hoag of Yates Center, KansasAt first glance, this recipe seemed a bit too simple. I mean, cottage cheese with a few veggies mixed in…big deal, right? Well don't speak until you've tried it. It IS a big deal! I've never hated cottage cheese, but its always just lacked something for me — until now. Who knew that adding some cucumbers and tomatoes along with garlic salt and onion could make such a fantastic difference? Cindi mentioned in her submission that allowing it to sit overnight really gives the flavors time to set in…she couldn't have been more right!
Ingredients
2 c. cottage cheese
1 cucumber, peeled and chopped
1 tomato, chopped
1 T. minced onion
1/2 t. garlic salt
Directions
1) Combine all ingredients and chill.
*If allowed to sit a while, garlic and onion really give it flavor.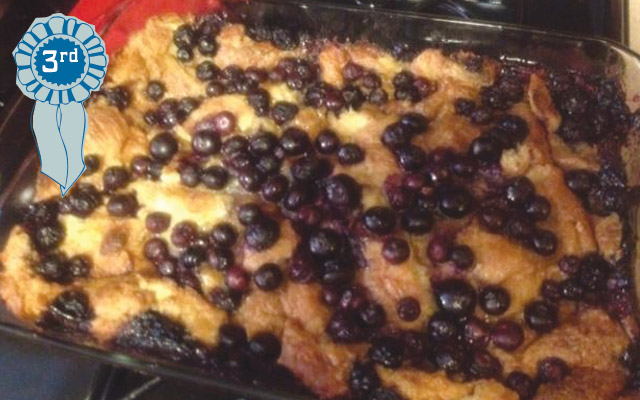 3rd Place in Fruit Category:
Baked Blueberry Caramel Toast
from Mary Leverette of Columbia, South Carolina
I'll be the first to admit, I'm not big on "making" breakfast. Give me a bowl, some cereal, milk and a spoon and I'm set. But this recipe is made to sit overnight (or for 8 hours) which is PERFECT for someone like me who would rather stay up a little later and sleep in (if my children would ever let me, that is!).
Ingredients
1 cup firmly packed light brown sugar
1 cup butter
2 tablespoons light corn syrup
1 cup fresh blueberries
12 1-inch thick French bread slices
6 large eggs, beaten
1 1/2 cups half and half
1 teaspoon pure vanilla extract
1/4 teaspoon salt
Directions
1) Combine sugar, butter and corn syrup in a small saucepan. Cook over medium heat until smooth and thickened, stir constantly.
2) Coat a 13 x 9 x 2-inch baking dish with cooking spray. Pour butter mixture into the dish. Sprinkle with fresh blueberries. Fit bread slices tightly into the dish, trimming if necessary.
3) In a medium bowl combine eggs, half and half, vanilla and salt whisking together well. Pour egg mixture over bread. Cover and refrigerate for eight hours.
4) Bake uncovered at 350 degrees F. for 45 minutes or until lightly browned. Slice into sections and serve upside down. Garnish with whipped cream or whipped butter.
Congratulations, Cindi and Mary! I'm certain you'll find something perfect to spend your $25.00 Holland Bulb Farms voucher on…
And with that, this year's Homegrown Recipe Contest is officially complete! So, have you made anything yet? If so, please share your thoughts in the comments below! If not, get cookin'! I don't know about you, but between reading these recipes and feeling some slight touches of warmer weather, I'm re-inspired to grow some of my own fruits and veggies again this year. Now we just need that warmth and sun to stick around for a while…