With only one day left to enter the 2014 Homegrown Recipe Contest, I figured it was time to share a recipe in which some of the most easy, most convenient, most fun to grow edible plants are featured — tomatoes and herbs! And lucky for me, I absolutely LOVE both 🙂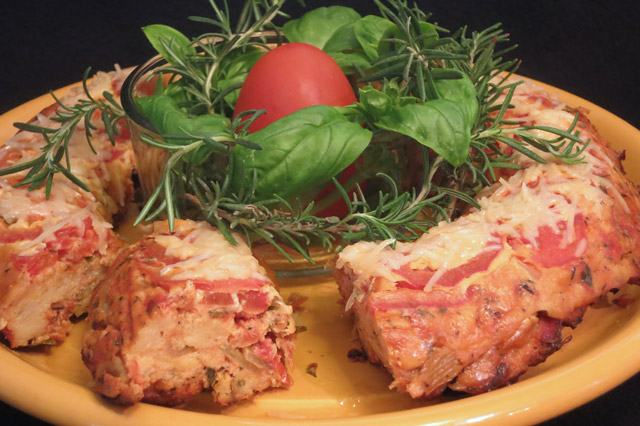 Today's recipe was entered by Darlene of Arizona. She says this of her recipe: Sweet tomatoes and fresh pungent herbs provide the perfect balance of flavors to celebrate the bounties of your garden. Herbs can be added or changed. Add a spicy cheese, cilantro and diced jalapeno pepper for a fun little kick of flavor! Perfect balance? Yes, I would have to agree with you, Darlene!
Roasted Tomato Bread Pudding
Ingredients:
1 ½ cups heavy cream
1 fresh tomato
1½ cups roasted tomatoes*
3 tablespoons tomato paste
1 teaspoon sugar
3 eggs
¾ cup Parmesan cheese
5½ cups Italian, challah or other crusty bread, cubed
1 onion, chopped
2 cloves garlic, minced
2 tablespoons butter
2 tablespoons Herbes De Provence
2 tablespoons olive oil
1 tablespoon dried parsley
1 tablespoon oregano
1/3 cup chopped basil
2 tablespoons minced rosemary
2 teaspoons garlic powder
2 teaspoons salt
2 teaspoons pepper
Directions:
*To roast tomatoes: Roughly chop 6-8 Roma tomatoes and place in a bowl with olive oil, Herbes De Provence, dried parsley and oregano. Stir tomatoes to coat. Place tomatoes on a sprayed baking sheet and roast at 300 degrees for 40 to 50 minutes.
1) Spray Bundt pan with cooking spray. Thinly slice 1 tomato into ¼ inch slices. Place sliced tomatoes on paper towel and press dry, sprinkle with salt. Place cubed bread in large bowl.
2) Sauté onion in butter until translucent. Add minced garlic, tomato paste, sugar and roasted tomatoes.
3) Lightly beat eggs. Add cream, remaining herbs, salt and pepper and cheese. Pour over bread. Fold onion/tomato mixture into bread mixture. Stir just to combine. Allow mixture to soak for 15 minutes.
4) Spread fresh tomato slices in bottom of Bundt pan. Gently spoon bread mixture over top. Bake at 350 degrees for 50-60 minutes. (Top should be browned and pudding will be puffed up and spongy. (Not soggy) Allow pudding to rest for 30 minutes. Invert pudding onto serving platter and top with additional cheese and herbs, if desired. Serves 6-8 side portions.
Note: Roma tomatoes work best but any firm tomato will work. Be sure to use a spatula to remove any spices from baking sheet after roasting tomatoes so the pudding will be extra flavorful.
Thank you so much, Darlene for sharing this fabulous creation with us! Keep an eye on your inbox for directions on how to redeem your $10.00 voucher to the Holland Bulb Farms website! Whether you grow your tomatoes from an already started plant or from seed, you can put them to good use with amazing recipes like this! Never tried fruit or vegetable gardening before? Tomatoes are an excellent place to start!
Remember, tomorrow is the last day to enter YOUR creation into our contest!