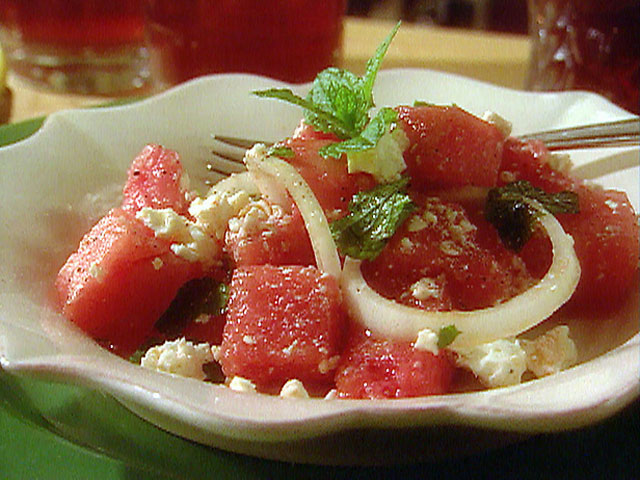 Here at the Bulb Blog and Holland Bulb Farms, we busy re-creating all of the wonderful entries we received from the 2012 Homegrown Recipe Contest. Even though the contest officially ended last Friday, I thought I'd share with you one of the entries we've found recently to be truly delightful! This unique salad recipe comes to us from Kyle in Boulder, Colorado. It is fairly easy to execute and is a perfect taste of summer on for a dreary February day.
Watermelon Salad
Ingredients:
(1) approx. 5 lb
watermelon
(1) sweet onion
1/4 c. red wine vinegar
Salt and pepper to taste
1/3 c. extra-virgin olive oil
2 T. chopped fresh mint
4 oz. feta cheese, crumbled
(6) whole mint sprigs for garnish
Directions:
1. Cut the flesh from the melon and chop into bite-size pieces, removing and discarding any seeds.
2. Peel and slice onion into rings.
3. In a small bowl, combine the vinegar, salt, and pepper, whisking until salt is dissolved. Slowly whisk in the olive oil, a few drops at a time.
4. Add chopped mint to whisked mixture. Taste and adjust seasonings if necessary.
5. In a larger bowl, combine melon, onion, and crumbled feta cheese. Pour dressing over the melon mixture and toss gently until well-coated and evenly mixed.
6. Divide among (6) plates and garnish with fresh mint if desired.
Thanks again, Kyle for your submission! Be watching your email for your $10.00 off coupon to Holland Bulb Farms! Perhaps you can use it to buy some watermelon seeds to grow in your own yard 🙂 We'll be announcing the winners of the contest next Thursday, March 1st and I'll be featuring all of the winning recipes for my readers to try. Don't forget to check back!