I'm excited to share with you our second place winning recipes in each category today which include my personal two favorites from the taste test…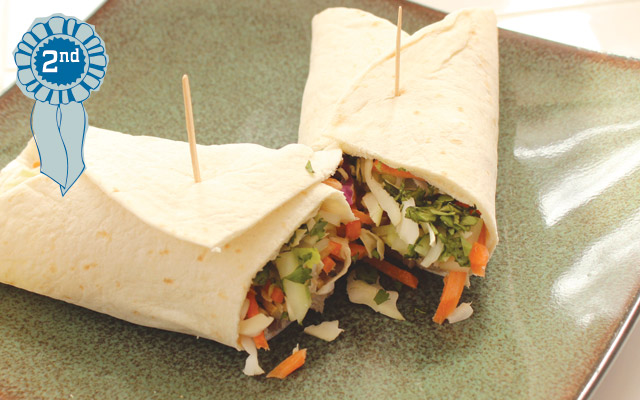 2nd Place in Vegetable Category:
Thai Chicken Wraps
from Nadine Smeltzer of St. Charles, Michigan
This recipe is amazing for so many reasons: first of all, it's hearty enough to be a dinner, but simple enough to make an excellent lunch. Also, it's packed full of veggies, making it deceptively healthy. I'm adding this one to my "box" of go-to recipes since I'm always looking for alternatives to my boring yogurt and sandwich lunches!
Ingredients
2 c. water + 1/3 c.
3 T. soy sauce
2 lbs (about 5) bone-in chicken thighs
1/2 c. peanut butter, chunky style
2 T. lime juice
2 t. sugar
1 t. chopped garlic
1/2 t. red pepper flakes
4 lg. flour tortillas
2 carrots, grated
1 small cucumber, julienned
2 c. shredded cabbage
1/4 c. freshly chopped cilantro leaves
Salt and freshly ground pepper to taste
Directions
1) In a saucepan over medium heat, bring 2 c. of water and soy sauce to a boil.
2) Reduce heat to a simmer and add chicken thighs. Simmer until cooked through, about 15 minutes.
3) Remove the chicken from pan to a cutting board. When cool enough to handle, shred the meat and discard the bones. Reserve 1/4 c. for Round 2 Thai Chicken Spring Rolls recipe.
4) In a small bowl, combine peanut butter, lime juice, sugar, garlic, and red pepper flakes. Whisk in about 1/3 c. water and simmer until thick and a pourable consistency is reached. Reserve 1/4 c. of the dressing for Round 2 Thai Chicken Spring Rolls recipe.
5) Warm the tortillas in a microwave wrapped in a slightly damp towel for about 45 seconds to make them more pliable. Assemble the wraps by layering the chicken, dressing and vegetables. Top with more dressing before rolling up. Secure with toothpicks and slice in half. Reserve 1 cup of vegetables for Round 2 Thai Chicken Spring Rolls recipe.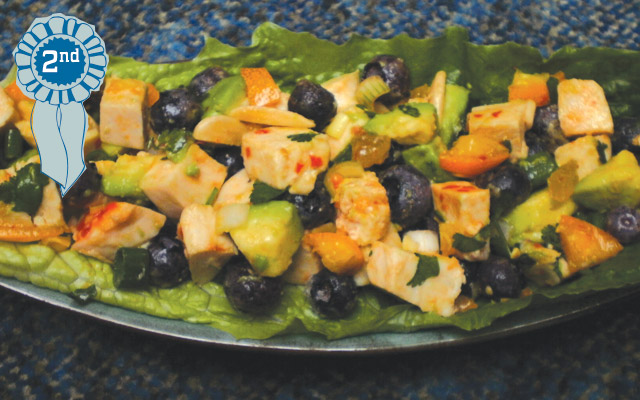 2nd Place in Fruit Category:
Blueberry Chicken Salad Scoops
by Roxanne Chan of Albany, California
Ok, so I know I shouldn't play favorites. But I do anyway. I could literally not. stop. EATING this one. Talk about a great, healthy alternative lunch! After I took my first couple bites, I have to look back at the recipe to try and figure out what made it so satisfying. I thought for sure that had to be some kind of fattening, not good for me creamy base to the salad but there wasn't! Just amazing avocados. The blueberries give the salad great color and a little bit of "sweet", while the lettuce leaf adds a refreshing twist and a healthy alternative to a roll or bread. The woman at the Holland Bulb Farms office who made this one was equally impressed — we even discussed some possibilities for this, including serving in a hollowed out tomato!
Ingredients
1 c. blueberries
2 c. diced cooked chicken breast
1 small avocado, diced
1/4 c. chopped seeded kumquats
1 green onion, minced
1 T. snipped cilantro
1T. minced candied ginger
1 T. toasted slivered almonds
1 t. chili garlic sauce
1 t. seasoned rice vinegar
1 t. sesame oil
4 large Romaine lettuce leaves
Directions
1) Combine the blueberries and the rest of the ingredients except the lettuce leaves; mix well.
2) Fill the lettuce leaves, dividing equally. Serves 4.
Congrats again to our second place winners and recipients of the $50.00 voucher to the Holland Bulb Farms website. You both have succeeded in rescuing me from "boring lunch syndrome"!
Check back tomorrow when I'll feature the 3rd place winners from each category…the veggie one is so easily delicious it will knock your socks off!