Well, the end of the year is upon us. Hard to believe…where did 2012 go? One of the most exciting things we (Holland Bulb Farms partnered with myself) did this year was the monthly facebook-based Photo Contest! We received so many WONDERFUL entries — it made me thankful that it was not up to me to decide the winners! The rules of the contest were pretty straight-forward: simply upload as many photos as you wished to enter into a given month's contest and then share with your friends and hope for votes! The only requirement was that at least one of the plants shown in the photo was something sold on the Holland Bulb Farms website. Other fans of the Holland Bulb Farms facebook page could then vote on the photos and the three photos with the most "likes" won a $25 gift card to the online store. It was a LOT of fun and I can't wait until it begins again in March 2013!
Since it is nearing the end of December, I thought it would be fun to showcase the top winners in each month of our photo contest! Over the next week or so, I'm going to share with you the winning photos, two months at a time. So today, we'll start with March and April.
March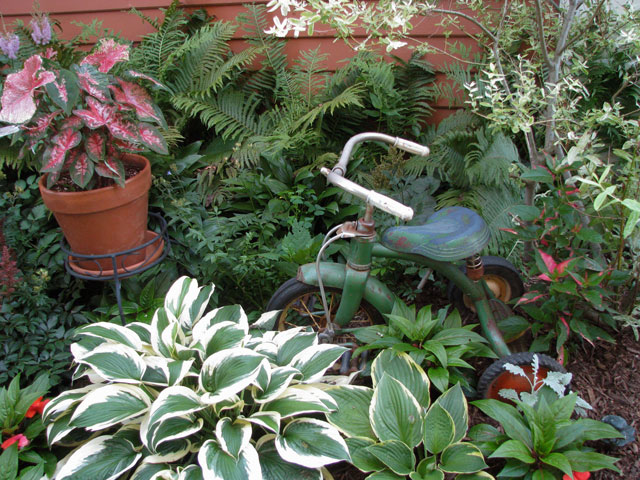 First Place Winner – Sharon from Morrison, Illinois
Sharon says, "Just a small portion of one of my shade gardens. In the photo is an antique tryke I found at a local antique store. It seems to fit in perfectly amongst my perennials and annuals." Sharon uses a perfect mix of shade-loving plants, including hostas (in the foreground), caladiums (in the planter) and ferns (along the house). The antique tricycle blends in perfectly and adds a little whimsical feel.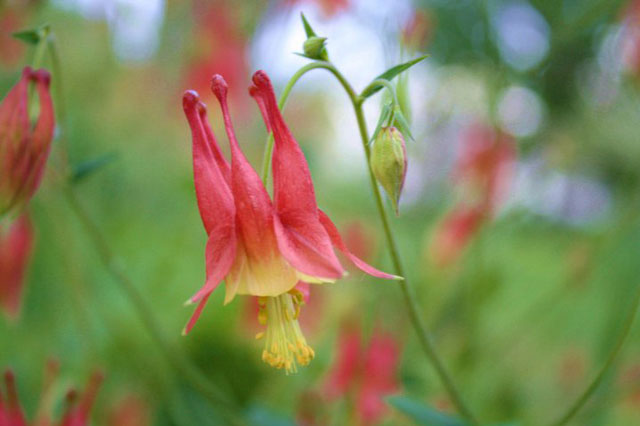 Second Place Winner – Amy from Nevade, Iowa
Amy shares a close-up of one of the blooms of the ever-beautiful, elegant Columbine. Columbine is another perennial that is extremely at home in a part- to full shade location, bearing delicately hanging flowers of all the colors of the rainbow.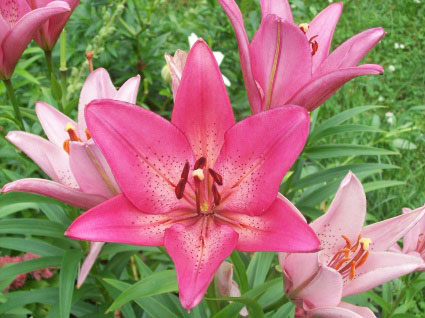 Third Place Winner – Shawndee from Scotch Grove, Iowa
Shawndee says, ""One of my most beautiful flowers in my garden. I recycle old tractor tires and make them into my beautiful flower beds!" This gorgeous photo features one of the ever-popular Asiatic Lily, similar to the Fashion variety. Asiatics do great in partial sun location and are perennial in most zones. They offer brighter colors than the Orientals, but less fragrance.
April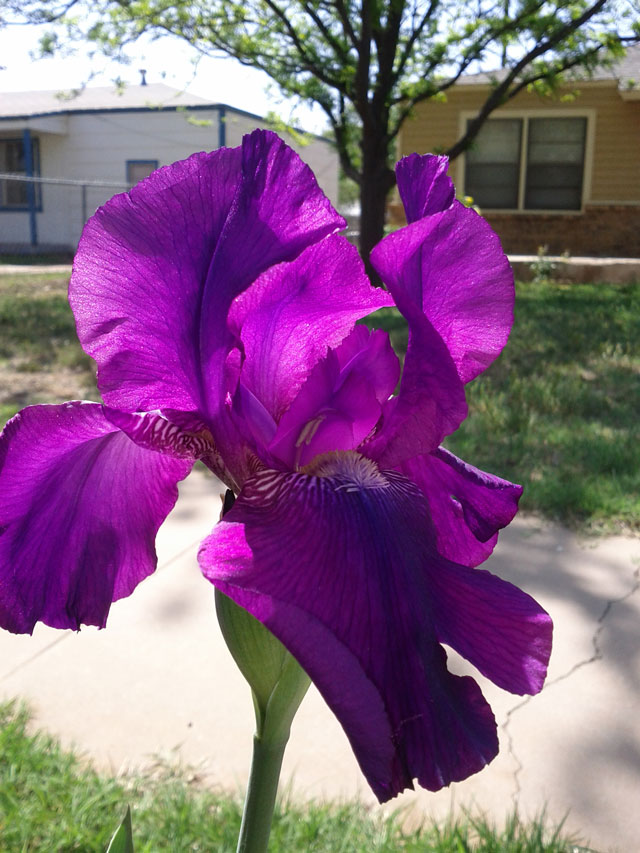 First Place Winner – Courtney from Lubbock, Texas
Courtney says, ""My iris is finally blooming!" I think this brilliantly-colored purple iris is absolutely stunning…and apparently, with 53 "likes", a lot of other people thought so, too! Bearded Iris are truly classics in the late spring garden and are best planted in early fall.  The most important thing to keep in mind when planting iris rhizomes is to be sure not to plant too deep — just a thin layer of soil to cover will do the trick!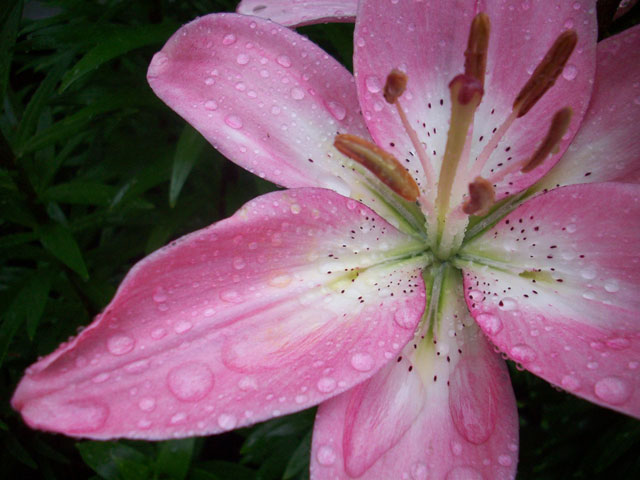 Second Place Winner – Michael from Salem, West Virginia
Michael says that he sometimes just gets "lucky" with his photography but we highly doubt he doesn't have a talent! This photo shows the true beauty of nature as raindrops clean to a beautifully pink lily after a rain shower. This is the perfect image to demonstrate just how weather tolerant these gems of the mid-summer garden can be!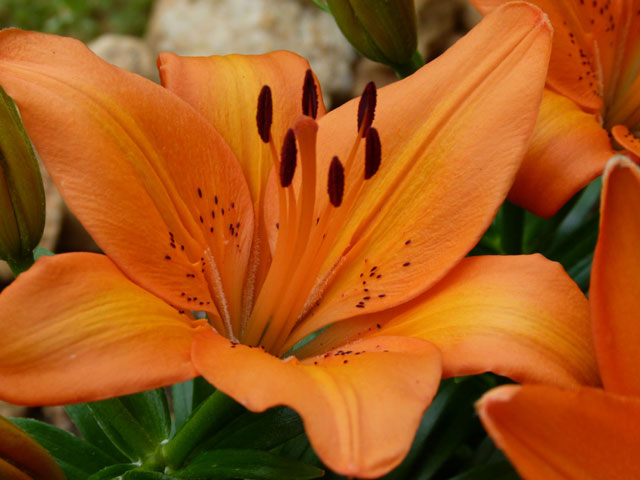 Third Place Winner – Christian from Rome, Georgia
Christian says, "This is an Asiatic Hybrid Lily called 'Victory Joy'. It's definitely one of my favorites!" After seeing this picture, I would have to agree! The stunning orange is both soft and brilliant at the same time. While Holland Bulb Farms does not sell this specific variety, there are many other orange lilies which are sure to be just as beautiful!
Hope you enjoyed the first two months of the 2012 Photo Contest "in review". Be sure to watch for follow-up posts which will include more!
Please note: you may notice that many of the links to these bulbs/plants will show them as "out of season" since the majority of them are for spring-planting. Be sure to sign up to be notified as I've been told the "pre-sale" for these items will begin shortly after the New Year!