I hope you enjoyed the photos I shared with you the other day! As promised, here are the winning images from May and June!
May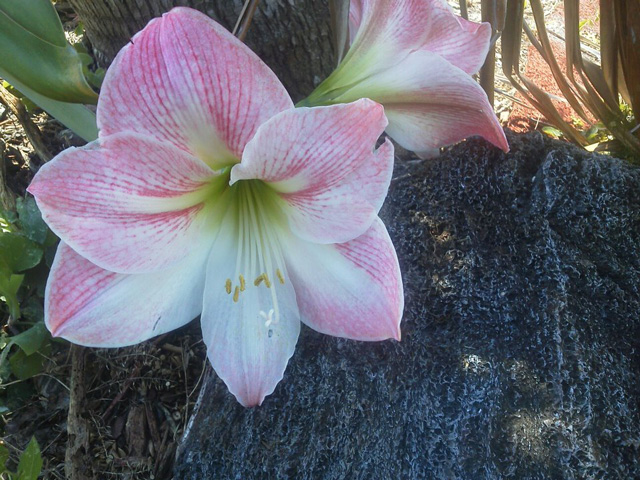 First Place Winner – Shanaz from Port St. Lucie, Florida
Shanaz says, "I bought this Amaryllis for my mom 2 years ago and after the bloom dropped I planted it in the yard. It never bloomed and I was planning on pulling it out. One day as I was turning out of my street I saw this in my side mirror. Needless to say I never pulled it out." Most people think of amaryllis as a indoor blooming plant, but this photo is proof that they can also be used out in the garden, provided you live in a Zone 9 or above. This particular bloom is that of the Apple Blossom Amaryllis, which is white with brushstrokes of pink on each of its petals. Don't live in a warm enough climate to grow it outdoors? Do not fret! They do GREAT as indoor plants!
Second Place Winner – Katie from Lakeland, Florida
Katie says, "This Canna lives in my pond. I've waited patiently for nearly a year to see it's blooms and they've finally come!" This gorgeous bloom adds a tropical touch to Katie's water feature. Cannas bloom for quite a long period of time in mid-summer and are hardy in Zones 9-11 and love hot and direct sunlight. This particular variety looks like a possible dwarf to me, but is almost impossible to identify since there are so many wonderful cultivars available!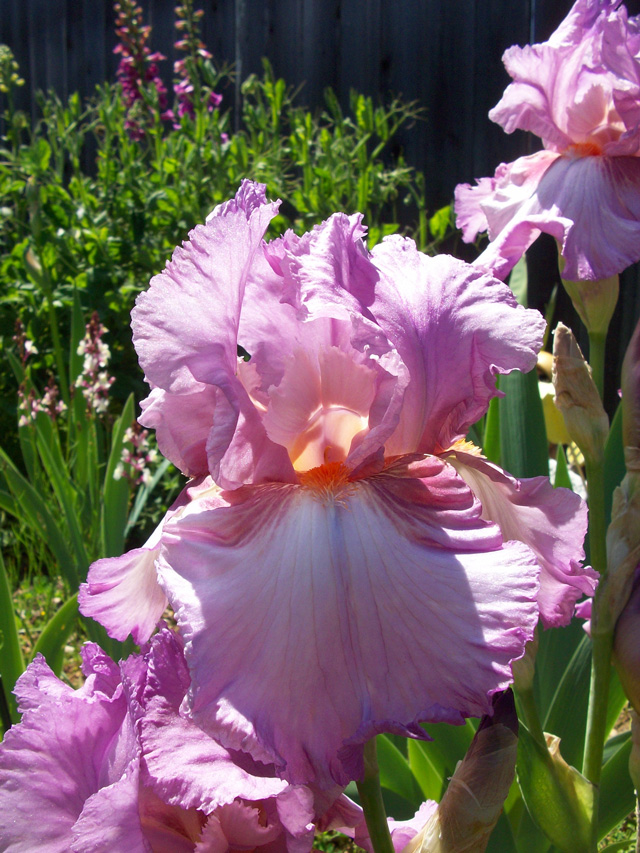 Third Place Winner – Jake from Arroyo Grande, California
Jake says, "These were taken a couple weeks back because our weather allows us to have super early blooms here on the central coast of California. The iris is the newest one." While bearded iris typically start their show in late spring, Jake makes a very important observation that being located in a "micro-climate" such as the central west coast, can definitely throw these bloom times off a bit. WE love the way the sunlight is shining through the center of this ruffled beauty!
June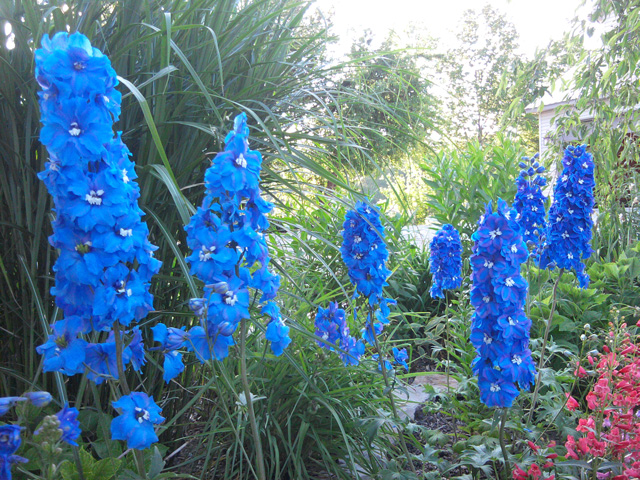 First Place Winner – Mindy from Troy, Ohio

Mindy says, "Nothing better than blue flowers!" Even though Mindy's photo only received (4) "likes", it was shared a whopping 27 times! This was incredible and definitely landed her in first place for the month of June. The delphiniums she captured in her garden are some of the most true blue flowers you'll ever see naturally outdoors. Delphinium are a staple among English cottage gardens and it is no surprise that this photo comes from Ohio as they struggle in extremely hot and dry climates.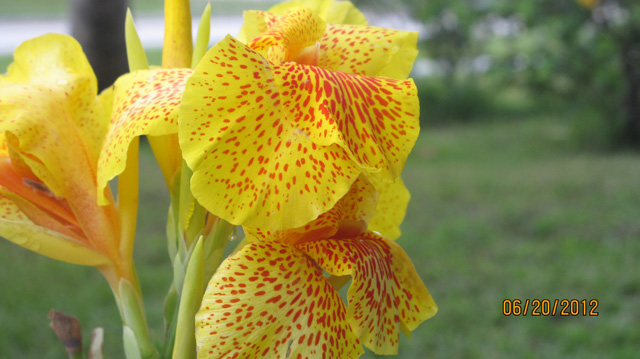 Second Place Winner – Shanaz from Port St. Lucie, Florida
Shanaz says, "This is a Picasso Canna. It is amazing that I was able to get a picture of it because my little brother will pick them without permission to give to our grandma." What a sweetheart! This gorgeous canna is of the dwarf variety, growing only 24-36″ tall as opposed to its much taller "parents". They do make wonderful cut flowers, but also add a beautiful tropical touch to the outdoor garden.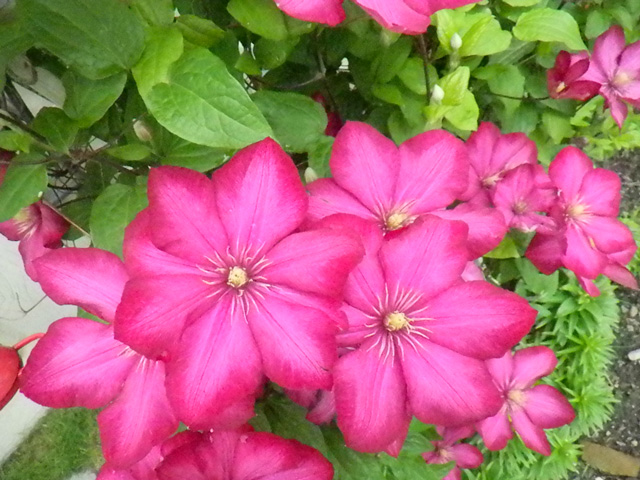 Third Place Winner – Diana from Indianapolis, Indiana
Diana says, "Clematis Vine, always a bloomer!" and she's right! Even though she has only captured a portion of the plant, you can tell that it must be absolutely covered with blooms as is shown by all of the buds waiting to burst forth. Not only are the blooms of a clematis numerous, they are also found in many vibrant colors and have an extremely long bloom time. The key to clematis: they like "wet feet". This means that they're thrive best in a part sun location where its roots are sheltered from hot and dry sun.
Be watching for the next post which will highlight our July and August winners!