Next spring may seem like a distant faraway time, but that doesn't mean you can't start planning for spring now. If you were disappointed with the lack of blooms in your spring garden there is no better time to start planning than now! Planning for blooms all spring is important no matter how far away spring is.
Planning Early for Spring Blooms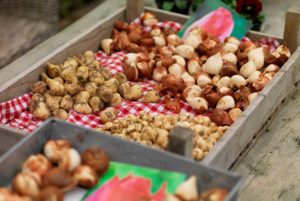 When shopping on websites like Holland Bulb Farms and Tulip World you can search for items by bloom time. Use this feature to determine bloom times and plan your garden. Keep in mind that bloom times are somewhat general.
Early Spring, Mid Spring, or Late Spring are common spring bloom times. Different regions have different bloom times based on temperature differences. In hardiness zone 5 early spring is considered late March or early-to-mid-April. However, in a warmer climate such as Texas, early spring may be considered late February to early March depending on the weather.
If you are not sure when blooms start appearing in your area you may be able to use other resources to find out when your flowers will bloom. Check with a local botanical garden for bloom times. Keep a garden journal of what was blooming when in your area.
To ensure you have flowers blooming all spring Holland Bulb Farms has created 3 new garden collections that bloom at different times! Each collection has an assortment of bulbs in different heights and colors. Spread the bulbs out to fill the empty spaces in your garden or plant them in the same area.
Flowers Blooming All Spring
Early Spring Blooms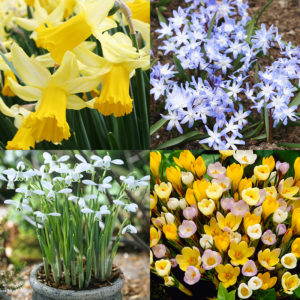 Every spring I get very excited when I notice little crocus blooms peeking through the snow. It generally means the snow is going to melt soon! Having bulbs blooming in the early weeks of spring should not be overlooked. But, often can be; so many flowers start blooming in mid-spring–you may forget about filling the garden with the early favorites.
The Early Spring Blooms Collection has flower bulbs that are true classics and staples every garden should have. Included in the collection are 190 bulbs. While many of the bulbs in this collection are short in height, they still pack a punch of color in the early spring garden.
The first item to bloom in this collection is the snowdrops. They are called snowdrops because they tend to grow and bloom through the snow. Blooming almost at the same time as the snowdrops are Glory of the Snow. Glory of the Snow also tends to bloom and grow when there is still snow on the ground.
Shortly after the snowdrops and glory of the snow finish blooming the botanical crocus appear. Staying low to the ground with dainty blooms, crocus provides a wonderful ground cover. Plant crocus bulbs under shrubs and perennials to create shoes for your garden.
To add a little height, Rapture Miniature Daffodils are included in the collection. While they may not be as tall as traditional daffodil varieties, they grow 6-12″. The Rapture Daffodils will be the tallest item in the collection. Rapture Daffodils are one of the earliest daffodils to start blooming in spring.
The bulbs in this collection when planted in the same area cover approximately 10 square feet. Therefore, if you are planning on planting the bulbs in a rock garden, retaining wall, or under a tree plan for them to cover 10 square feet.
Mid Spring Blooms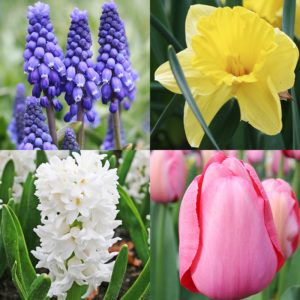 Mother Earth is fully awake by the middle of spring. Many trees, shrubs, and perennials are blooming and leafing out. Spring-blooming bulbs put on an amazing show in mid-spring. One could say they are the stars of the spring bloom show!
When planning for mid-spring blooms finding flowers to bloom in this timeframe is relatively easy. A large selection of tulips, daffodils, hyacinths, fritillaria and muscari bloom during this time. If your garden is new and you don't have any blooms, this collection of mid-spring blooming flowers will create a good start to your spring garden.
Perhaps your garden is established but lacking color in mid-spring? If that is the case this Mid Spring Blooming Collection has an array of colors and heights to provide a complete garden. You can certainly plant the items in this collection in various locations through your yard. However, the items in this collection blend together especially well for a complete garden.
If you plan on planting all of the bulbs in this collection in one area they will cover approximately 12 square feet. Depending on the space you are going to plant them in will determine how you arrange the bulbs.  Plant the bulbs so that the tallest varieties do not overshadow the shortest.
In this collection, the Pink Impression Tulips are true pink tulips with large blooms and tall 18″ stems. I suggest planting the Pink Impression Tulips in the back of the planting area, as they will be taller than the other items in the collection.
The Carlton Daffodil is a classic yellow variety of daffodil that will have a similar height to the Pink Impression Tulips but are a tad shorter. Mix the Carlton Daffodils and Pink Impression Tulips together towards the back of the planting bed.  Planting the daffodils in front of the tulips is another option. Plant bulbs like tulips and daffodils in groups of 5 bulbs per planting hole.
One of the sweetest scented flowers in spring are hyacinths. They are essential to any mid-spring garden plan. Aiolos Hyacinths are white and fragrant, growing approximately 8-12″ tall. Plant 3 hyacinths in each planting hole, staggering them in front of the Carlton Daffodils.
In the foreground of the other flowers, the true blue flowers of the muscari can be planted. Muscari also are fragrant, the blue blooms will complement the yellow and white flowers of the daffodils and hyacinths.
Late Spring Blooms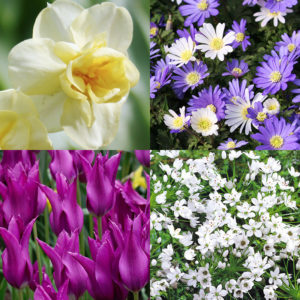 Late spring blooms often blend into early summer blooms. The flowers in this collection bloom at the earlier part of late spring, which is typically mid-to-late May and early June.
 Bearded Iris and Allium bloom even later than the flowers in this collection. Plant allium and bearded iris for blooms at the very last part of spring.
Similar to the mid-spring blooming collection the late spring blooming collection has bulbs in a variety of heights and colors and covers approximately 10 square feet. The bulbs in this collection can be planted in one location and arranged according to height. They can also be spread out through the garden in areas you need a little late spring color.
The tallest flowers in the late spring blooms collection are the Purple Dream Lily Flowering tulip; they have deep rich blooms with pointed petals. Plan to place the Purple Dream Tulips in the back area of this flower garden.
Since yellow and purple are complementary colors, the Yellow Cheerfulness Daffodils will blend well with the Purple Dream Tulips towards the back of the planting area.
Blooming slightly later in the collection are the Neopolitanum Allium, with white, wispy clusters of flowers. Plant the allium in front of the tulips and daffodils so that their fainty blooms can be seen.
The shortest flowers in this collection are Grecian Windflower which has daisy-like blooms in blue, white, and pink.
If you were planting this garden in a circle you could plant the tulips and daffodils in the center of the circle. The allium should surround the tulips and daffodils. The Grecian windflower in the front as a groundcover. This planting design would make a beautiful and complete late spring garden combination!
It's Never Too Early to Start Planning
If you aren't ready to buy bulbs for fall planting now, planning for spring is a good start. Take notes in spring when flowers are blooming and what you like. Make notes of the empty spaces in your garden you need to fill in. Start a Pinterest board of garden ideas and items you would like to buy in the future, that way you can easily look back at items you can include in your plan.
If you like being prepared pre-ordering your fall bulbs now for fall planting will ensure your plan will come to life and you will have blooms all spring! Hopefully, these garden collections will help inspire you to create a blooming garden that provides continuous color for weeks and months in spring!