So, are you loving these recipes??? You should be! They are truly excellent. Today is the final day of recipes (then I'll get back to more garden-related topics, I promise!) as I feature the Third Place Winner in each category.
Third Place in the Fruits Category: "Healthy Fish Tacos" by Paula Quillen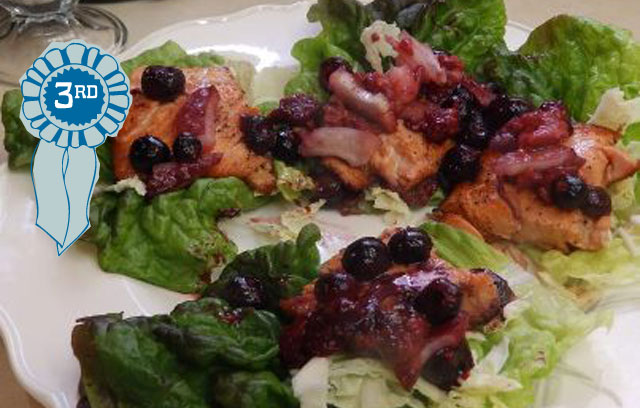 Paula resides in sunny Florida, where I'm sure fish is not hard to come by! We found this recipe to be fantastically unique and oh-so delicious!
Healthy Fish Tacos
Serves 2, Total preparation and cook time 20 minutes
Ingredients:
2 t. unrefined virgin coconut oil
2 – 8oz. Halibut filets
4 large dark green lettuce leaves
1/2 c. shredded cabbage
1/2 c. fresh blueberries
1/4 c. raspberries
juice of 1 lemon
2 T. lemon zest
1/3 c. finely chopped bok choy
salt and pepper to taste
Directions:
1. For salsa: Stir blueberries, raspberries, juice of lemon, lemon zest, bok choy, and salt and pepper together. Set aside.
2. For tacos: Cook Halibut in coconut oil about 3 minutes per side. Remove from pan and gently break up into large bits. Top each lettuce leaf with a fish portion, sprinkle with shredded cabbage and finish off with some salsa.
3. Serve with a wedge of lemon on the side if desired.
Third Place in the Vegetable Category: "Marinated Cheese" by Rachael Muniz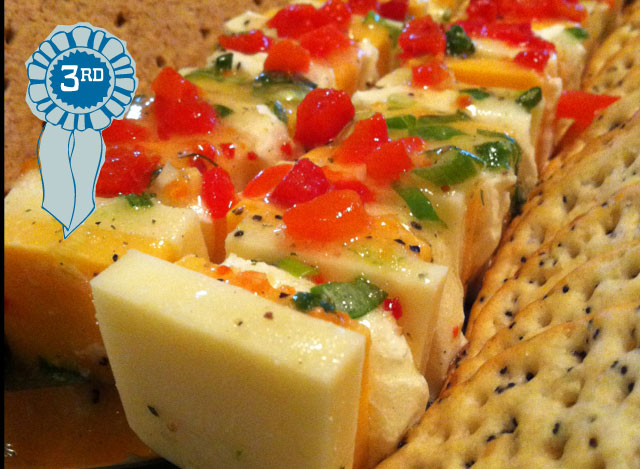 This recipe was so great, I actually had already featured it in one of my weekly posts! I guess the folks at Holland Bulb Farms agreed with me. Rachael resides in Doyline, Louisiana where I bet she serves this dish as an appetizer at lots of get-togethers!
Marinated Cheese
Makes 12 servings, 6+ hrs total preparation time


Ingredients:

1/2 c. olive oil
1/2 c. white wine vinegar
2 oz. diced pimentos
3 T. chopped fresh
parsley
3 T. minced
shallots
3 cloves minced
garlic
1 t. sugar
1 t. chopped fresh
basil
1 t. salt
1 t. black pepper
1 – 8 oz. block of cheddar cheese
1 – 8 oz. block of cream cheese

Directions:
1. In a medium bowl, combine olive oil, wine vinegar, pimento, parsley, shallots, garlic, sugar, basil, salt and pepper. Whisk together.
2. Cut cheddar cheese in half, lengthwise. Cut opposite direction, into 1/4″ thick slices to form squares. Repeat process with the cream cheese.
4.Line up alternating cheeses on a serving platter and pour marinade over the cheese. Cover and refrigerate for at least 6 hours.
(Rachael says she prefers overnight refrigeration for the best taste!)
So there you have it! Congratulations to Paula and Rachael, as well as all of the winners of the 2013 Homegrown Recipe Contest. Hope you have a great time deciding how to spend your Holland Bulb Farms gift cards.
Once again, a big thank you to everyone who took the time to submit a recipe (or more) — we really appreciate it and wish we could have rewarded each one of you! Be sure and stay tuned next February when we will no doubt kick off the 4th annual contest. We'd love to see and taste what you have to share!