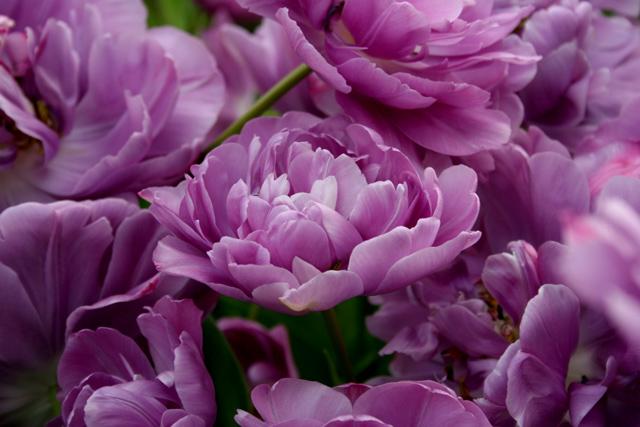 Profile:
Bloomtime: Early Spring
Height: 12 – 16"
Petal Shape/Habit: Extremely full, curved with a somewhat wavy margin
Planting Depth: 6 – 8" below soil surface
Planting Spacing: 4 – 6" or in bouquets of 5 – 7 bulbs each
Light Requirements: Full Sun for best blooms
Hardy in Zones: 4 – 7
The Double Tulips are often referred to as "peony tulips" and with good reason! The lavish, full flowers of these tulips contain countless petals of brilliant color. Many varieties steal the show with their brushstroke hues, fading from one color to the next. Their mid-height stems are sturdy, making them excellent cutflowers. Two extra added bonuses are that many varieties have a subtle fragrance and are an excellent choice for forcing!
Extremely peony-like in both habit and color, the Dior Double Tulip is perhaps my favorite variety. The petals begin to open in early spring, each as beautiful as the next. The slightly wavy margins add dimension and grace to the flower while the color is beyond magnificent! These work extremely well in arrangements of various spring flowers or all on their own.
Want to read more about these gorgeous, sweetly fragrant tulips? Click here to see what the Fine Gardening magazine has to say about them!