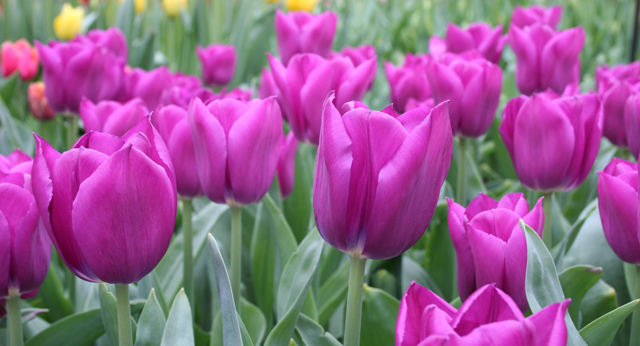 Profile:
Bloomtime: Early Spring
Height: 12 – 18"
Petal Shape/Habit: Full, somewhat rounded petals
Planting Depth: 6 – 8" below soil surface
Planting Spacing: 4 – 6" or in bouquets of 5 – 7 bulbs each
Light Requirements: Full Sun for best blooms
Hardy in Zones: 3 – 7
The earliest of the taller tulips to bloom, Single Early Tulips boast of sturdy stems that withstand the early spring winds and rain. The blooms come in a wide variety of nearly every color, including a range of pastels. Due to the early bloomtimes, the Single Earlies are a great selection for chilling and forcing into bloom since they do not require quite as long of a cold period.
I find the Red Revival Single Early Tulip to be one of the most striking, with is bold red-orange petals, each adorned with vibrant yellow at the base. Almost giving the appearance of a burning flame, these blooms look great when paired with other reds or yellows in the early spring garden.
Want to learn more about these early pretties and specifically, about using them in fresh arrangements? Click here to read a great blog post about just that!