Often when thinking of flower bulbs the first thought that comes to mind relates to spring-blooming flower bulbs. The most popular flower bulbs like tulips and daffodils are planted in fall and bloom in spring. However, there is another planting season for flower bulbs, and that season is spring! Flower bulbs can also be planted in spring or early summer and will bloom that same summer. Beginner gardeners will find this list of the top 10 flower bulbs to plant in spring for summer quite helpful.
Top 10 Flower Bulbs to Plant for Summer Blooms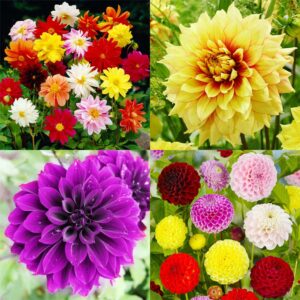 1.) Dahlias
These are number 1 on the list because they are definitely the most loved summer blooming flower bulb. Dahlias excite, amaze, and put their viewers in awe. The blooms range from 1/2″ diameter up to 12″ diameter depending on the variety and type. Dahlias can grow tall reaching heights of 4′ or more. However, they can also make excellent plants for containers and the front of the border, as some types only grow 18″ tall.
Versatility and variety is the name of the game when it comes to choosing which dahlias to plant. The choice of bloom colors is expansive. Dahlias can bloom in shades of white, pink, yellow, orange, red, purple and some blooms even have 2 or more colors. The shape of the blooms also varies, as some dahlia blooms are fully double, and some varieties have a single set of petals.
How to Care for Dahlias
Plant dahlia tubers after the danger of frost has passed in spring. Dahlias should be grown in full sun for the biggest and best blooms. Plant the tubers in soil that drains well as the bulbs do not like to sit in wet soil. After planting and before sprouts appear water the tubers sparingly to prevent the tubers from rotting. Once sprouts above ground appear the tubers can be watered on a regular basis like other plants in the garden.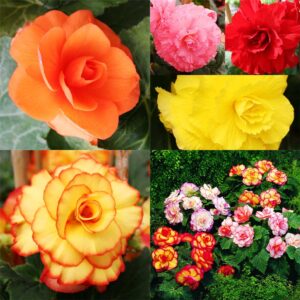 2.) Begonias
Shade-loving begonias brighten up baskets, containers, and planting beds. These summer-blooming bulbs have large and showy flowers. Tuberous begonias bloom in shades of pink, orange, yellow, red, and white. The flower shape varies. Some begonias look like camellia flowers. Hanging basket begonias have pendulous flowers, with blooms that can be double or single petaled. Most tuberous begonias grow 12-18″ tall, which is part of the reason they are planted in pots so often.
How to Care for Begonias
Start begonia tubers indoors in late winter to early spring. This helps give the bulbs a jumpstart on growth, as they need warmth to sprout and can be slow to establish initially. Once the bulbs have sprouted growth comes pretty quick.
Plant begonias in a shade to partial shade location. While they are shade plants they do require at least 3-4 hours of sun for the best blooms to appear. Until growth appears water the tubers sparingly to prevent rotting. Once the bulbs have sprouted, water on a regular basis to keep the soil moist, however, it is ok if the soil dries out between waterings.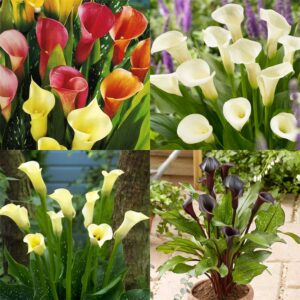 3.) Calla Lilies
Exquisite calla lilies bloom in mid-summer. They are a favorite of florists for bouquets, boutonnieres, and floral arrangements. These easy-to-grow flower bulbs can provide blooms for at-home gardeners who like to have cut flowers in their homes. Calla lilies grow well in containers, making them a perfect summer flower for small space gardens. Flower colors range from yellow, orange, white, pink, purple, and deep purple. Most calla lilies grow 12-18″ tall with a similar spread.
How to Care for Calla Lilies
Native to tropical climates, calla lilies grow best when the temperatures are above 70 degrees during the day. Full to partial sun is ideal for the best calla lily blooms. When calla lilies are first planted prior to the bulbs sprouting water sparingly. Once growth appears water the bulbs on a regular basis to keep the soil moist, but not saturated.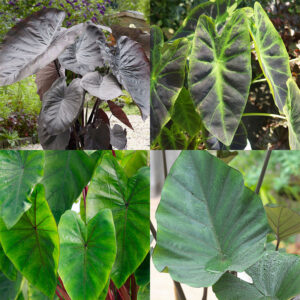 4.) Elephant Ears
Mammoth leaves on larger-than-life plants! Elephant Ears always turn heads with their bold and tropical appeal. While elephant ears aren't grown for their flowers, they are a star of the summer garden. Leaf color can range from green to dark purple with some varieties having speckles or coloring in the leaf veins. The texture they add to garden beds and large containers can't be replaced. Elephant Ears are perennial in zones 8 and above, however, gardeners in all climates can grow them for the summer months. People in colder areas can grow elephant ears in pots, bring the pots in for winter and enjoy the Elephant Ears as houseplants. When planning for Elephant Ears in the garden make sure there is enough space as they can grow 4-6′ tall with a spread about half of their height.
How to Care for Elephant Ears
Plant elephant ears outside in the ground or in containers once the daytime temperatures are above 70 degrees. Elephant Ears require a lot of heat to sprout, be sure the air and soil is warm enough when planting. Keep the soil dry prior to sprouting, once leaves form elephant ears can be watered on a regular basis.
A full to part sun exposure will produce the largest elephant ears, however, they are also quite shade tolerant. Protect them from damaging winds and the hottest afternoon sun. If leaves begin to yellow they may be removed, new leaves will form shortly after.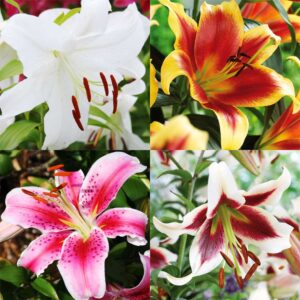 5.) Lilies
Spring planted lilies offer the widest range of choices of all summer-blooming bulbs. Included in this group are Oriental Lilies, Asiatic Lilies, Orienpet Lilies, Tiger Lilies, and Double Oriental Lilies. Depending on the type of lily planted they can bloom in early, mid, or late summer. For people whose favorite flowers are lilies, they could have blooms for months in summer if they plant many different types of lilies. Some lily bulbs produce fragrant flowers, while others are not-fragrant but have vivid and bold blooms. Lilies are easy to grow and sprout quickly once temperatures are above 55 degrees. For more information on growing Lily bulbs check out our Beginner's Guide to Growing Lilies.
How to Care for Lilies
Plant lily bulbs 6-8″ deep in soil that drains well. Lilies grow best in full to partial sun. Water sparingly until sprouts form. Lilies can be watered regularly once sprouts and blooms have formed.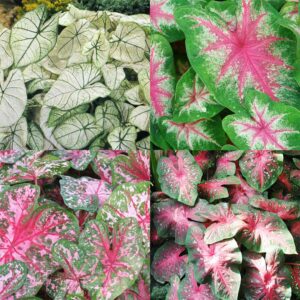 6.) Caladiums
Another foliage favorite when looking for flower bulbs to plant in spring for summer interest are caladiums. Caladiums are similar to Elephant Ear bulbs in that they are grown for their fancy foliage. The leaves on caladium come in shades of green, white, pink, and red. Caladiums grow low to the ground and thrive in the shade and make the perfect ground cover under large shade trees. They also work well in container gardens where a foliage accent is desired. Southern gardeners adore caladium for shade gardens and grow them as perennials.
How to Care for Caladiums
Thriving in warm climates plant caladiums in spring or early summer once the soil is warm and air temperatures are above 70 degrees. Caladium bulbs should be planted in shade to part shade. Keep the bulbs dry prior to sprouting, once they have sprouted caladiums can be watered on a regular basis.
7.) Canna Lilies
Larger-than-life leaves with bold blooms create a warm and tropical look in the summer garden. Canna lilies are another spring-planted flower bulb that grows in summer with a tropical appeal. Warm climate gardeners can grow canna lilies as perennials. Gardeners in hardiness zones 3-7 will treat canna lilies like an annual or dig the bulbs up for winter storage. Canna Lilies range in heights from 2′ up to 5′ or more! The leaves can be green, striped, or dark purple to bronze, making both the foliage and flowers appealing.
How to Care for Canna Lilies
Plant canna lilies in late spring to early summer when the soil temperatures are warm and the air temperature is above 70 degrees during the day. Canna lilies love to be planted in full sun and will produce the best blooms and growth in an area that gets 8 hours of sun per day. Keep the bulbs dry prior to sprouting, once the bulbs have sprouted canna lilies like to be kept consistently moist.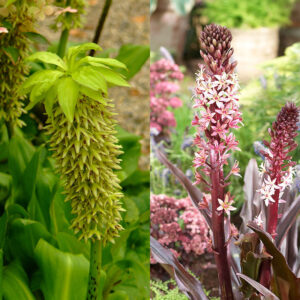 8.) Pineapple Lilies
Unique and tropical are the best words to describe pineapple lilies. Plant pineapple lilies in containers as a vertical accent. Their blooms resemble a pineapple, with the flowers staying fresh for weeks. Standard pineapple lilies have green leaves with green and purple blooms. Sparkling Burgundy Pineapple Lily is extraordinary with deep purple leaves and purple/green flowers.
How to Care for Pineapple Lilies
Plant pineapple lilies in late spring to early summer when the temperatures have warmed to 60 degrees or more on a daily basis. Pineapple lilies like to be planted in soil that drains well and placed in a full to part sun location.  Water sparingly until sprouts appear.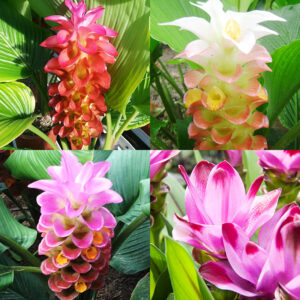 9.) Curcuma
A relatively new flower bulb to the western world, but they are quickly gaining traction. Curcuma are flower bulbs native to SE Asia and thrive in warm and tropical conditions. Gardeners in warm climates will enjoy the perennial nature of these flower bulbs related to the ginger family of plants. Curcuma can be grown in all climates, gardeners in cold climates will treat them like an annual or dig up the bulbs for storage prior to winter. The blooms appear in mid-summer and are shades of pink or red.
How to Care for Curcuma
Warm temperatures and soil is crucial for the growth of curcuma bulbs. Plant in spring or early summer once temperatures are consistently above 65 degrees during the day. Curcuma like soil that is rich but drains well, once the bulbs sprout add 1″ of water per week, as these flowers like consistent moisture.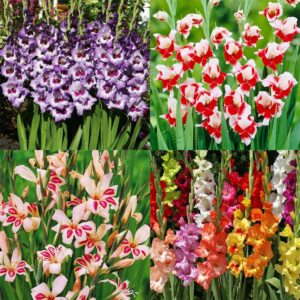 10.) Gladiolus
We saved one of the most popular summer-blooming bulbs for last! Gladiolus bloom in an array of colors and are loved for their use in flower bouquets. They range in height from 24″ up to 60″depending on the variety and type planted. The blooms come in almost every color in the rainbow except for blue. In addition to a wide range of bloom color choices, the petals can also be ruffled like on the exotic Parrot Gladiolus. Whether they are grown for fresh-cut flower displays or as a garden plant, gladiolus are a star of the mid-to-late summer garden.
How to Care for Gladiolus
Plant gladiolus bulbs in a full sun location, in soil that drains well. For more in-depth care tips visit our Complete Guide to Growing Gladiolus.
Best Flower Bulbs to Plant in Spring for Summer
The top ten list above provides a starting point for planning the summer garden. Within all these different types of bulbs are classifications and varieties that offer different bloom colors, growth heights, and desirable traits. Browse Holland Bulb Farms to choose your favorites. The best part about flower bulbs to plant in spring for summer is each year you can experiment with new varieties and keep the garden growing!