Celebrate freedom, liberty, and the USA with red, white, and blue flowers. Maybe you want to represent the meaning of Memorial Day with flowers. Perhaps celebrating Independence Day is best done with flowers instead of fireworks, they last longer and can be enjoyed at all hours of the day. Remembering a loved one who served this country is another reason to plant red, white, and blue flowers. No matter the reason this combination of bold red, cool blue, and pure white offers something in all flowering seasons. Be inspired by 20 Red White and Blue Flowers for Spring and Summer.
Red White and Blue Garden Flowers
A red, white, and blue-themed garden can be attained from spring through summer. Planting an assortment of spring blooming, and summer blooming flowers will help achieve the perfect red, white and blue garden.
Spring Blooming Red White and Blue Flowers
The following flower bulbs can be planted together for a dynamic display of patriotic color. However, they can also be spaced out in the garden for splashes of these colors throughout.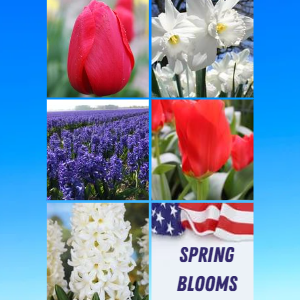 Planting two types of tulips ensures blooms that combine with the white and blue blooms of daffodils and hyacinths. First to flower are the Red Emperor Tulips, they have large blooms and medium height, growing 12-15″. They will begin blooming around the same time as the Blue Jacket and Aiolos Hyacinths. The Red Impression Tulips and Mount Hood Daffodils will begin blooming as the Red Emperor Tulips are fading. All of these bulbs are for planting in the fall and will bloom in the spring.
Late Spring & Early Summer Red White and Blue Flowers
Follow up spring and enter into one of the most patriotic seasons of the year, summer! For the biggest display of red, white, and blue flowers as the seasons change plant these 5 bulbs together in a group.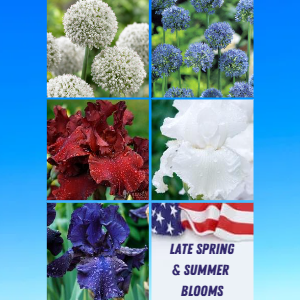 True blue flowers are included in this combination of stately blooms. The tall bearded iris all bloom at the same time in late spring to early summer. Blueberry Bliss Bearded Iris has deep blue flowers. Immortality Bearded Iris has white flowers that will re-bloom later in summer. War Chief Bearded Iris is a true deep red flowering iris. Plant these bearded iris together grouping 3 of each variety near each other. They will cover 9-12 square feet.
Among the iris, in front and to the sides plant the White Ping Pong Allium and true Blue Allium. Allium blooms in late spring to early summer at the same time as the iris. Plant these bulbs in the fall, they will all bloom the following spring.
Early and Mid Summer Red White and Blue Flowers
Right around the Fourth of July is a great time to display an array of patriotic blooms. Even if some flowers start after Independence Day there is still cause to celebrate with red, white, and blue blooms.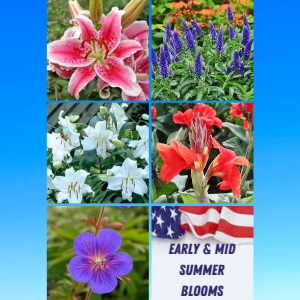 Spread out these perennials through the garden to attain the red, white, and blue theme you are looking for.
The Stargazer Lilies and Casablanca Lilies will bloom with reddish-pink blooms and white blooms that are fragrant. Plant the Kaya Cranesbill at the base of the lilies.  In addition to providing the blue in this combination, the Kaya Cranesbill will help fill the void the lilies leave when they go dormant in late summer after blooming.
The President Canna Lily is the best red flowering canna, it grows to heights of 5′ tall or more. Plant this red canna in a pot with blue flowering annuals like lobelia, or annual salvia. Combine The President Canna with the perennial Enchanted Indigo Veronica. Plant Veronica in front of the canna lilies for a red and white dynamic duo.
Mid & Late Summer Red White and Blue Flowers
End the summer with a bang by incorporating red white and blue flowers for the final display of color. Flowers for sun and shade are included in this suggestion of mid-to-late summer blooming flowers.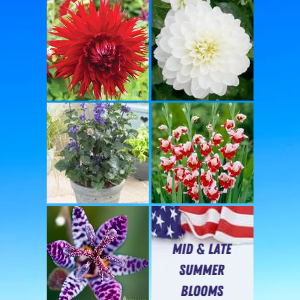 Get the blues in the shade with Blue Wonder Toad Lily. This shade-loving perennial blooms late in the season with true blue and white speckled flowers. Combine the Blue Wonder Toad Lily with red and white begonias for a red, white, and blue shade combination.
Dahlias look like fireworks, and when their blooms are red and white, it celebrates America even more. Plant Wittem Decorative Dahlia and Apache Dahlia together for a red-and-white explosion of blooms. They grow 3-4′ tall so be sure to plant them where they can reach their full potential.
China Purple Clematis is a bush form of clematis and does not grow as a vine-like most clematis. It has a long bloom time and grows well in a container or in the ground. It would make an excellent companion for Bizar Dutch Gladiolus. Plant the China Purple Clematis in front of the Bizar Dutch Gladiolus to cover the foliage of the gladioli. This is a fun and unique combination that most of your neighbors wouldn't have thought to plant.
Celebrate with a Patriotic Color Theme
Deciding on a color theme for your garden is a good first step to creating the garden of your dreams. While you don't have to stick with the theme throughout the entire garden, you can incorporate it in specific areas. Therefore, you can have a red, white, and blue-themed area, as well as a loving red, pink, and white-themed area.
Add some red, white, and blue to your garden in one if not all of the season. Be inspired to celebrate the land of liberty with red, white and blue flowers in your garden.
For more inspiration on what to plant in a patriotic garden check out over 150 choices for red, white and blue garden flowers here.