Did you hear the news? The National Garden Bureau has named 2023 the Year of the Amaryllis. We LOVE this pick for 2023! Amaryllis bulbs provide large blooms in winter when grown indoors. They are also quite easy to grow.  Listed below are our 5 favorite things about amaryllis bulbs.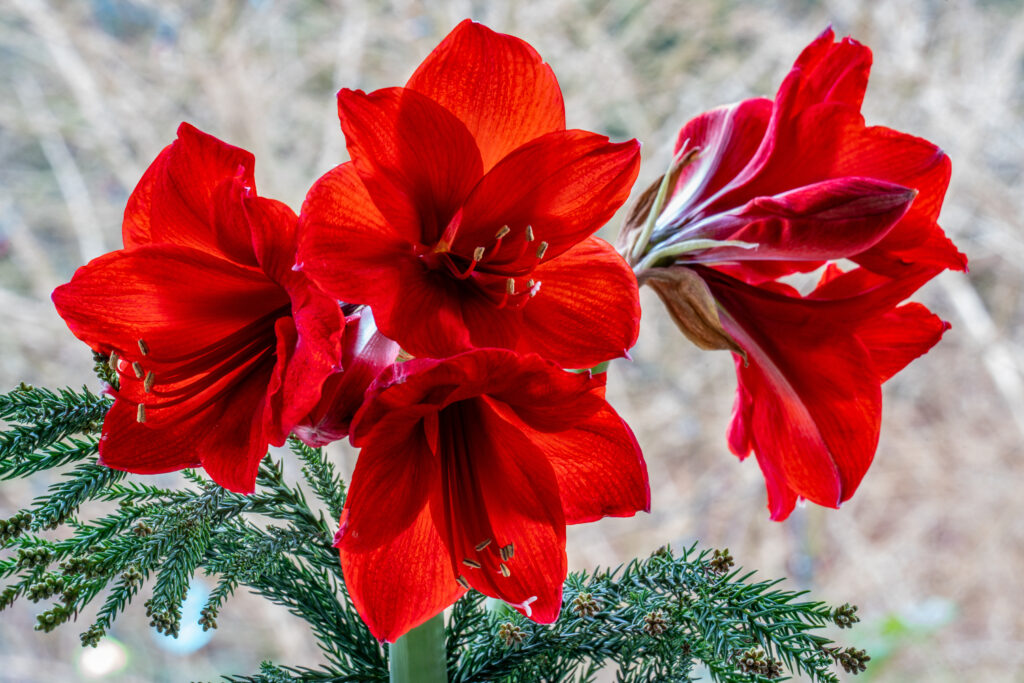 5 Reasons 2023 is the Year of the Amaryllis
Amaryllis are so easy to grow!
Sometimes they almost seem too easy, as they can grow with little sunlight and water. Therefore, they are a great indoor flower bulb for someone who is neglectful when it comes to watering. They also can grow in a range of light settings, making them a nice choice of indoor plant for an apartment or office. While they can grow with low water and light, they will be strongest with some sun, as well as weekly watering when blooming.
Amaryllis flowers are available in a variety of color choices.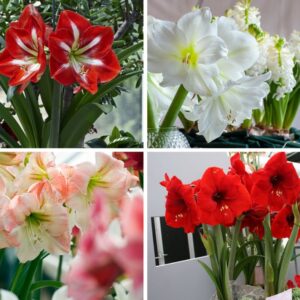 According to the National Garden Bureau, there are over 90 species of amaryllis and over 600 cultivars. The vast amount of amaryllis species and cultivars results in a range of flower colors, flower sizes, and flower types. The most frequent amaryllis flower colors available are red, white, pink, salmon, and bi-color. Less common flower colors are green, and shades of deep red to purple.
Flower size and shape range on amaryllis flowers. 
The blooms of amaryllis flowers can be single and quite large, spanning 6″ across when fully open. Double blooming amaryllis varieties have double the petals for a full and frilly appearance. Spider amaryllis flowers are slender and have long petals for a unique and exquisite appearance.
Grow amaryllis bulbs indoors or outdoors!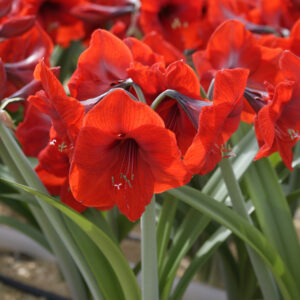 Amaryllis are native to tropical climates. But, they are also adaptable to grow indoors in any climate. You will start seeing amaryllis available for sale in late fall often as holiday plants. But, that doesn't mean they are just for the holidays. Grow amaryllis bulbs indoors through winter and into spring. Gardeners in hardiness zone 8 and above can plant amaryllis bulbs outdoors anytime they are available.
Looking for the perfect gift? Give the gift of amaryllis!
With so many options to choose from it's no wonder amaryllis makes the perfect gift. Give the gift of amaryllis for Thanksgiving, Christmas, New Year's, Valentine's Day, Birthday, or just because!  There are plenty of ways to gift an amaryllis.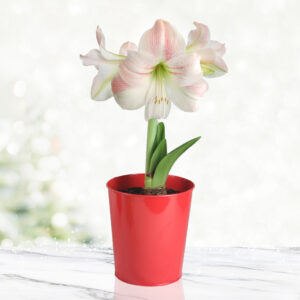 Amaryllis gift kits come with the amaryllis bulb, pot for planting, and soil for growing. This makes them a fun DIY garden gift for people of any age.
Pre-potted amaryllis bulbs are pre-planted in soil, just add a little water and watch it grow.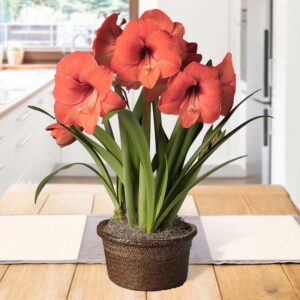 Another gift-ready option for gifting amaryllis is
potted bulb gardens
that include amaryllis flowers. These are perfect for someone who loves flowers but may not have the ability to garden. Potted bulb gardens are sent in a decorative container and are ready to grow.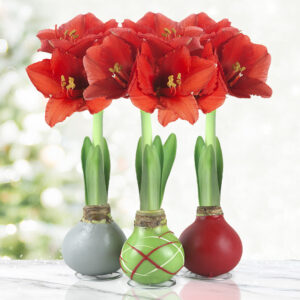 The most unique way to gift an amaryllis bulb are
waxed amaryllis bulbs
! They are available in a variety of colors, and some even have special festive holiday decorations.  Another bonus to growing waxed amaryllis is they don't require any water or soil to grow. Just place them on a flat surface and watch the magic happen.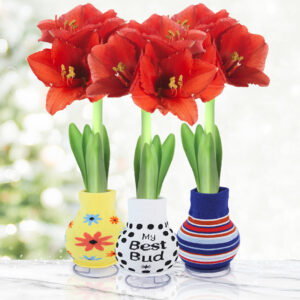 Sweater amaryllis
are by far the most fun way to gift an amaryllis bulb. These bulbs have been specially prepared to grow without soil or water and then covered in a decorative sweater.  We love how fun the themes of these sweaters are and how they look with beautiful blooming amaryllis!
Amaryllis Bulbs Provide Hope
The versatility of amaryllis bulbs provides hope with their blooms and different ways to grow. The color choices and petal shapes offer something for every taste. Their versatility in growing methods and growing conditions present joy for people of all ages and gardening skill levels. Gardeners who like to dig in the soil and can plant large beautiful unique amaryllis varieties. For people who may not be able to plant can enjoy these beautiful flowers too. The amaryllis has certainly earned the title of The Year of Amaryllis for 2023 and beyond!
Looking for more tips on growing amaryllis bulbs? Check out these articles: