Spending time in the garden is one of the best parts of summer! Gardening is a labor of love for many. The learning never stops even for the most experienced gardener and is what keeps people coming back to their garden. Learning growing tips and fun facts about summer flower bulbs and perennials provides for the betterment of the garden. It also makes for fun conversations at your next garden party! Enjoy 20 quick summer flower garden tips, tricks, and facts below.
20 Summer Garden Tips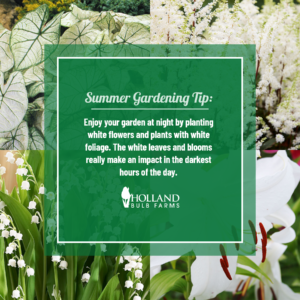 Summer blooming flower bulbs like dahlias, canna lilies, calla lilies, begonias, caladium, and elephant ears should be kept dry prior to sprouting. After the initial planting add water to the planting area. But then don't water again until sprouts appear above ground. Natural water from rain is ok and can't be prevented.

Enjoy your garden at night by planting white flowers and plants with white foliage. The white leaves and blooms really make an impact in the darkest hours of the day.

If you use deer and rabbit repellents like Liquid Fence re-apply after it rains.

Gladiolus bloom 60-90 days after planting. To increase the length of time gladiolus will be blooming in your garden stagger planting time every 1-2 weeks.

Remove faded flowers from perennial salvia to keep the plants blooming throughout the summer.

Keep the roots of clematis cool by adding mulch, ground cover, or annuals to the planting area. The top portion of the plant should be in the sun and the roots in the shade.

5 lbs of seed potatoes will produce 50-75 pounds of potatoes at harvest.

Cool colors in the garden make the space appear larger.

Warm colors in the garden make the space appear smaller.

Red flowering canna lilies are some of the BEST flowers for attracting hummingbirds to your garden.

To get the largest dahlia blooms remove the buds that form on side branches. This will promote a central stem that will produce larger blooms.

Calla lilies are excellent for small-space gardens and grow well in pots. Their flowers are some of the best for vases and bouquets.

Plant elephant ears in large pots so they can be brought inside during winter and used as a house plant.

Tropical bulbs like calla lilies, elephant ears, canna lilies, and caladium require warm soil and air temperatures over 70 degrees on a daily basis in order to sprout. They can take up to 8 weeks after planting before above-ground growth is seen.

Small differences in planting location have a big impact on growth and blooms. Plants located within inches of each other may grow taller, shorter, or have larger and more robust blooms.

Divide and transplant perennials like hosta, iris, and daylilies by mid-August. After transplanting be sure to give the plants extra water.

Begonias tolerate a fair amount of shade but do require at least 4 hours of sun per day to produce flowers.

Plants with dark foliage add contrast to the garden all season even when they aren't flowering.

Oriental Lilies have fragrant blooms that face outward. Asiatic Lilies blooms are not fragrant and face upward.
Summer is for enjoying the outdoors. Whether it is cutting flowers from your garden or picking the vegetables you grew. Gardening is healthy, rewarding, and always a learning experience. The tips above will help your garden grow and increase your garden smarts. If you learned something from these tips share them with friends and family.