The choices for amaryllis bulbs are greater than ever. Amaryllis are sold as just the bulb and come in various colors and bloom styles. They are also sold as kits with soil and a pot to plant the bulb in. Pre-potted amaryllis are ready to grow. Newer to the market are waxed amaryllis and amaryllis wearing adorable sweaters. It can be overwhelming deciding which amaryllis to choose for yourself or for gift giving. Fortunately, we can help when deciding what kind of amaryllis bulbs to buy this year. We will break down the differences and benefits of the different amaryllis options available.
Deciding What Kind of Amaryllis Bulb is Best for You!
This should be a fun decision. After all, you are buying flowers! In the end, the decision may result in multiple types of amaryllis being purchased, as they will all produce beautiful indoor blooms. However, if you are gift-giving or on a budget some amaryllis will serve your needs better than others.
Amaryllis Gift Kits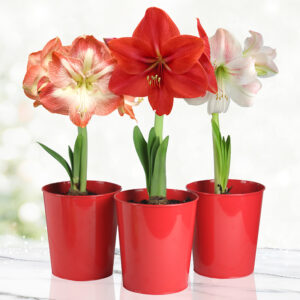 This option is best for gift-giving. The kits come with a pot, soil for planting, instructions on how to  plant, and the amaryllis bulb. The outer decorative container that the amaryllis gift kits arrive in adds a nice touch to the gifting flair. The price range is appealing as well, as there is an option for various budgets.
The smaller gift box kits are available in red, red/white, and pink. The bulbs are 24/26 and the kit comes with a compressed soil disc. These are best for buying gifts on a budget, as they usually range in price from $10-$15.
For a fancier amaryllis gift kit, choosing the Premium Amaryllis Gift Kits or Giant Amaryllis Gift Kits will be sure to impress. Premium Gift Kits come complete with a red metal pot, flower bulb, and soil. The Giant Amaryllis Gift Kits have large 30/32 cm and large decorative plastic container. The premium and giant kits range in price from $16-$25.
Amaryllis Bulbs
Sometimes all you need is a premium amaryllis bulb. These are best suited for people who enjoy growing amaryllis indoors all winter. They are also excellent gifts for people who love to garden, as they can extend their bloom season to the indoors in winter. Therefore, amaryllis bulbs sold just as the bulb with not kit or soil are great for gardening enthusiasts.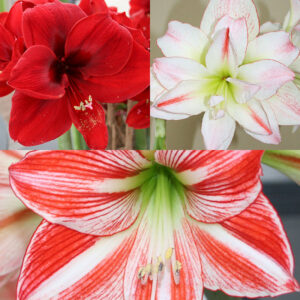 Value packs of amaryllis contain 3 bulbs per pack. They are available with red amaryllis, pink amaryllis, white amaryllis, and bi-color amaryllis. These work great for creating stunning amaryllis displays throughout holiday decor. Plant three amaryllis in a decorative container and use it as a centerpiece for holiday gatherings.
For the more serious amaryllis gardener buying just the bulb offers the best selection in color and flower shape. Amaryllis bulbs are available in dark red, salmon, double pink, double bright red, red, pink, white, and various two tones. If gifting to someone who loves flowers and gardening, these unique varieties are your best choice.
Waxed Amaryllis and Sweater Amaryllis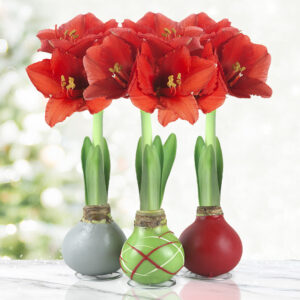 These new and extraordinary amaryllis bulb choices have stunned the world. When the waxed amaryllis first hit the market about 10 years ago people were perplexed. The wax is decorative and beautiful giving the bulbs themselves a fun and novel appearance. To learn even more about the waxed amaryllis phenomenon check this article out
here
.
You are probably wondering what a sweater amaryllis is. Those two words (sweater + amaryllis) don't seem right together. Do amaryllis really wear sweaters? Yes, in fact, they do! Similar to the waxed amaryllis where the bulb portion of the amaryllis is the initial feature, sweater amaryllis wear adorable decorative bulb sweaters. They are made of sweater material and have patterns on them just like your favorite winter sweater.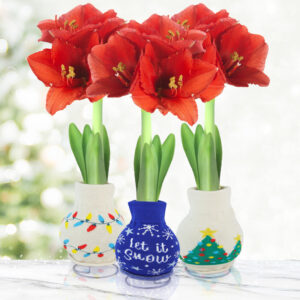 Waxed amaryllis and sweater amaryllis make exceptionally fun gifts for anyone, really! They are incredibly easy to grow, therefore, the gift recipient does not need to have a green thumb. No water is required, and no planting is required. The bulbs that are in wax and sweaters are ready to grow, just place them on a flat surface. Sun helps, but also they grow well in low-light settings. We LOVE these as gifts for children as well as the elderly. They can watch the flowers grow without having to put any extra work into making it happen. Of course, the sweater and waxed amaryllis can be bought for yourself and used to spice up the holiday decorations in your home or office.
Pre-Potted Amaryllis
This is our favorite choice for gifting and growing.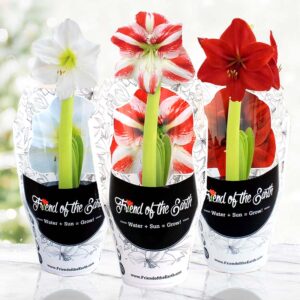 Basic options that come pre-planted in a plastic pot with a decorative sleeve are the budget-friendly way to gift beautiful pre-potted amaryllis. Red, white, and two-tone amaryllis bulbs are available as pre-potted amaryllis selections. When they arrive take them out of the shipping box and add a little water. Be sure to not over-water, as the bulbs like to remain dry until the stem and flower form.
Amaryllis bulb gardens are another pre-potted way to send an amaryllis to someone special. Bulb gardens are pre-planted prior to shipping. They have highly decorative containers and are available in a range of color choices.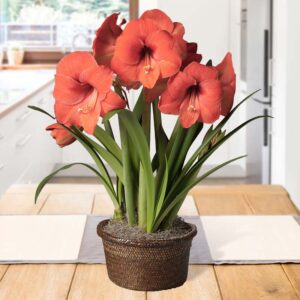 Pre-potted amaryllis grow kits and pre-potted amaryllis bulb gardens are convenient gift choices. They work well when the gift recipient may not be able to pot up the amaryllis bulb or have extra pots on hand. The basic pre-potted gift kits are also a fun gift for yourself to add some color and decor in the busy holiday season.
Different Kinds of Amaryllis Bulbs for Different Needs
Amaryllis bulbs help to beat the winter blues as gifts, or if you decide to treat yourself to one or two. Amaryllis of all shapes and sizes work really well for holiday gift-giving. For the hard-to-shop-for person like a teacher, grandparent, or parent amaryllis are a delightful choice. In general, amaryllis bulbs are easy to grow, however, some are fool-proof, and literally, anyone can grow them.
For more growing tips and care advice for amaryllis bulbs these helpful articles provide amaryllis growing information: